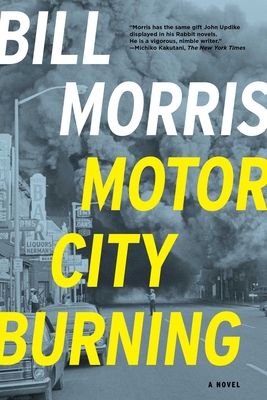 Motor City Burning
Hardcover

* Individual store prices may vary.
Description
Willie Bledsoe, only in his twenties, is totally burned out. After leaving behind a snug berth at Tuskegee Institute to join the Student Nonviolent Coordinating Committee in Detroit to try to change the world, Willie quickly grows disenchanted and returns home to Alabama to try to come to grips about his time in the cultural whirlwind. But the surprise return of his Vietnam veteran brother in the spring of 1967 gives him a chance to drive a load of stolen guns back up to the Motor City, which would give him enough money to jump-start his dream of moving to New York. There, on the opening day of the 1968 baseball season—postponed two days in deference to the funeral of Martin Luther King, Jr.—Willie learns some terrifying news: the Detroit police are still investigating the last unsolved murder from the bloody, apocalyptic race riot of the previous summer, and a Detroit cop named Frank Doyle will not rest until the case is solved. And Willie is his prime suspect. Bill Morris' rich and thrilling new novel sets Doyle's hunt against the tumultuous history of one of America's most fascinating cities, as Doyle and Willie struggle with disillusionment, revenge, and forgiveness—and the realization that justice is rarely attainable, and rarely just.
Praise For Motor City Burning…
Switching between Bledsoe and Doyle's perspectives allows for a crackling pace, and Mr. Morris clearly loves the nooks and crannies of his hometown the way George Pelecanos loves Washington.

I really enjoyed Motor City Burning! It's such a deftly drawn character study that also doesn't scrimp on plot and big themes, like justice, purity of aims, and loyalty.

— Edan Lepucki, author of California

Morris uses historical figures and events, as well as a uniquely American city, as a backdrop for an intense cat-and-mouse game.

A sharp critique of the contemporary American post-racial narrative. Morris does an especially lovely job of elevating the ordinary.

Morris sees something heroic in these well-matched adversaries, both representative of a city the author loves and salutes.  And of course, its great ball club.
— Marilyn Stasio

Detroit would surely rise again if that battered city could only wake up to find itself in 1968, reliving opening day at Tiger Stadium. In Motor City Burning, Bill Morris extends that promise of rebirth and redemption to Willie Bledsoe.

— Marilyn Stasio

The success of the story is the smooth confluence of familiar echoes washing up against the tensions of the time, all reverberating with a street-level sense of pressure.

A vivid and entertaining expedition.
— Loren D. Estleman

Real and beautifully complicated. By undermining these easy ideas about identity and inheritance, Morris asks us to look directly in the warped glass of time at our faces, and to enumerate the scars.

A
jarring, challenging book that breaks a lot of rules from a writer
already excitingly and powerfully in command of his craft.

A wonderfully atmospheric novel that captures time and place, an illumination of a pivotal point in history.  Bill Morris is an exceptionally gifted and savvy writer.  The comparison to Graham Greene is fully merited.
— Nelson DeMille
Pegasus Crime, 9781605985732, 288pp.
Publication Date: July 15, 2014
About the Author
Bill Morris is the author of the novels Motor City and All Souls' Day. He is currently a staff writer with the online literary magazine The Millions, and his writing has appeared in Granta, the New York Times, The Washington Post Magazine, L.A. Weekly, Popular Mechanics and numerous other newspapers and magazines. Bill grew up in Detroit and now lives in New York City.
or
Not Currently Available for Direct Purchase