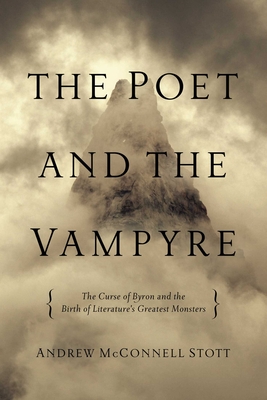 The Poet and the Vampyre
The Curse of Byron and the Birth of Literature's Greatest Monsters
Hardcover

* Individual store prices may vary.
Other Editions of This Title:
Paperback (9/15/2015)
Description
Love affairs, literary rivalries, and the supernatural collide in an inspired journey to Lake Geneva, where Byron, the Shelleys, and John Polidori come together to create literature's greatest monsters
In the spring of 1816, Lord Byron was the greatest poet of his generation and the most famous man in Britain, but his personal life was about to erupt. Fleeing his celebrity, notoriety, and debts, he sought refuge in Europe, taking his young doctor with him. As an inexperienced medic with literary aspirations of his own, Doctor John Polidori could not believe his luck.
That summer another literary star also arrived in Geneva. With Percy Bysshe Shelley came his lover, Mary, and her step-sister, Claire Clairmont. For the next three months, this party of young bohemians shared their lives, charged with sexual and artistic tensions. It was a period of extraordinary creativity: Mary Shelley started writing
Frankenstein
, the gothic masterpiece of Romantic fiction; Byron completed
Childe
Harold's Pilgrimage
, his epic poem; and Polidori would begin
The Vampyre
, the first great vampire novel.
It was also a time of remarkable drama and emotional turmoil. For Byron and the Shelleys, their stay by the lake would serve to immortalize them in the annals of literary history. But for Claire and Polidori, the Swiss sojourn would scar them forever.
Praise For The Poet and the Vampyre: The Curse of Byron and the Birth of Literature's Greatest Monsters…
Fascinating reading even two centuries later.

Impressive. As Stott reveals in this engrossing history, lust, greed and the unquenchable
thirst for fame were forces of evil that imbued the age of Romanticism with
grief.

Fascinating.
Stott's
book draws a hypnotic picture of celebrity. In revealing the humanity of these
19th-century icons, without ever needing to draw explicit parallels with
today's popular artists, the book makes a valuable contribution to an
understanding of art and its costs.

A lusty, lively literary history packed from
intimate details and personal anecdotes from a rich array of sources.

McConnell Stott is as thorough and sympathetic a biographer as the young doctor could
want. Fluidly and evocatively presented.

An excellent work of critical biography. Stott's book reads with crispness and frequent deadpan, offering the pleasures of fiction without relying on unseemly liberties in the scholarship.

The Poet and the Vampyre reads a little like a period noir, full of atmospheric carriage rides, aggrieved letters, and deep personal miseries.


Engaging reading, dotted with amusing literary anecdotes and keen observations. Stott's ruminations about fame, portrayed here as a candle around which the writers circle like moths and burn themselves, are illuminating.

A thrilling tale about the pursuit of love, sex, and fame. Provides a dual portrait of the Romantic spirit during its most intense period of creativity—and uncovers the emotional devastation that was left in its wake.
— Amanda Foreman, New York Times bestselling author of Georgiana, Duchess of Devonshire

Fascinating reading even two centuries later.

Hard to put down.

The book successfully draws attention to two figures—Polidori and Clairmont—who have been overshadowed by their more illustrious companions.

Fluid, informative and stylish, offering uncommon insight.

A rip-roaring book about Lord Byron and his coterie. Extremely well researched (with 86 pages of notes) and beautifully written, Stott's book is a delight and a must-read for anyone interested in Lord Byron or vampires.

A learned, constantly entertaining and deliciously gossipy account of the erotic and personal entanglements that led up to, and away from, the most famous wet evening in Romantic literature. This excellent book offers an enthralling, if ultimately tragic, soap opera and lots of fascinating information.
— Michael Dirda

Brilliant. As a portrait of London life in all its mutinous and anarchic variety this book would be hard to beat.
— The Spectator, on 'The Pantomime Life of Joseph Grimaldi'

Andrew McConnell Stott widens Byron's spotlight to include two people whose lives he radically altered in the short time he knew them. Entertaining and engaging.

A fast-paced rumbustious biography. Stott evokes both the dizzying excitement and the harshness of theatrical life.
— The Observer, on 'The Pantomime Life of Joseph Grimaldi'
Pegasus Books, 9781605986142, 464pp.
Publication Date: September 15, 2014
About the Author
Andrew McConnell Stott is the author of The Pantomime Life of Joseph Grimaldi, which won the Royal Society of Literature Prize, the Sheridan Morley Prize for Theatre Biography, and was a Guardian Best Book of the Year. The Poet and the Vampyre is his first book to be published in America. In 2011, Stott was named a Fellow at the New York Public Library's Cullman Center for Scholars and Writers. He is a Professor of English at the University of Buffalo, SUNY. Please visit his website at www.andrewmcconnellstott.com.
or
Not Currently Available for Direct Purchase