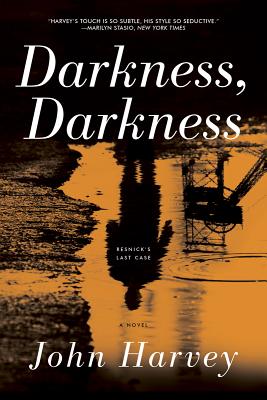 Darkness, Darkness
A Novel
Hardcover

* Individual store prices may vary.
Other Editions of This Title:
Paperback (10/15/2015)
Description
The final Detective Charlie Resnick novel, from the Cartier Diamond Dagger winner and London Sunday Times bestselling author John Harvey.
Thirty years ago, the British Miners' Strike threatened to tear england apart, turning neighbor against neighbor, husband against wife, father against son—enmities which still smolder.
Charlie Resnick, recently promoted to Detective Inspector and ambivalent, at best, about some of the police tactics used in the Strike, had run an surveillance-gathering unit at the heart of the dispute.
Now, in virtual retirement, the discovery of the body of a young woman who disappeared during the Strike brings Resnick back to the front line to assist in the investigation into the woman's murder—forcing him to confront his past—in what will assuredly be his last case . . . as well as John's Harvey's final Charlie Resnick novel.
Praise For Darkness, Darkness: A Novel…
Harvey yet again reveals the elegant prose, fluent touch and emotional grasp of a supreme craftsman.

The final novel in his masterly series featuring Inspector Charlie Resnick. We'd hate to lose this Nottingham policeman whose love of jazz distinguishes him as the mellowest of detectives. The elegiac tone struck in this melancholy story makes it clear that Harvey has no intention of giving Resnick a reprieve.
— Marilyn Stasio

Harvey's books have hogged the critics' superlatives, even being compared by Elmore Leonard, no less, with Graham Greene, no less. [His] great gifts for sharp but compassionate characterisation, and flashback chapters set during the miners' strike remind us that he is often at his best when he is angriest. [H]is books are ultimately cathartic.

Harvey's books are a joy because he excels in every aspect of crime fiction, including adroit plotting, sharp dialogue, subtle characterizations, and an underlying, shimmering intelligence.
— Patrick Anderson

The architecture of Harvey's storytelling begs to be admired, with its multiple narratives, shifting time lines and elaborate plot details.
— Marilyn Stasio, The New York Times Book Review

There is no end to Charlie Resnick. He lives in the imaginations of all those lucky readers who have picked up a book and travelled with him like an old friend. Darkness, Darkness is yet another superb telling of the character by John Harvey. As distinctly as I remember reading the first Resnick I will always remember this one. Rich in wistful telling, the story holds your heart steady in a tight fist. It doesn't let you go. It doesn't let you let go of the man either.
— Michael Connelly

The Resnick novels remain one of the high points in the history of crime fiction.

Resnick has had a much-honored career in fiction. It's nice to see him going out with his appeal and talents intact.

Every reader of contemporary mystery fiction should be acquainted with this outstanding series and its jazz-loving protagonist whose stories limn the changing world around him. Increasingly, Charlie is an observer more than an actor, but he remains an unforgettable creation.

John Harvey writes the way we all wish we could write. His stories are filled with the blood of true character.
— Michael Connelly

Forget what you had planned for today the new Harvey novel comes first.

A fitting conclusion to one of the best crime series ever to appear. Highly recommended.

All good things eventually come to an end. And, unfortunately, that time has come for the excellent Charlie Resnick series. Darkness is a fitting conclusion to one of the best crime series ever to appear, and is highly recommended.


Crime fiction at its best.
— George Pelecanos

No one in Britain is writing better crime fiction.
Pegasus Books, 9781605986166, 352pp.
Publication Date: September 15, 2014
About the Author
John Harvey has been writing crime fiction for more than forty years. The first novel of his twelve-part Charlie Resnick series, Lonely Hearts, was selected by The Times of London as one of the "100 Best Crime Novels of the Century." His novels featuring Frank Elder include Flesh & Blood, which won the Silver Dagger Award and a Barry Award, and Ash & Bone, which was nominated for a Los Angeles Times Book Award. He was awarded the CWA Cartier Diamond Dagger for sustained excellence in the crime genre in 2007. He lives in England.
or
Not Currently Available for Direct Purchase