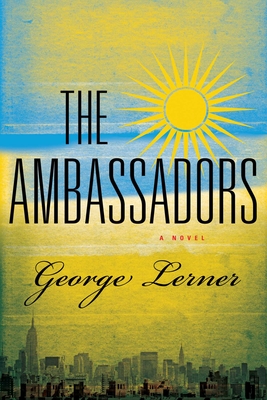 The Ambassadors
Hardcover

* Individual store prices may vary.
Description
An eye-opening account of the Rwandan civil war and an achingly tender portrait of a family at odds. Embedded in real events, the novel takes us on an unforgettable journey through the Congo, Germany, and Brooklyn as it examines one family's passage through genocide and grief. Jacob Furman has always chosen his call to duty over his wife, Susanna, and their son, Shalom. When he's deployed to the Congo as a Mossad operative to help the Tutsis in their fight against the Hutus, Susanna and Shalom are left once again to contemplate his absence. Susanna, a Holocaust survivor and an esteemed linguistics scholar, buries herself in work as she searches for the biological roots of human language, while Shalom, overwhelmed by the accomplishments of his parents, struggles in search of his identity.After years apart, a fragile reunion borne out of illness sparks a sense of family they never had before, connecting the three to a web of emotion not just to one another, but to the political events that have defined our century.
Praise For The Ambassadors…
Perceptively, generously, Lerner's exact and exacting first novel reminds us that saving the world must always start at home, around ourown hearths, with our own loved ones. Without that, we are surely lost. With it, we may be saved.
— Karen Shepard, author of The Celestials

An amazing and impressive debut. A riveting read from beginning to end and one of those all too infrequent novels that linger in the mind long after they are finished. Very highly recommended for both personal reading lists and community library General Fiction collections.

George Lerner is a fearless writer, unflinching in his rendering of the world's worst atrocities and tender as he documents the impact of war. And even with its huge historical and geographical range, The Ambassadors still manages to take us deep in to the complex lives of its characters.

— Joanna Scott, author of ARROGANCE and THE MANIKIN

With a documentarian's depth of field and a novelist's perspicacity, George Lerner expertly and poignantly illuminates the trials of nations and the trails of the heart—and the ways to which they intersect—in this deeply gratifying, deeply resonant novel.
— Charles Blackstone, author of VINTAGE ATTRACTION

It is easy to be awed by the The Ambassadors: by its terra incognita reach, by its sly tradecraft, by its plumb lines stretching from Brooklyn to Germany to Congo, from the buried stories of early man to the muted truths of a modern family. Like the Holbein painting from which it takes its title, this novel yields ceaseless marvels, and its author, George Lerner, is a cartographer making paths where before there was darkness.

— Elizabeth Eslami, author of HIBERNATE and BONE WORSHIP

In this bold and unexpectedly tender novel, George Lerner chronicles both our darkest times and our most hopeful.  With the documentary eye of a journalist, he marches us across the unspeakably cruel killing fields of the twentieth century, and with the heart of a novelist, he explores the redemptive power of forgiveness and love.
— Gary Schanbacher, author of CROSSING PURGATORY
Pegasus Books, 9781605986203, 352pp.
Publication Date: September 15, 2014
About the Author
George Lerner is a producer for CNN and PBS and has traveled throughout Africa and has reported on some of the most landmark moments in African history, including South Sudan's Independence Day, the Democratic Republic of Congo's elections, and an interview with Zimbabwe's President Mugabe, which was nominated for an Emmy. He lives in Brooklyn, New York.
or
Not Currently Available for Direct Purchase