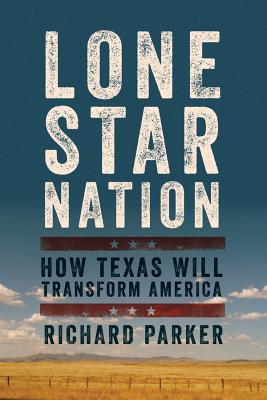 Lone Star Nation
Hardcover

* Individual store prices may vary.
Other Editions of This Title:
Digital Audiobook (11/3/2014)
Paperback (11/16/2015)
MP3 CD (2/17/2015)
Description
A provocative and eye-opening look at the most explosive and controversial state in America, where everything is bigger, bolder and shaping our nation's future in surprising ways.



Americans today are reckoning with a new Texas—that love-it-or-hate it giant slice of America that has sparked controversy, bred presidents, and fomented change from the Civil War to the election of George W. Bush and the Iraq War. In Lone Star America, Richard Parker examines this evolving landscape. But the Texas that Americans think they know is changing, and as a result it will change America itself in the twenty-first century, just as California did in the last century. Richard Parker uncovers a new Texas: a profoundly urban one, an overwhelmingly Hispanic one, an increasingly liberal one, and one succeeding in the global economy while being forced to face the looming threats of poverty and climate change—and sooner rather than later. He explores the broader implications of change in Texas that could help remake Washington and energize the American economy.Along the way, he shares the stories of the powerful and everyday people that are shaping Texas and, as a result, the country itself, as one in every five Americans will soon call Texas something else: Home.
Praise For Lone Star Nation…
A beautiful new book. The limitations of Texas's attempt to combine being somewhere and being successful are apparent in Parker's gripping story, and suggest that there is still space for new places to attempt new ways to combine place and possibility.

Richard Parker has undertaken a large and daunting task to wrangle the various components of Texas, from its brawling history to its lightning-fast social change, and produce a single vision of what Texas means to America today.  I am pleased to say that he has succeeded admirably.  By combining sharp economic, political, and social commentary, he has told a compelling and highly readable tale.
— S. C. Gwynne, Pulitzer Prize nominee and author of the NEW YORK TIMES bestselling EMPIRE OF THE SUMMER MOON and REBEL YELL

This is where you'll learn how a centrist-oriented Texas could help turn the U.S. into 'the world's first Hispanic superpower.'

Richard Parker returned to his native Texas to discover a profoundly changed world.  If you think you know Texas, be prepared to be surprised, enlightened, and entertained by what he has to say.
— Glenn Frankel, Pulitzer Prize winner and author of the NEW YORK TIMES bestselling THE SEARCHERS: The Making of an American Legend

Parker has crunched the numbers and has come up with a state that's large and in charge in the future — economically and in population. All the major players (Governor-elect Greg Abbott) and places (Keep Austin Weird) are featured, along with photos of the changing landscape.

Texas in the 21st century remains a powerful brand. …  Parker [is] an affable tour guide. His
take-home message, that the problems and opportunities in Texas are the nation's
writ large, is reminiscent of an old quip from Molly Ivins. Texas, she used to
say, is just like anyplace else in America, only more so." 

With his keen observations and spritely prose, Richard Parker shows he can bring a reporter's sensibility to any topic—from the famed counterculture of Austin to a sharp piece of presidential campaign analysis and even a richly woven Civil War battle story. Parker lathers his pieces with detail and immediate facts, exuding the persuasive voice of someone who knows what he's talking about.
— Chad Lorenz

Parker knows the state as well as anybody writing here, and better than most.
Pegasus Books, 9781605986265, 352pp.
Publication Date: November 4, 2014
About the Author
Richard Parker is an award-winning journalist who writes about political, economic, technological and social change. His work appears in the Op-Ed and Sunday Review sections of the New York Times, the Columbia Journalism Review and other major newspapers. He lives in the Texas hill country outside Austin.
or
Not Currently Available for Direct Purchase