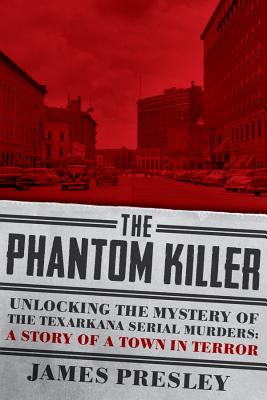 The Phantom Killer
Hardcover

* Individual store prices may vary.
Other Editions of This Title:
Digital Audiobook (2/23/2015)
Compact Disc (2/24/2015)
MP3 CD (2/24/2015)
MP3 CD (2/24/2015)
Compact Disc (2/24/2015)
Hardcover, Large Print (4/6/2016)
Paperback (1/4/2016)
Description
Set in the rowdy, often lawless town of Texarkana shortly after WWII, The Phantom Killer is the history of the most puzzling unsolved cases in the United States.



The salacious and scandalous murders of a series of couples on Texarkana's "lovers lanes" in seemingly idyllic post-WWII America created a media maelstrom and cast a pall of fear over an entire region. What is even more surprising is that the case has remained cold for decades. Combining archival research and investigative journalism, Pulitzer Prize nominated historian James Presley reveals evidence that provides crucial keys to unlocking this decades-old puzzle.Dubbed "the Phantom murders" by the press, these grisly crimes took place in an America before dial telephones, DNA science, and criminal profiling. Even pre-television, print and radio media stirred emotions to a fever pitch. A Town in Terror, exhaustively researched, is the only definitive nonfiction book on the case, and includes details from an unpublished account by a survivor, and rare, never-before-published photographs. Although the case lives on today on TV, the Internet, a revived fictional movie and even an off-Broadway play, with so much of the investigation shrouded in mystery since 1946, rumors and fractured facts have distorted the reality. Now, for the first time, a careful examination of the archival record, personal interviews, and stubborn fact checking come together to produce new insights and revelations on the old slayings.
Praise For The Phantom Killer…
Pulitzer Prize nominee Presley effectively conveys the fear that gripped Texarkana in 1946 in the wake of a series of murders—and goes on to offer a persuasive solution to the unsolved crimes.  Diligently researched, this gripping, page-turning account is a standout true-crime narrative.

In this gripping and well-researched look back on one of the most fascinating and horrific crime sprees in Texas history, Presley ably proves that hard facts trump decades of myth, fantasy and speculation.
— Carlton Stowers, author of 'To the Last Breath' and 'Careless Whispers'

Well researched and solidly written, Presley's book brings a forgotten crime to the forefront. Readers will be spellbound and want to consume it in one sitting. This book belongs in all true crime collections and will attract a general audience, not just fans of true crime. With a remake of the 1976 movie due for 2014 release, expect demand.

Fascinating and riveting. Will still raise the hair on the back of your neck almost seventy years later. Presley's book is a triumph.

Presley is thorough, incredibly thorough, as he plunges back in time almost 70 years to attempt to bring closure to one of the most puzzling serial murder cases in the country. Fascinating, dexterous work.
Pegasus Crime, 9781605986425, 400pp.
Publication Date: November 15, 2014
About the Author
?James Presley ?has a Ph.D. in history from the University of Texas and has won numerous awards for his journalism, including the Anson Jones Award and the John H. McGinnis Memorial Award. He is the author of ?A Saga of Wealth: The Rise of the Texas Oilmen, which was nominated for a Pulitzer Prize. He lives in Texarkana, Texas.
or
Not Currently Available for Direct Purchase