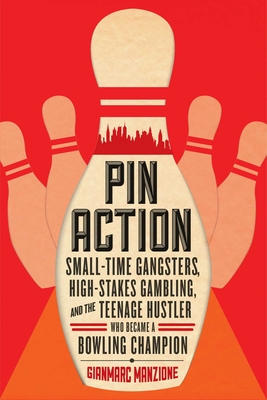 Pin Action
Hardcover

* Individual store prices may vary.
Other Editions of This Title:
Paperback (2/15/2016)
Compact Disc (12/9/2014)
Description
Most of us think of bowling as a "sport" in quotation marks, and bowling alleys are places with disco balls, matching shirts, and funny shoes. But in the 1960s, New York City was the center of action bowling, a form of high-stakes gambling in which bowlers--often teenagers--faced off for thousands of dollars every night. When money like that is changing hands, you can bet the pressure is on (and balls are rigged), and losses come with dire consequences. But for a few kids, the world of action bowling would turn out to be a ticket off the mean streets of New York City and onto the Professional Bowlers Association Tour. For Ernie Schlegel, it would be a chance to shed his con artist ways and become a bonafide champion.For the more than 100 million bowlers worldwide and for fans of timeless sports histories, PIN ACTION captures the underbelly of 1960s and '70s New York, when thugs and hustlers ruled the dark alleys, and tells the true story of how the most notorious action bowler of all time became a Hall of Famer. Set in the gritty, flashy, lost world of action bowling, Gianmarc's tells an epic tale filled with seedy characters, uproarious eccentricities, improbable twists of fate, and a rags-to-riches narrative that is so crazy it has to be true.
Praise For Pin Action…
A thoroughly entertaining slice of twisted Americana, New York gangster style. Only in the Big Apple could something so pure and Middle America as bowling become so infused with most of the seven deadly sins. Put it on the shelf with The Big Lebowski and Jersey Boys.

— Dary Matera, author of QUITING THE MOB and THE F.B.I.'s TEN MOST WANTED

A book about bowling? Zzzzzz, right? Nope. Manzione lays bare a world to which most readers will have had little exposure. But he brings that world alive with vivid prose and razor-sharp characterizations. A superb sports memoir.

A hard-boiled and often funny look at the hustlers, thugs and characters of the 1960s New York bowling underworld. Who knew bowling alleys could tell such entertaining stories?

This well-researched account is for those who remember the glory days of bowling. Others will be fascinated by the gritty side of the sport, which few knew existed.

Manzione's account of eccentric people, colorful places, and once-popular pro sport is a strike.

Every now and then, we're fortunate enough to stumble across a story that transports us to places we never knew we wanted to go. Pin Action is just such a story—a rare, cultural gem of storytelling, both brilliantly researched and masterfully rendered. Prepare to be bowled over.

— Tracy Crow, author of EYES RIGHT

The biggest pleasure of Pin Action is those stories of glory days, which read as if you're listening to a bunch of slightly shady old guys spinning yarns in some neighborhood club in the least hip reaches of Brooklyn. Manzione tells them with the colorful language and larger-than-life tone they deserve.


In Pin Action, Gianmarc Manzione takes the reader on a fascinating journey into the murky world of high-stakes bowling. But this tribute to gangsters and gamblers is not just for bowlers. Anyone who appreciates top-notch storytelling will appreciate Manzione's audacious new book. Lace up your bowling shoes and muster your courage. You won't regret the ride.

— R. A. Dyer, author of HUSTLER DAYS: Minnesota Fats, Jersey Red and America's Great Age of Pool and THE HUSTLER AND THE CHAMP: Willie Mosconi, Minnesota Fats and the Rivalry that Defined Pool

Pin Action took me on a wonderful trip back in time to the golden era of action bowling in the 1960s New York Tri-State area. Manzione's words brought back vivid memories of the greatest time of my life bowling action at Ave M Bowl in Brooklyn which was one of the most famous action houses of all time. He goes into great depth capturing the smell, the feel, the characters of this great bowling alley and others with his own very unique writing style.

— Clifford Nordquist Sr., "AC Butch," ActionBowlers.com
Pegasus Books, 9781605986456, 336pp.
Publication Date: November 4, 2014
About the Author
Gianmarc Manzione is the most recognized writer in the bowling industry today. He has written on the subject for the New York Times and all of the bowling industry's highest-profile publications. Manzione fell in love with bowling as a kid growing up in Brooklyn, where he spent so much of his childhood in local bowling alleys that he was virtually raised in them. Manzione currently teaches English and creative writing at the College of Central Florida, and lives with his wife near Tampa.
or
Not Currently Available for Direct Purchase