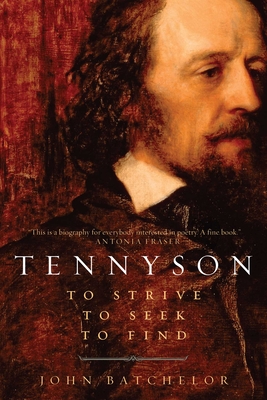 Tennyson (Paperback)
Pegasus Books, 9781605986487, 448pp.
Publication Date: December 15, 2014
* Individual store prices may vary.
Description
Alfred Lord Tennyson, Queen Victoria's favorite poet, commanded a wider readership than any other of his time. His ascendancy was neither the triumph of pure genius nor an accident of history: he skillfully crafted his own career and his relationships with his audience. Fame and recognition came, lavishly and in abundance, but the hunger for more never left him. Resolving never to be anything except 'a poet', he wore his hair long, smoked incessantly, and sported a cloak and wide-brimmed Spanish hat.Tennyson ranged widely in his poetry, turning his interests in geology, evolution and Arthurian legend into verse, but much of his work relates to his personal life. The poet who wrote The Lady of Shalott and The Charge of the Light Brigade has become a permanent part of our culture. This enjoyable and thoughtful new biography shows him as a Romantic as well as a Victorian, exploring both the poems and the pressures of his era, and the personal relationships that made the man.
About the Author
John Batchelor is Emeritus Professor at the University of Newcastle. He was also previously a Fellow of New College, Oxford. His books include biographies of Joseph Conrad, H. G. Wells, Virginia Woolf, and John Ruskin. He lives in Newcastle.
Praise For Tennyson…
Tennyson couldn't bear criticism, sucked up flattery, relied on his pious wife to manage his affairs and regularly exploited the kindness of his friends. if you're an admirer of 'Now sleeps the crimson petal, now the white,' this biography will tell you much about their author, his work and his world.
— Michael Dirda

Batchelor sees a man who transcends his age...a trove of insights into the personality and literary vision of an exceptional poet.

This fine biography revives the difficult, moody, complex man whose works captivated the Victorian world.

This is a perceptive biography, admirably identifying the social origins of Tennyson's spiritual torments.

This is a biography for everybody interested in poetry. Any evening devoted to Tennyson would express the whole wonderful, vivid world of the English language.
— Antonia Fraser

John Batchelor's book is acute in its examination of Tennyson's character and his importance for Victorian culture.
— The Times Literary Supplement
or
Not Currently Available for Direct Purchase