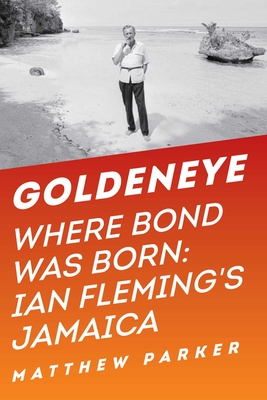 Goldeneye
Hardcover

* Individual store prices may vary.
Other Editions of This Title:
Digital Audiobook (3/10/2015)
Paperback (8/9/2016)
Compact Disc (3/11/2015)
MP3 CD (3/11/2015)
Compact Disc (3/11/2015)
Description
For two months every year, from 1946 to his death eighteen years later, Ian Fleming lived at Goldeneye, the house he built on a point of high land overlooking a small white sand beach on Jamaica's stunning north coast. All the James Bond novels and stories were written here.This book explores the huge influence of Jamaica on the creation of Fleming's iconic post-war hero. The island was for Fleming part retreat from the world, part tangible representation of his own values, and part exotic fantasy. It will examine his Jamaican friendships—his extraordinary circle included Errol Flynn, the Oliviers, international politicians and British royalty, as well as his close neighbor Noel Coward—and trace his changing relationship with Ann Charteris (and hers with Jamaica) and the emergence of Blanche Blackwell as his Jamaican soulmate. It will also compare the real Jamaica of the 1950s during the build-up to independence with the island's portrayal in the Bond books, to shine a light on the attitude of the likes of Fleming and Coward to the dramatic end of the British Empire.
Praise For Goldeneye…
Parker's entertaining and well-researched biography dishes up a rich stew for fans of popular literature, travel writing, British and West Indian history, and filmmaking, all sauced with plenty of titillating celebrity gossip.

This is no guilty pleasure. It's a straight-up delight of a biographical narrative that crisply illuminates Bond, Fleming and the era when the sun was setting on the British Empire and dawning on the jet age. Parker is out to explain an era, a writer and a remarkable character. Mission accomplished

A
wonderful biography. If you like Bond, you'll like this book.

Fans of James Bond books and films, along with those intrigued by the man behind the spy will devour the captivating stories within these pages. Readers interested in Jamaica's
relationship with Britain and America as the country moved toward independence will also appreciate the historical, cultural, and political realities and their context within Fleming's work.

Throughout Matthew Parker's account of Fleming's post-war sojourns in Jamaica, and how they shaped his fiction, we can imagine Bond himself looking on and feeling a perverse stab of envy. Parker tells a wider story; that of an island and its people at a turning point in their history. Parker's highly readable account of Fleming's Jamaican life is less Thunderball and more Jean Rhys's Wide Sargasso Sea. Bond himself might have been a touch jealous.


Hugely enjoyable and deliciously gossipy.

Against a backdrop of the island's evolution from colonialism to independence, Matthew Parker tells the story of Fleming's Jamaican retreat, of the psychological fallout of the end of the British Empire and of how Bond parachuted in to offer solace in the form of escapist fantasy. With Goldeneye now a luxury resort and the public appetite for Bond movies undiminished, Parker's book is an astute reminder of the price we pay for fantasy.

Matthew Parker's Goldeneye spies on Ian Fleming's love affair with Jamaica


Unique. Parker's Goldeneye is an appealing Caribbean history dressed as pop culture, and he adds complexity to Bond's legacy of vodka martinis, car chases and women in bikinis.


The author parallels Fleming's life with postwar events that planted the seed for the Bond character. He summarizes each of the Bond books as they reflect Cold War history—e.g., the Suez Crisis, the independence movements and increasing economic turmoil. A well-written look at Fleming''s life, though the book is even better as an indictment of the anachronistic colonialism of the 1950s and the end of the British Empire.

An
outstanding survey packed with insights key to understanding Ian Fleming's
world and how it translated to his famous James Bond character and scenarios,
as well as a cultural and social survey of Jamaica's evolving importance in the
world.

The iconic image of bikini-clad Ursula Andress stepping out of the Caribbean sea in the first James Bond movie 'Dr. No' is the stuff of fantasy. Now, Parker tells the story of the equally fantastic life of Bond creator Ian Fleming on the beaches of Jamaica, where he spent two months of every year from 1946 to 1964 at Goldeneye, the villa he built on the island's northern coast, hobnobbing with celebrity residents Errol Flynn, Noel Coward and Lawrence Olivier. Read it while drinking a martini — shaken, not stirred.

The soil from which Bond sprang is as virile as the spy himself. In exploring Jamaica, the island where Bond was born, Parker casts the entire canon in a refreshing—almost tropical—light. Through exhaustive research and interviews, Parker assembles an intricate portrait of not just Fleming, his coterie and his Goldeneye villa, but of Jamaica and the post-War remnants of the British Empire.

Fascinating. Parker treats each Bond novel, beginning with Casino Royale, with respect and expertise, taking care to show that Fleming often integrated his deep knowledge of Jamaica into the plotlines. The depiction of Fleming's own life of luxury in Jamaica, meanwhile, is mesmerizing. The book is as charming as Bond himself, leaving us a greater understanding of the world's most famous spy, his creator, and the house in which he was conceived.


Without Jamaica it is safe to say, there would have been no Agent 007. Matthew Parker sets the record straight in Goldeneye, his superb account of Fleming's Jamaica. This well researched, excellently written book tells of a rapid literary decline.


Insightful and engagingly written. Compelling. Goldeneye thoroughly explores Fleming's life and provides glimpses of his neighbors and guests, among them Noel Coward, British royals, and, of course, Sean Connery. But the book's real value is its examination of how Jamaica and Bond formed a microcosm of England's changes in the 1950s and early '60s.


Parker gives us insight into how this exotic local nurtured Fleming's writing, as well as a glimpse at some of the interesting guests he entertained there, and a look into colonialism and the crumbling British Empire. This is Bond's real origin story.

As much a testament to Jamaica as it is to Bond. The perfect book to understand the roots of one of the world's most legendary cultural icons.

Sparkling. Full of great quotes and salacious gossip. The Commander would be pleased.

I could not put down this story. For devotees of James Bond, or Jamaica, or the British Empire of old, Goldeneye is most entertaining reading.


The first book to explore the north-shore estate where the author and former intelligence officer Ian Fleming spent two months each year and wrote all the Bond books. The purchase of his tropical lair, the retreat from society, the way Fleming spent the latter half of his life there—these are all apparently telltale signs of a man who just can't handle getting older. What Parker's new book shows is how much that crisis latched itself onto James Bond, and how the defiant fantasy he provided against decline both restored Fleming
and gave life to an immortal franchise.

A sophisticated history of how Fleming's character developed. This is the beginning of the story of how Fleming and Jamaica, that desultory duo that generated Bond novels, first made contact.

A completely fascinating, authoritative and intriguing book—especially for anyone interested in Ian Fleming and the James Bond phenomenon.
— William Boyd, author of 'Any Human Heart'

The book that James Bond obsessives have been waiting for—a beautiful, brilliant history of Ian Fleming at home at Goldeneye, all of sun-drenched, gin-soaked, bed-hopping colonial Jamaica outside the window and 007 at the moment of his creation. This is THE BIG BANG OF BOND BOOKS—the world-weary romance, the impossible glamour, the sex, the travel, the legend, the longing for escape and adventure—it all starts right here.
— Tony Parsons

Supremely enjoyable. Matthew Parker has created a completely new picture of Fleming, Bond and the role of Jamaica in the making of the legend.
— John Pearson, author of 'The Life of Ian Fleming'

Matthew Parker's brilliant book Goldeneye is indispensable for anyone interested in the inner life of the enigmatic Ian Fleming and the whole James Bond phenomenon he created.

— Nicholas Rankin, author of 'Ian Fleming's Commandos'

What makes Parker's book particularly fascinating is the way that, as a result of close and intelligent reading, he teases out how Fleming drew on the island, its culture and its post-war development for much of the atmosphere and incidental detail in the Bond series.

Entertaining. Parker makes a convincing case that Jamaica is crucial to a proper understanding of the man and his work.

Best read somewhere hot, sipping something cool is Matthew Parker's brilliant addition to the canon of Jamaican travel writing and 007-ology, Goldeneye.


Fascinating. Less a dry narrative of sandal wearing chaps paying over the odds for their Morland cigarettes than a studious array of thoughts and insight.
— Mark O'Connell, author of 'Catching Bullets, Memoirs of a Bond Fan'

One of the attractions of Matthew Parker's book is that he not only reminds us of the origin of the Bond novels, but he fills in a lot of background about Jamaica—both its political path to independence and its later development as a tourist destination. Those seeking a world of sea, sunshine, girls, rum, tobacco and self-indulgent luxury will find it evoked here—and it is this they will remember, not the Spartan house Fleming built.

You might think there is nothing new to say about Ian Fleming—that every detail of his life has been obsessively picked over by biographers. Matthew Parker, though, has produced a book a illuminating as it is intriguing. Written in a quick-fire, atmospheric prose style that clearly owes something to Fleming's own, it cracks along with all the urgency of a Bond novel.

The evocation of the writer's voluptuous existence in Jamaica (and the unspoilt island itself) is nonpareil. Parker's record of a key period in the life of the writer makes a fascinating read.

An amazing portrayal of British racial and colonial attitudes in the 1950s and 60s.
— Andrea Levy, author of 'Six Stories and an Essay'

Persuasive, well researched and entertaining.

Matthew Parker's account of Fleming's experiences among the island's dissolute late-colonial visitors—from film stars and royalty to the secret services—shows how a combination of a jet-set crowd and the exoticism of the setting inspired the James Bond books, all of which were written there.

An enjoyable, sun-soaked, alcohol-sodden addition to Bond literature.
Pegasus Books, 9781605986869, 264pp.
Publication Date: March 11, 2015
About the Author
Matthew Parker is the author of three previous non-fiction books, Monte Cassino: The Hardest-Fought Battle of World War II; the Los Angeles Times bestseller Panama Fever, which was one of the Washington Post's Best Books of the Year; and The Sugar Barons, which was an Economist Book of the Year. He lives in England.
or
Not Currently Available for Direct Purchase