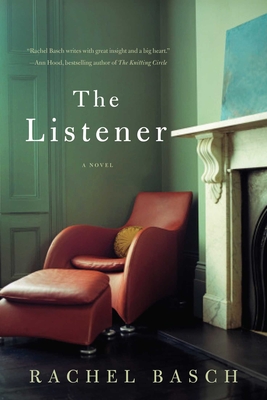 The Listener (Hardcover)
Pegasus Books, 9781605986883, 336pp.
Publication Date: March 15, 2015
Other Editions of This Title:
Compact Disc (1/28/2020)
MP3 CD (1/28/2020)
Paperback (5/3/2016)
* Individual store prices may vary.
Description
Malcolm Dowd is almost positive he recognizes the young woman who shows up for a session at his office in Baxter College's Center for Behavioral Health — he just can't place her. When suddenly she stands, takes off her wig, and reveals herself as Noah, the young man Malcolm had been treating months earlier, it marks the start of a relationship that will change them both forever. Since his wife's death years earlier in a car accident, Malcolm had dedicated himself to giving his two daughters the stable, predictable childhood he did not have. But nothing is predictable — not his daughters, not himself, and certainly not Noah. As Noah attempts to juggle homework and the campus production of "Les Miserables" with his search to define himself, his life becomes inextricably entwined with Malcolm's. Told alternately from Malcolm's and Noah's perspectives, The Listener is a wise and witty novel about the challenges to identity that arise in both adolescence and middle age. It is a story, ultimately, about human connection and the many shapes that love can take.
About the Author
Rachel Basch is the author of previous two novels: The Passion of Reverend Nash (named one of the five best novels of 2003 by The Christian Science Monitor) and Degrees of Love. Basch has reviewed books for The Washington Post Book World, and her nonfiction has appeared in n+1, Parenting and The Huffington Post. Basch was a 2011 MacDowell Colony Fellow. She received the William Van Wert fiction prize for an excerpt from her novel, The Listener. She currently teaches in Fairfield University's MFA Program and in the Graduate Liberal Studies Program at Wesleyan University. She lives in Connecticut.
Praise For The Listener…
Basch takes on the many challenges inherent in dealing with issues of personal identity. A powerful story about loving yourself as well as others.

Heartbreaking and compelling. A sensitive, absorbing story about the need to be heard and the ability to listen.

Basch (The Passion of Reverend Nash) has produced a compassionate narrative exploring the sexual identities of the young and not-so-young through her cast of well-drawn, quirky characters. As the plot moves toward its conclusion, Basch unites her characters in surprising and satisfying ways, making this novel really come alive.


The central characters carry The Listener. Generations twist and turn, each exposing the others' fallacies and lies. But it's in the interactions between them — impassioned youth and the weary-yet-hopeful older folk — that Basch makes magic. Everyone in this novel is trying to carve out meaning and an identity. The characters are paired and compared and refracted until each makes peace. And that's the beauty of this book: One person's pain must inform the other. Father teaches daughter. Son teaches mother. The world teaches everyone to listen and be still.


A riveting, inspiring, keenly smart novel full of brilliant observations about how we become ourselves, how we grow to feel at home both in the world and in our own skin. 'Wow,' 'wow,' I wrote in the margins. You won't want it to end.
— Bonnie Friedman, bestselling author of 'Writing Past Dark'

Basch is good at plumbing the preoccupations of middle-aged folks and quasi-incestuous New England college towns. The result is not just writing that's good, but writing that's brave.

Basch's third novel (after The Passion of Reverend Nash) is quiet, gentle, and deeply felt. Poignant and ultimately hopeful. It offers a sensitive discussion of gender and sexuality issues.


Basch's stunning and emotional novel captivates with its deft exploration of the intricate lives of a widowed therapist and his troubled young patient, Noah, with whom he shares surprising connections. Detailed with fully realized characters, surprising twists of plot, The Listener graces us with rich and wonderfully observed moments, revealing the sensitive balancing act of striving and failing in our roles as friends and lovers, parents and children. The vulnerability and depth of these characters are not soon forgotten.


The psychology of intimacy (and the intimacy of psychology) is put on the couch and made to reveal its deepest, darkest truths in The Listener. And the result, for the brave reader, is cathartic and life- (and love-) affirming. This is an important, provocative, enthralling novel with heart and soul to spare. Rachel Basch might just have the cure for what ails your literary psyche.

— Charles Blackstone, author of 'Vintage Attraction'

Rachel Basch writes with great insight and a big heart, imbuing her novel with both.
— Ann Hood, bestselling author of The Obituary Writer

This is a wise novel, full of unexpected twists and turns that lead straight into the intricate center of the heart. Rachel Basch writes with humor and grace about loss, desire, parenting, the conundrums of self-identity, and the many faces of love. Her finely wrought truths echo long after the book is finished. We need them.
— Karen Osborn, author of 'Patchwork'

Rachel Basch has delved into emotional terrain few writers dare to delve; The Listener is a deeply imagined story of intimacy and vulnerability, fear and longing. She explores the bonds we hold with those closest to us and how those bonds are both fragile and enduring. This book brings us into a world we are privileged to inhabit, a world we may not want to leave when we get to the end.

— Rachel Louise Snyder, author of 'What We've Lost is Nothing'

The Listener is a sharply observed exploration of identity and sexuality. Rachel Basch's engrossing novel captures the complexities of human relationships: both with ourselves and others. Fans of Richard Russo will find much to like in this book.

— Michele Filgate, writer

The Listener unfolds like a map, leading us with remarkable clarity through landscapes we thought we knew into the wild territories at the heart of any American family. Rachel Basch uncovers such vital truths about parents, children, lovers, friends—all the people we love and tremble for—that you'll want to put this novel in the hands of everyone you meet and say, Read it now.

— Nalini Jones, author of 'What You Call Winter'
or
Not Currently Available for Direct Purchase