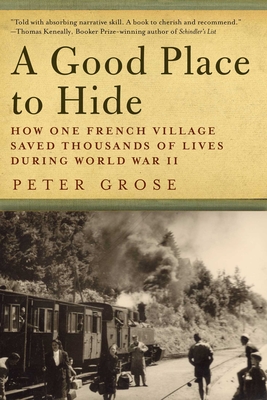 A Good Place to Hide
Hardcover

* Individual store prices may vary.
Other Editions of This Title:
Paperback (5/3/2016)
MP3 CD (5/24/2016)
Description
Nobody asked questions, nobody demanded money. Villagers lied, covered up, procrastinated and concealed, but most importantly they welcomed.This is the story of an isolated community in the upper reaches of the Loire Valley that conspired to save the lives of 3500 Jews under the noses of the Germans and the soldiers of Vichy France. It is the story of a pacifist Protestant pastor who broke laws and defied orders to protect the lives of total strangers. It is the story of an eighteen-year-old Jewish boy from Nice who forged 5000 sets of false identity papers to save other Jews and French Resistance fighters from the Nazi concentration camps. And it is the story of a community of good men and women who offered sanctuary, kindness, solidarity and hospitality to people in desperate need, knowing full well the consequences to themselves.Powerful and richly told, A Good Place to Hide speaks to the goodness and courage of ordinary people in extraordinary circumstances.
Praise For A Good Place to Hide…
A beautifully written tribute to their community and an outstanding contribution to Holocaust literature.

Peter Grose tells this story well. It reads like a thriller, but it is a well-researched book ... an excellent addition to history collections in all libraries.

Peter Grose's tale of the astounding 'rescue village ' of Le Chambon is not what you think it would be: no sentimental yarn of deliverance of all those the Nazi regime had in their sights, but a tale of practically delivered salvage of the hunted. It is a story resonant in our days, the age of refugees, and a grand narrative in its own right, all told with absorbing narrative skill. A book to cherish and recommend!
— Thomas Keneally, Booker Prize-winning author of Schindler's List

Inspiring. In chronicling the daring activity that went on for years, Grose keeps readers on edge with a heartwarming story of ordinary heroes who just did what was required.

Grose tells the inspiring story of courageous villagers, determined church leaders, and persecuted refugees in a journalistic style that many readers will enjoy. The bravery and
scale of the housing operations were remarkable. Recommended for general audiences with an interest in World War II history and narrative.

Combines solid historical research with the tension of a spy novel. In the vein of Schindler's List, A Good Place to Hide is an inspiring account of the extraordinary courage of ordinary people.


Incredibly moving... Ordinary people doing extraordinary things in the most extraordinary circumstances. A book full of love for the region. Grose underlines underlines the role played by the brilliant forger, Oscar Rosowsky. A reminder of the best that humans are capable of, but also an inspiration.

Grose has written an ambitious book that covers, among other things, the history of French Protestantism and the policy of the Vichy government, It is, however, the individual stories that stand out ... Above all, this book depicts the mosaic of little tragedies behind the collective tragedy of death and deportation.
— Evening Standard

Extraordinary.

There are numerous stories of individuals in occupied France sheltering Jews, but what makes this story different is that it tells the tale of a whole community taking collective action ... Peter Grose, in restrained prose that accentuates the sheer drama of the situation, delivers a salutary and resonant tale of a community rising to its best.

Well written in a pleasant style and easy to read ... A fascinating and inspiring story.

A fine book and a captivating and heartening story.

Peter Grose's book stands out as a complete story about life on the Plateau during World War II. Peter uses only facts to tell us a true story. He is one of those rare raconteurs who can write a history book that reads like a novel.
— Nelly Trocmé, Le Chambon eyewitness and daughter of André and Magda Trocmé
Pegasus Books, 9781605986920, 352pp.
Publication Date: April 15, 2015
About the Author
Peter Grose is a former journalist and literary agent. He is also the former publisher at Secker and Warburg. A Good Place to Hide is Grose's American debut.
or
Not Currently Available for Direct Purchase