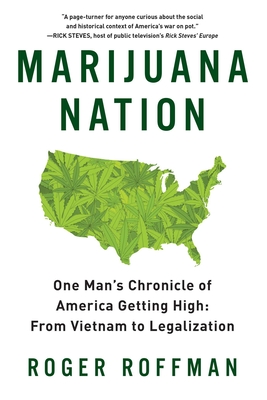 Marijuana Nation
Paperback

* Individual store prices may vary.
Other Editions of This Title:
Hardcover (4/20/2014)
Description
Roger Roffman first discovered marijuana while serving as a US Army officer in Vietnam. From these seemingly innocuous beginnings, Roffman has been fascinated by marijuana, as a researcher, scholar, therapist, activist, and user. Ever since America's youth first marched in opposition to the war in Vietnam, pot's popularity has periodically ebbed and surged. Calls for greater, fewer, or no marijuana penalties also have swung on their own pendulum.From lobbying in Washington, to talking to doctors and nurses in oncology wards, and watching his brother struggle with addiction, Roffman has experienced the layered and complex relationship Americans have with marijuana first-hand. With one foot on each side of the fence, at times feeling at odds with both camps, Roffman is on a quest to challenge those who insist we think of marijuana as a weapon of mass destruction, as well as those who would have us see it as a harmless source of pleasure and relief.
Praise For Marijuana Nation…
An
astounding first person account of the modern history of America's
love-hate relationship with cannabis from four knowing perspectives.
Firstly, as a young consumer, then an activist, abstinent researcher and
not-so-tacit university professor.  From no one else's writings can
these unique viewpoints be gained.
— Allenn St. Pierre, Executive Director, National Director of the Reform of Marijuana Laws

Debates about marijuana rarely involve opponents acknowledging that those on the other side have some good points. Those for legalization rarely admit marijuana use can be harmful, and those against it rarely concede that prohibition has failed. Roger Roffman brings some badly needed "fresh air" to our national discussion about pot and pot laws. A retired professor who has studied marijuana for decades, Roffman has also had the personal experience of struggling with his own compulsive use. The reader will find a middle ground in this thoughtfully written memoir. As more states consider changing their marijuana laws, Roffman's book is being published at just the right time.

— Charles Mandigo, former Special Agent in Charge, Seattle Division, Federal Bureau of Investigation

A
terrific book that provides great insights into the complex issue that
is cannabis. Professor Roffman's unique experiences with this drug are
given voice with his usual thoughtful and engaging style.  Roffman is a
father of modern cannabis intervention research and his book is a must
read.
— Professor Jan Copeland, Director, National Cannabis Prevention and Information Center, University of New South Wales

Anyone wishing to understand the conflicting value judgments, political quagmire, and social upheaval that the marijuana reform effort has been steeped in for decades would benefit from reading Marijuana Nation. While Roffman's work may deliver more questions than answers, his introspection and self-effacing style carve a path for the discerning mind to come to its own well informed decisions on what clearly is the subject of the day for both the social scientist and the casual reader.

— Vivian McPeak, Executive Director, Seattle Hempfest

Dr. Roffman writes beautifully from multiple perspectives about his 40 year interest in marijuana policy -- the destructive impacts of our drug war on exploring young lives, the political struggles over policy changes, his own experimentation and dependency, and his research on marijuana addiction.   A must-read for all seeking a saner approach to recreational drug use.

— Robert W. Wood, M.D., Clinical Professor of Medicine, University of Washington

Roger writes a compelling story. No matter what side of the marijuana debate you land on, you can appreciate how he arrived at his opinion on the matter. This is more than an argument for or against the legalization of marijuana, it's a detailed map of his personal journey and evolution on the topic. I have long respected Roger's willingingness to tell the whole story in his work. Reading this book helps me understand the thoughts, tears, steps and intention behind his position.
— Frank Couch, LMFTA, CDP, NCACI, Executive Director, The Science And Management of Addictions

Marijuana Nation was a totally engaging read! It vastly broadened my understanding of the history of marijuana within our culture.  I especially appreciated the candidness with which Dr. Roffman described his personal experiences and opinions around marijuana. As a mother who grew up in the 60's and 70's and is now frantic about my teen son's heavy marijuana use, this book has given me a better perspective and knowledge that is helping me deal with his dependence. I think this is a book every parent should read.

— Julie Campbell, youth substance abuse prevention activist, Seattle

When it comes to the war on marijuana, it's easy to be passionately pro or con. Roger Roffman goes much deeper. For 40 years he's been passionate about actually understanding America's fascinating and painful relationship with this drug and what policy is best for our society when it comes to pot. In Marijuana Nation, Roger shares a unique perspective from the trenches of Vietnam to the halls of academia to the eventual legalization of pot in two states. The story he tells is a page-turner for anyone curious about the social and historical context of America's war on pot.

— Rick Steves, host of public television's Rick Steves' Europe
Pegasus Books, 9781605987026, 352pp.
Publication Date: March 15, 2015
About the Author
Roger Roffman is a Professor Emeritus of Social Work at the University of Washington and has been part of a federally-funded, twenty-five year study/counseling initiative for marijuana dependent teens and adults. He is a graduate of Boston University, the University of Michigan, and the University of California at Berkeley. Roger lives in Seattle.
or
Not Currently Available for Direct Purchase