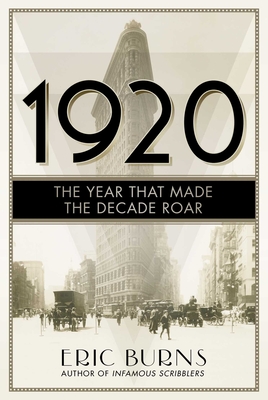 1920
Hardcover

* Individual store prices may vary.
Other Editions of This Title:
Digital Audiobook (11/2/2015)
Paperback (8/9/2016)
Hardcover, Large Print (9/9/2015)
Compact Disc (5/15/2015)
MP3 CD (5/15/2015)
Compact Disc (5/15/2015)
Description
The Roaring Twenties is the only decade in American history with a widely-applied nickname, and our fascination with this era continues. But how did this surge of innovation and cultural milestones emerge out of the ashes of The Great War? No one has yet written a book about the decade's beginning. Acclaimed author Eric Burns investigates the year of 1920, which was not only a crucial twelve-month period of its own, but one that foretold the future, foreshadow the rest of the 20th century and the early years of the 21st. Burns sets the record straight about this most misunderstood and iconic of periods. Despite being the first full year of armistice, 1920 was not, in fact, a peaceful time—it contained the greatest act of terrorism in American history to date. And while 1920 is thought of as staring a prosperous era, for most people, life had never been more unaffordable. Meanwhile, African Americans were putting their stamp on culture and though people today imagine the frivolous image of the flapper dancing the night away, the truth was that a new kind of power had been bestowed on women, and it had nothing to do with the dance floor . . . From prohibition to immigration, the birth of jazz, the rise of expatriate literature, and the original Ponzi scheme, 1920 was truly a year like no other.
Praise For 1920…
Lively. Burns convincingly dispels a number of popular beliefs, including the idea that the 'ignoble experiment' of Prohibition was solely responsible for the birth of organized crime in America. He also finds parallels with many issues and 'civil wrongs' still running through our landscape: terrorism, immigration, women's rights, political corruption, and tabloid culture.

Burns's territory stretches far and wide across the
realms of politics, Prohibition, pop culture and more: communists,
suffragettes, Teapot Dome, birth control, the radio. He skillfully builds
portraits of such figures as con artist Charles Ponzi, Planned Parenthood
founder Margaret Sanger and crusading U.S. Attorney General A. Mitchell Palmer.
He brings to light events that have probably received scarce attention in
standard school curricula. An eminently readable, informative book.

Burns builds upon existing scholarship to explain the significance of this one year in an accessible way for non-academic readers.

Covers
one of the most dynamic periods of American history. A fine review of the new
kinds of power emerging among women and minorities of the times, and the
concurrent events that made the 1920s so significant.

A thorough tour of the upheavals and events of the year when 'the Roaring Twenties first began to roar.' An entertaining and informative look at a pivotal period. Burns makes it possible to recognize the century to come in this intimate study of a single year, and the result is downright fascinating.

In picking the one that set off the fabled Roaring Twenties, former NBC correspondent and 'Fox News Watch' host Eric Burns has really hit the mother lode. Like all good writers, though, Burns does not allow the confines of his chosen year to be a straitjacket. Burns shines a valuable light on the beginnings of domestic terrorism in the United States, a too little remembered chapter in our history, which continues to resonate.

In a fascinating work about a remarkable year, former NBC News correspondent Burns shows us what put the roar in the Roaring '20s. Burns follows it all with verve. In this delightfully readable book, the author expertly shows how those affected by the Great War linked together, nourished each other and really did change the world.

Burns delivers history with flair and vividness.

A
roaring read, a thorough and thoughtful appraisal of a single year in our
past and all its implications for our future.

Burns proves that a year can hold a reader's attention and then some, with the year bringing on the fiasco that was Prohibition, jazz, the beginning and end of Ponzi's great scheme, and so much more. People with such characters as Marcus Garvey, William James, Dorothy Parker, Louis Armstrong, and Warren G. Harding, and with such events as the first-ever broadcast of presidential elections, Agatha Christie publishing her first book, and the Nineteenth Amendment to the Constitution being passed, 1920 makes history vibrant, exciting and palpably important. Entertaining and highly readable.


A work of genuine historical research, colorful personality, intellectual sophistication, heft, and durable interest.

Extremely readable. Burns's vigorous narrative is rich in genuinely engaging anecdote. He so clearly appreciates history's sweep.
Pegasus Books, 9781605987729, 400pp.
Publication Date: May 15, 2015
About the Author
Eric Burns, a former NBC News correspondent and Today Show pundit, appears regularly as a commentator for Entertainment Tonight and hosts A&E's Arts & Entertainment Revue. He was the former host of Fox News Watch and has won an Emmy for media criticism. He is the author of Infamous Scribblers and The Spirits of America and lives in Westport, Connecticut.
or
Not Currently Available for Direct Purchase