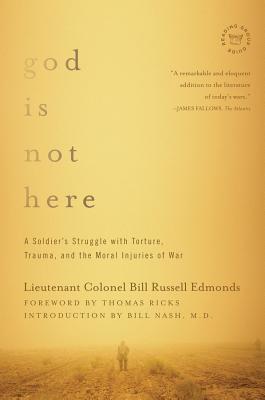 God is Not Here
Hardcover

* Individual store prices may vary.
Other Editions of This Title:
Paperback (6/14/2016)
Description
A powerful and intimate look into torture and its effect on both the tortured and the torturer.



In May 2005, Lieutenant Colonel Bill Russell Edmonds of the U.S. Army Special Forces, a decorated counter-terrorism expert, was deployed to the Iraqi city of Mosul, which was boiling over. His job was to advise an Iraqi Intelligence Officer on the art of interrogations, collect intelligence, and monitor the capture and interrogation of insurgents, while applying the brakes on more extreme tactics and torture. From a makeshift basement prison, he would witness a never-ending cycle of some of the darkest things humanity could create.It was a soul crushing minefield of mutually exclusive moral mandates. Edmonds' training offered little practical guidance for the nuances of the Iraq War, so he had to draw his own red line: what level of torture he would tolerate and what level he would not. A year later he returned home morally and spiritually hollowed-out, with post-traumatic stress and acute moral injury. At first, he thought his distress was from the inevitable adjustment of returning home. In GOD IS NOT HERE, Edmonds has gone beyond a blood and body count war memoir, revealing his emotional, psychological, and spiritual trauma—and the tortuous process of his reassembly—while providing a raw look at what happened overseas.
Praise For God is Not Here…
As Edmonds' memoir shows, conscience remains a powerful force that cannot be denied. Compelling. Hopefully God Is Not Here will inspire debate within our military. Those readers who suffer deep moral wounds themselves will hear in this book the familiar, haunting echoes of their own thoughts and feelings. Through these echoes, they may realize, if they do not already: they are not alone.


Every war raises moral questions. Even the 'good wars.' But during America's ongoing anti-terrorist long wars, too few Americans have sense the weight of such questions, because so many are buffered from any real involvement in what their country is doing in their name. God is Not Here is all about the moral weight of what individuals do in the country's name. A powerful piece of work.


"War is rife with good people feeling shame or guilt for what they did. Scientists are calling it moral injury. Edmonds spent years writing as therapy to treat those wounds. This book is the result. 'By sheer force of will I revised myself. Now I am able to explain myself to myself.' Deep and profound.
— Gregg Zoroya

A wrenchingly honest account of a soldier''s inner conflicts in a morally ambiguous war. Working with an Iraqi officer interrogating Iraqi terror suspects, Bill Edmonds got what most U.S. soldiers did not: a view of the Iraq war through Iraqi and not American eyes. That perspective gives a painful but illuminating and necessary lesson on the true nature of America''s conflicts in our era.
— Arnold R. Isaacs, author of 'Without Honor: Defeat in Vietnam and Cambodia' and 'Vietnam Shadows: The War, Its Ghosts, and Its Legacy'

You know Bill Edmonds is on to something from the very beginning of the book, which I think is one of the best to come out of the Iraq war. There are lines that stay with me.
— Thomas Ricks, 'New York Times' bestselling author, from the Foreword

An intense wartime and post-war memoir. This blunt, taut account, based on Edmonds's journals, addresses the profound ramifications Edmonds's work in the war have had on his emotional well-being. The chapters effectively flash back and forth.

Captures an essential lesson about the war in Iraq. Searing and often brutal. As Edmonds' account so telling demonstrates, much more remains to be done.

Heraclitus wrote that 'truth likes to hide.' God is Not Here is about bringing truth out of hiding, the agony of living with it, and finding the courage to tell it. Edmonds' wrenching chronicle of his deployment to hell—his infernal 'descent into a moral abyss'—is required reading for the nation that sent him there.

— Robert Emmet Meagher, author of 'Killing from the Inside Out: Moral Injury and Just War'

God Is Not Here is a courageous book by a thoughtful warrior whose personal story shows us the terrible moral and human costs of torture, not just to those who are tortured, but to the torturers.

— Scott Cooper, National Security Outreach Director, Human Rights First

While our country is deep in conversation about how to help veterans who return from combat with PTSD, a much less discussed topic is soldiers who return with moral injuries. God is Not Here is a courageous memoir that provides extraordinary insight into the challenges of adjusting to normal life after dealing with the moral complexity of combat. A valuable resource for understanding one of the many negative repercussions of torture—the effect it has on the welfare of our own soldiers.

— Tony Camerino, former senior military interrogator, author of 'How to Break a Terrorist'

Eloquently introspective. A haunting and beautifully written plunge through the moral morass of the American occupation of Iraq and its grave toll on veterans. God Is Not Here is a military memoir not to be missed.


A raw portrayal of Faulkner's human heart in conflict with itself. Part confession and part treatise, I was engrossed by Edmonds' ongoing conversations with Saedi, his Iraqi counterpart who serves as both his good and bad angel. It is commendable that Edmonds even attempts to reconcile right and wrong in his impossible role, but it is also the source of the tragedy.
— Brian Castner, author of 'The Long Walk: A Story of War and the Life That Follows'

God is Not Here sharply details the thorny tensions of our new wars, and how American forces have been thrust into vexing, unwinnable situations. Edmonds reveals how these experiences exacted a ruinous toll on him. It is a story of moral injury—and betrayal—and shows that our service members deserve clear and serious leadership. Without it, they'll have to fight another wrenching battle when they return home.

— Joshua E. S. Phillips, author of 'None of Us Were Like This Before: American Soldiers and Torture'

An important account of how torture is ineffective and can deeply harm those who merely witness it. A must-read for anyone who cares about America's future and the welfare of U.S. service members.
— Lieutenant Colonel Douglas A. Pryer, author of 'The Fight for the High Ground'

A truly remarkable memoir. With searing candor and profound soul-searching, Edmonds opens our eyes to the horrible moral ambiguities that he faced. He has no pat answers about living in a space between complicity and moral protest of torture, but the protest that does cry out is that he has lived too long with his own moral anguish. As a nation we must stop distancing ourselves from the Americans who fight on our behalf and start holding ourselves accountable to help them heal.
— Nancy Sherman, author of 'Afterwar: Healing the Moral Wounds of our Soldiers'

'I will write my way through this,' [Edwards says] and he does, with a precision that might help others who remain bombarded.

America's modern wars have played out in the background for most of America's people. For those who were engaged, the consequences will last a lifetime and are only beginning to be fully reckoned. God Is Not Here is a remarkable and eloquent addition to the literature of today's wars, an unsparing assessment of what "urban warfare" and "enhanced interrogation" mean for those carrying them out. The country in whose name Bill Russell Edmonds has fought needs to read his account.

— James Fallows, National Correspondent, 'The Atlantic,' author of 'The Tragedy of the American Military'

God is Not Here is an honest, gritty and unflinching look at the war in Iraq and its impact on the human spirit. The writing is crisp and the story is gut wrenching. One of the best Iraq books I've ever read.

— Kevin Maurer, co-author of 'No Easy Day: The Firsthand Account of the Mission that Killed Osama Bin Laden'

A powerful and courageous story of a soldier's fight against a policy that ran counter to his own moral code. As a young captain, Bill Edmonds was idealistic, excited to do his part in the war on terror. But his embed with Iraqi intelligence forces didn't go as planned. The unit's interrogation practices were brutal. But when he raised concerns about the tactics to commanders, he was brushed aside. In one of the best books written about the Iraq and Afghanistan conflicts, Edmonds provides a compelling glimpse into this dark world where the ends justify the means, and his own heartbreaking struggle to maintain his sanity in the face of immoral behavior.
— Mitch Weiss, Pulitzer Prize winning investigative journalist and author of 'Tiger Force: A True Story of Men and War' and 'No Way Out: A Story of Valor in the Mountains of Afghanistan'
Pegasus Books, 9781605987743, 312pp.
Publication Date: May 15, 2015
About the Author
Lieutenant Colonel Bill Russell Edmonds is a decorated counterterrorism and counterinsurgency expert who has served in various positions throughout the Special Operations community and with other U.S. government agencies. With more than twenty years of service, Bill is a native of Southern California and currently lives in Germany with his wife and two daughters.
or
Not Currently Available for Direct Purchase