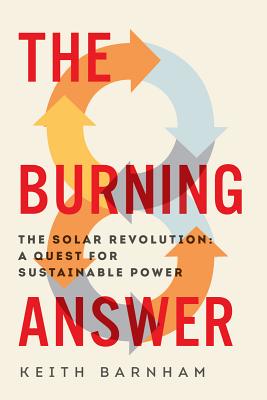 The Burning Answer
Hardcover

* Individual store prices may vary.
Description
Using the little-known equation E=hf as the foundation for a compelling new vision, The Burning Answer reveals the importance of embracing solar energy as the only solution to the global energy crisis.



Our society faces a choice. We could be enjoying a sustainable lifestyle but we have chosen not to. In three generations we have consumed half the oil produced by photosynthesis over eight million generations. In two generations we have used half our uranium resources. With threats from global warming, oil depletion and nuclear disaster, we are running out of options. Solar power, as Keith Barnham says, is our necessary solution.Barnham explains that the roots of solar energy lie in a little known equation E=hf, an equation which was coincidentally celebrated (and explained to the world) by Einstein in the same year he discovered E=mc2. He alleges that the former equation has been overlooked in favor of the latter, much to our detriment, and Barnham is here to offer us a solution: We can still turn things around and solar energy is the key.In this provocative, inspiring, passionately argued book, Keith Barnham outlines actions that any one and all of us can take to make an impact now and on future generations. The Burning Answer is a solar manifesto for the new climate-aware generation and a must-read for climate-change skeptics.
Praise For The Burning Answer…
The energy fizzes off the page, and any doubters of the merits of solar power, be they scientists, commentators or policy wonks, are given a swift left-hook.

Dozens of books have been published in recent years touting the environmental benefits of solar energy, but few display more unbridled enthusiasm for the technology than this rousing manifesto. Some truly revolutionary ideas here. Barnham's work will inspire everyone interested in green energy, from business people to consumers to activists, and deliver a body blow to those still determined to exploit climate-damaging fossil fuels.

An optimistic, heavily science-based polemic. An admirable addition to the growing genre maintaining that global warming may not lead to Armageddon.

Keith Barnham has something new to say: he cuts through the current morass of fossil-fuel and nuclear lobbyists' negative propaganda with a clear and original vision for solar power. It is a bold vision, a necessary one, and the world needs to be fired up about it. Keith Barnham is fanning a necessary flame.

An impassioned case for solar energy. Barnham is a gee-whiz kind of popular science writer, one with a knack for analogy. He persuades not with charts and graphs but with the power of his storytelling and his passion for science.
Pegasus Books, 9781605987767, 400pp.
Publication Date: May 15, 2015
About the Author
Keith Barnham is Emeritus Professor of Physics at Imperial College London. He started his career in experimental particle physics working in research laboratories in Geneva and the University of California Berkeley. Mid-career he switched to researching solar energy and invented a solar cell with three times the efficiency of today's roof-top panels. He lives in England and his website is www.burninganswers.com.