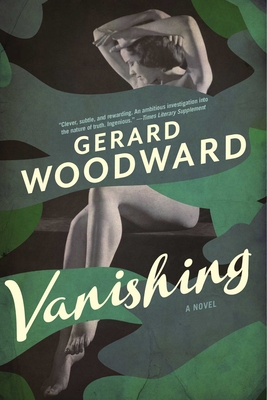 Vanishing
A Novel
Hardcover

* Individual store prices may vary.
Other Editions of This Title:
Paperback (8/9/2016)
Description
From London's Soho underworld and the 1930s art scene to the battlegrounds of North Africa, a literary thriller following the exploits of an enigmatic camouflage officer—and brilliant painter—before and after World War II, by Booker Prize-nominated novelist Gerard Woodward.
Toward the end of the World War II, young British artist Kenneth Brill is arrested for painting landscapes near Heathrow Village; the authorities suspect his paintings contain coded information about the new military airfield that is being built. Brill protests that he is merely recording a landscape that will soon disappear. Under interrogation a more complicated picture emerges as Brill tells the story of his life—of growing up among the market gardens of The Heath and of his life on the London art scene of the 1930s. But a darker picture also comes to light, of dealings with the prostitutes and pimps of the Soho underworld, of a break-in at a royal residence, and of connections with well-known fascist sympathizers at home and abroad.
So who is the real Kenneth Brill? The hero of El Alamein who, as a camouflage officer, helped pull off one of the greatest acts of military deception in the history of warfare, or the lover of Italian futurist painter and fascist sympathizer Arturo Somarco? Why was he expelled from the Slade School of Fine Art? And what was he doing at Hillmead, the rural community run by Rufus Quayle, a friend of Hitler himself?
Vanishing sees the world through the eyes of one of the forgotten geniuses of modern art, a man whose artistic vision is so piercing he has trouble seeing what is right in front of him.
Praise For Vanishing: A Novel…
A complicated
and compelling novel about an enigmatic and eccentric artist. A portrait of an
artist as a young man, with a very unreliable artist constructing the
narrative. It's an experiment in storytelling, a mystery that unfolds by
impressively alternating between three time frames. It's an amalgam of genres —
Romantic poetry, Gothic romance, and World War II adventure all inflect the
writing — stitched together by the singularity of its narrator's voice. An
ambitious, rangy and unusual novel. Something to admire.

Superb.
[Woodward's]
best and most ambitious novel to date, a compulsively readable onion-peel of a
book in the course of which any sane reader will gradually come to doubt every
single claim Kenneth Brill makes about himself and yet will simultaneously come
to feel this may be the most dauntingly honest narrator of any novel so far
this year. A novel that defies reduction — an opulent and stunningly sly
performance.

A hard-to-put-down tale of deception. Finely
written, with
rich detail and vivid descriptions of people and place.

Psychologically astute. In a style similar to John Irving, poet and novelist Gerard Woodward presents a deliciously elegant, leisurely paced, and thought-provoking story that alternately has readers chuckling under their breath and weeping with pity. Reminiscent of Billy Abbott (from Irving's In One Person, 2012) and Calliope Stephanides (from Eugenides' Middlesex, 2002), Kenneth Brill may be a sly chameleon, but he's a fascinating one. Puzzling and absolutely absorbing, this literary character study keeps you guessing.


Beautifully
descriptive and often dark, bordering on the edges of morality, but with
touches of humor.

This is a huge, complex novel, at turns both blackly funny and bleakly moving, driven by truly original characters, rich in obscure pieces of knowledge, evocative of a long-lost, little-known past, and always absorbing - in a word, a masterpiece.

Rich
thematic material. The book is a war novel, country novel, campus novel,
coming-of-age novel, gay novel, courtroom novel, and romance novel. Woodward
has a knack for sketching striking and memorable scenes.

A vividly drawn tale of war, art and sexuality.

A
thorough novel of intrigue covering one of the shakiest times in history.
Woodward plays with the novel's language, with the novel's structure, and makes
the reader wonder what to believe. And, in the end, maybe we believe it all.

Clever, subtle, and rewarding. An ambitious investigation into the nature of truth. Ingenious.
Pegasus Books, 9781605987828, 400pp.
Publication Date: May 15, 2015
About the Author
Gerard Woodward is the author of a number of novels, including Nourishment and an acclaimed trilogy comprising of August (shortlisted for the 2001 Whitbread First Novel Award), I'll Go to Bed at Noon (shortlisted for the 2004 Man Booker Prize) and A Curious Earth. He was born in London in 1961 and published several prize-winning collections of poetry before turning to fiction. His collection of poetry, We Were Pedestrians, was shortlisted for the 2005 T. S. Eliot Prize. He is Professor of Creative Writing at Bath Spa University.
or
Not Currently Available for Direct Purchase