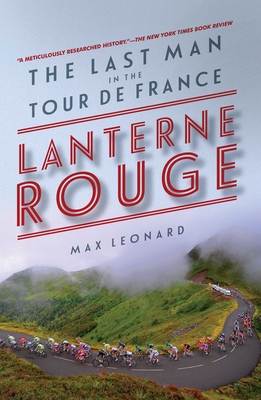 Lanterne Rouge
Hardcover

* Individual store prices may vary.
Other Editions of This Title:
Paperback (6/14/2016)
MP3 CD (5/14/2019)
Compact Disc (5/14/2019)
Compact Disc (5/14/2019)
Description
Froome, Wiggins, Mercks—we know the winners of the Tour de France, but Lanterne Rouge tells the forgotten, often inspirational and occasionally absurd stories of the last-placed rider. We learn of stage winners and former yellow jerseys who tasted life at the other end of the bunch; the breakaway leader who stopped for a bottle of wine and then took a wrong turn; the doper whose drug cocktail accidentally slowed him down and the rider who was recognized as the most combative despite finishing at the back. Max Leonard flips the Tour de France on its head and examines what these stories tell us about ourselves, the 99% who don't win the trophy, and forces us to re-examine the meaning of success, failure and the very nature of sport.
Praise For Lanterne Rouge…
Writer and amateur cyclist Leonard challenges what it means to achieve greatness through the mythos of the sport's underdogs. There is much to learn from this book, which will prove amusing for cycling enthusiasts and interesting enough for sports buffs without a clue.

In some sports, last place doesn't necessarily mean ignominy. Max Leonard's entertaining book is rich with stories. A lively and engaging book that offers a valuable lesson: A lanterne rouge may finish last, but at least he stayed in the race.

Don't be surprised if you fall in love with Max Leonard's book. A glorious celebration.

A fascinating account that focuses on the many stories, both real and mythical, associated with what is termed Lanterne Rouge, or the cyclist who finishes in last place at the famed Tour de France bike race. Leonard's captivating, thoroughly researched, and well-written book is replete with a meticulous index of terms and names.


Max Leonard demonstrates that perhaps the best way to understand the Tour de France—and, to an extent, cycling as a whole—is to approach it was most of us would on a bike: from well behind. The Last Man in the Tour de France is equal parts history, hagiography, love letter and existential rumination. It is also quite good, insomuch as it falls well within the wheel grooves of the similar sports books before it but then drafts behind them, like a skilled racer does, so that its heart-on-sleeve moments, which can become syrupy quagmires in lesser reads, hurtle by, driven by Leonard's relatively lean prose and his obvious personal passion.


An
engaging, exhaustive survey of the last man in the Tour de France, a history, a
collection of appealing anecdotes and a psychological consideration of winning
and losing. An obvious choice for serious cycling fans, Leonard's study will
also please general sports fans, history enthusiasts and those who root for the
underdog.

Thoughtful, properly researched, and consistently entertaining.
— Tim Moore, author of 'Gironimo!'

A lively account. It's not easy to come up with an original angle on Le Tour, but with this rear view Leonard has managed the feat in style.

A
meticulously researched history chock-full of names and race information,
featuring mini-profiles of several men who have been last-place finishers in
the race and are called lanternes rouges.

An elegant book. Surprising and illuminating.

This is a valuable book with some great stories. Deeply-researched and well-written, it's an enjoyable read that shouldn't be rushed.

Thoughtful and witty.

Leonard extracts the dignity that sometimes exists in sporting failure; this is not the world of Armstrong, Keane, or Pietersen and it is all the more appealing because of that.

This book does a great job of revealing some of the less well known stories from le Tour: well written, entertaining, and informative.
— Richard Peploe, Road
Pegasus Books, 9781605987866, 272pp.
Publication Date: May 30, 2015
About the Author
Max Leonard is the author of Lanterne Rouge and amateur cyclist. He has written for Esquire, Monocle, Rouler, Daily Telegraph, Rapha and more. He lives in London.
Coverage from NPR
or
Not Currently Available for Direct Purchase