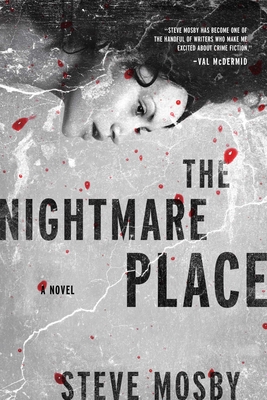 The Nightmare Place
Hardcover

* Individual store prices may vary.
Other Editions of This Title:
Paperback (9/27/2016)
Paperback (6/18/2015)
Description
Sometimes, there's a thin line between love and hate. Or at least that's one theory for DI Zoe Dolan, tracking the Creeper—a stalker who's been breaking into women's homes and attacking them. But the Creeper's violence is escalating and there's no pattern, no clue as to how he's getting in, and no clue as to who's next. Until Jane Webster gets a call to the helpline where she volunteers. It's meant to be a confidential service and Jane is torn—it could be a hoaxer, but the soft voice at the end of the line has the ring of truth about it. He says he loves these women—but it's a love that ends in blood. When Jane tells the police, it should be the lead that Zoe needs—but it only pulls her further into a case that is already taking her dangerously close to the past she's never fully escaped. For Jane, Zoe and all the other young women of the city, suddenly nowhere is safe. Particularly their own bedroom at the dead of night...
Praise For The Nightmare Place…
Mosby joins Ken Bruen, Mo Hayder, Val McDermid, and others on the dark
side of UK crime fiction; his thrillers build suspense superbly, but his real
strength is in character development. All his characters, particularly the
women, are well drawn and complex, without a cliché in the bunch.

Mosby (The Murder Code, 2013, etc.) has the talent to build both physical and psychological suspense. And he proves once again that he really knows how to work the strings.


Absorbing. Mosby expertly intertwines the main plot lines with several subplots in this psychologically attuned thriller.

A sharply written
thriller with well-developed characters and an atmosphere so threatening you
can almost feel it jump off the page. One of the best I've read recently in
drawing great psychological portraits, and that goes for both the heroes and
the villains. A novel guaranteed to keep you up at night.

From the opening chapter, which delivers an intriguing shock, this is as taut and as scary a serial killer investigation as a reader could wish for, peopled with well-drawn characters and a sprinkling of red herrings to keep you guessing.

Scary tension level remains high throughout.

Steve Mosby has become one of a handful of writers who make me excited about crime fiction.
— Val McDermid

Not for the faint of heart or stomach, but for the rest of you, The Murder Code heralds the American debut of a major new voice in crime fiction.


He writes like the very best American thriller writers. Cancel all other engagements for the day.
Pegasus Crime, 9781605987880, 336pp.
Publication Date: June 15, 2015
About the Author
Steve Mosby is the author of three previous novels, The Murder Code, The Nightmare Place, and The Reckoning on Cane Hill, all available from Pegasus Crime. His novels have been translated into nine languages around the world and have landed in the top ten on bestseller lists in France, Germany, and Holland. He lives in England.
or
Not Currently Available for Direct Purchase