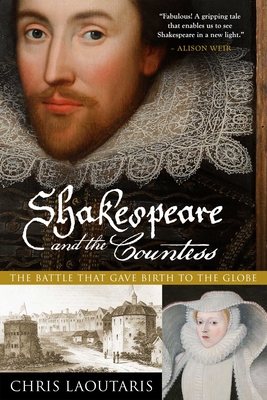 Shakespeare and the Countess
Hardcover

* Individual store prices may vary.
Other Editions of This Title:
Paperback (4/4/2016)
Description
In November 1596, a countess signed a document that would nearly destroy the career of William Shakespeare . . .Who was this woman who played such an instrumental, yet little known, role in Shakespeare's life? Never far from controversy when she was alive—she sparked numerous riots and indulged in acts of bribery, breaking-and-entering, and kidnapping—Lady Elizabeth Russell has been edited out of public memory, yet the chain of events she set in motion would make Shakespeare the legendary figure we all know today. Lady Elizabeth Russell's extraordinary life made her one of the most formidable women of the Renaissance. The daughter of King Edward VI's tutor, she blazed a trail across Elizabethan England as an intellectual and radical Protestant. And, in November 1596, she became the leader of a movement aimed at destroying the career of William Shakespeare—a plot that resulted in the closure of the Blackfriars Theatre but the construction, instead, of the Globe. Providing new pieces to this puzzle, Chris Laoutaris's rousing history reveals for the first time this startling battle against Shakespeare and the Lord Chamberlain's Men.
Praise For Shakespeare and the Countess…
The story of Shakespeare and the Countess has all the hallmarks of one of his famous plays – treachery, deception, death and triumph. A fantastic tale. Laoutaris discovered a web of deceit and a true villain worthy of any of Shakespeare's plays – as well as information previously thought lost.


In
this in-depth biography Laoutaris paints an engaging portrait of this powerful
noblewoman. Those interested in religious history, especially the religious
wars in England; the history and intrigues of Elizabethan England; women's
history; and Shakespearean history will find this book an immensely riveting
read.

I'm in love with the brilliant research on display in Shakespeare and the Countess and how it brings to light Lady Elizabeth Russell, a force to be reckoned with and a trailblazing early feminist.


The
season's big mainstream Shakespeare book. Elizabeth Russell is a terrific
subject for a biography, and Laoutaris is a hugely energetic narrator who
brings every detail of his story to life. So entertaining. A big, rambunctious
biography carried off with storytelling aplomb and deep, sometimes
groundbreaking research.

This is a detailed biography of a vigorous (if not likeable) woman who stood close to power throughout the reign of Elizabeth I. [Elizabeth] Russell was a remarkable person - clever, domineering and ruthless... Laoutaris has done a thorough research job.

Laoutaris delves into all this with immense gusto, introducing his readers to a dizzying cast of characters and approaching his subject from myriad different angles. Thanks to [his] impressive research, this largely forgotten figure emerges as a woman of great erudition, determination and courage, scarcely less remarkable than her namesake and contemporary Elizabeth I.

A work of historical and literary detection which takes us straight to the heart of religious politics in Elizabethan England.

Surprising.
Interesting. Elizabeth deserves the years of research and hundreds of pages
that Laoutaris has given her; she can now join the gallery of neglected women
resurrected by feminist scholarship.

Fabulous! Chris Laoutaris reveals an untold story about William Shakespeare. It's a gripping tale that enables us to see Shakespeare in a new light. I could not recommend it highly enough.
— #1 New York Times bestselling author Alison Weir

An energetic and enterprising book. Laoutaris has done some very valuable archival work. It is certainly a story worth telling, and Laoutaris tells it well.

It could be a tale for the stage itself, involving an ambitious parvenu, a self-styled countess, more than a hint of treachery and one of the more spectacular examples of historical Nimbysim.

In his compelling book Chris Laoutaris sheds new light on this turbulent episode in the Bard's career. It is a fascinating story and Laoutaris tells it with a winning combination of scholarly rigour and elegant prose. Contributing something fresh in the crowded arena of Shakespeare studies is not easy, but Laoutaris has done precisely that. A splendid book.

The
dense story of the 1596 endeavor by a powerful, litigious countess to block the
opening of Shakespeare's Blackfriars Theatre in London. Intrepid research.

Genuinely groundbreaking. A kickass lady. Elizabeth Russell is awesome. It's a thrilling tale and Laoutaris tells it superbly, with fluency and passion and a masterful eye for the dramatic. Emphatic, meticulously researched and strikingly original, Shakespeare and the Countess is bursting at the seams with new research.


One
word William Shakespeare didn't invent but could have: NIMBY. Laoutaris tells
the story of Elizabeth Russell, the wealthy and educated daughter of King
Edward VI's tutor. She argued that a new playhouse would bring 'all manner of
vagrant and lewd persons' to her London neighborhood. Stymied, the theater
group built the soon-to-be-famous Globe in another area.

While Shakespeare serves as this book's headline attraction, it is the ambitious, crafty, and eagerly litigious Elizabeth Russell who takes center stage in this power struggle-filled Elizabethan drama. Shakespeare scholar Laoutaris (Shakespearean Maternities) clearly respects Russell's ability to outmaneuver her well-heeled enemies as he fleshes out her decades of property acquisitions and continual pressure on high-ranking members of her extended Cecil and Bacon families.


Historian
and biographer Chris Laoutaris tells the story of Russell's life, her epic
legal battles and her capricious, violent world with sympathy, scholarship and
vivid description. He has done extensive original research to piece together
new insights and map the complex connections of Elizabethan society.

Greatly enjoy[ed] Shakespeare and the Countess. Fascinating how much archives can still yield.


A splendid and original book. No one has fleshed out the characters [in the battle for Shakespeare's playhouse] or followed in their footsteps as assiduously as Laoutaris. Shakespeare's adversary was a formidable old trout fully deserving of a biography in her own right.

A tale of 16th century NIMBYism. The
Puritan termagant Elizabeth Russell mounted a successful campaign against a theatre company, which boasted one W. Shakespeare as a partner. Laoutaris has
unearthed a fascinating story.

Life
comes close to imitating art in Shakespeare
and the Countess. Laoutaris resuscitates as the great playwright's foil the
long-forgotten Elizabeth Russell, a self-proclaimed dowager countess and
unblushing harridan, who could have stepped out of a turbulent history play.
Laoutaris throws fascinating light on the Puritans' determined fight against
both Roman Catholicism and the newly established Church of England and on her
success in preventing the Burbages, the playwright's partners, from opening an
indoor theatre in Blackfriars beside her home.

Engaging
and informative. Readers will get a bird's eye view of court life, religious
infighting, political scheming, competing spies and international intrigue at
the turn of the 17th century. Laoutaris is an indefatigable researcher and a
fine prose stylist.
Pegasus Books, 9781605987927, 528pp.
Publication Date: June 15, 2015
About the Author
Dr. Chris Laoutaris is a biographer, historian, poet, Shakespeare scholar, and Associate Professor at The Shakespeare Institute in Stratford-Upon-Avon, England. He is the author of Shakespeare and the Countess: The Battle that Gave Birth to the Globe, which was shortlisted for the Tony Lothian Prize for Biography, was an London Observer Book of the Year, a Daily Telegraph Book of the Year, one of the New York Post's "Must-Read Books." Laoutaris is the recipient of the Morley Medal in English, the Ker Memorial Prize in English, and his first poetry collection, Bleed and See was shortlisted for the Eric Gregory Poetry Awards. He is the Co-Chair of the Shakespeare Beyond Borders Alliance and Co-Founder of the EQUALityShakespeare (EQUALS) initiative.
or
Not Currently Available for Direct Purchase