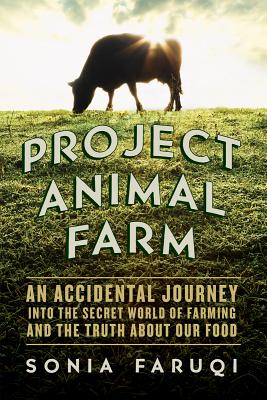 Project Animal Farm
An Accidental Journey into the Secret World of Farming and the Truth About Our Food
Hardcover

* Individual store prices may vary.
Other Editions of This Title:
Digital Audiobook (7/14/2015)
Compact Disc (7/15/2015)
MP3 CD (7/15/2015)
Compact Disc (7/15/2015)
Paperback, Chinese (6/9/2016)
Paperback (9/27/2016)
Description
Born out of a global expedition fearlessly undertaken by a young woman, Project Animal Farm offers a riveting and revealing look at what truly happens behind farm doors.
Finalist for the 2017 International Book Awards

Runner-up for the 2016 New England Book Festival Award
Finalist for the 2015 Chautauqua Prize (longlist)
Sonia Faruqi, an Ivy League graduate and investment banker, had no idea that the night she arrived at the doorstep of a dairy farm would mark the beginning of a journey that would ultimately wind all the way around the world. Instead of turning away from the animal cruelty she came to witness, Sonia made the most courageous decision of her life: a commitment to change things.
Driven by impulsive will and searing passion, Sonia left behind everything she knew and loved to search the planet for solutions to benefit animals, human health, and the environment. Over the course of living with farmers, hitchhiking with strangers, and risking her life, she developed surprising insights and solutions—both about the food industry and herself.
Lively and heartfelt, Sonia takes readers on an unforgettable adventure from top-secret egg warehouses in Canada to dairy feedlots in the United States, from farm offices in Mexico to lush pastures in Belize, from flocks of village chickens in Indonesia to factory farms in Malaysia.
Revelatory in scope, Project Animal Farm illuminates a hidden world that plays a part in all of our lives.
Praise For Project Animal Farm: An Accidental Journey into the Secret World of Farming and the Truth About Our Food…
Farqui thoughtfully explores the way in which brutality and disregard of animal welfare is endemic in the industry on a global scale, and provides suggestions for realistic actions that readers can take to encourage change. The book begs a comparison to Upton Sinclair's The Jungle.


Every so often a book comes along that has the power to alter the course of history. Project Animal Farm is that potent. It is so inspiring, so moving, so deeply personal and yet also has such profound cultural implications, that it will change the lives of everyone who reads it. People will be talking about this book for decades.
— John Robbins, author of DIET FOR A NEW AMERICA and THE FOOD REVOLUTION

Following the lead of other sharp critiques of the food industry, such as David Kirby's Animal Factory (2010), Michael Pollan's The Omnivore's Dilemma (2006), and Jonathan Safran Foer's Eating Animals (2009), newbie author Faruqi does a commendable job spotlighting the ways animals are mistreated around the globe in order to make their milk and flesh available in our stores. Written with a dry wit and an inspiring dose of crusader's zeal, resulting in a work that will compel health-conscious and environmentally aware readers as well as those concerned about animal rights.


Into an engaging account of the adventures of a young city dweller among the factory farmers, Sonia Faruqi manages to smuggle a body of useful—and disturbing—information about this most secretive of global enterprises.
— J. M. Coetzee, Winner of the Nobel Prize in Literature

Project Animal Farm is an original and thought-provoking exploration of where our food comes from.

— John Mackey, Founder and CEO of Whole Foods Market

The author successfully
brings to light less-than-optimal living conditions of farm animals. This title
flourishes when highlighting the humanity and well-intentioned nature of
farmers, even when they are utilizing horrific practices professionally. This
intriguing and accessible debut may find a niche with readers of popular
nonfiction in a society increasingly concerned with how our food is produced
and where it comes from.

Let Sonia Faruqi take you on her courageous personal journey of discovery. I thought I already knew everything there is to know about modern animal production, but I learned many new things from this very readable book, and you will, too.
— Peter Singer, philosopher and author of ANIMAL LIBERATION

An extraordinary triumph of narrative nonfiction.  A seminal work of investigative journalism.
— David Kirby, author of ANIMAL FACTORY

Brave, captivating, enlightening, and impossible to put down, this remarkable true story pries open hearts and minds and exposes the travesty of industrial farming like none other.
— Frances More Lappé, bestselling author of DIET FOR A SMALL PLANET

Written in the most vivid and engaging way, this remarkable book demands to be read by anyone who cares about where their food comes from.
— Philip Lymbery, CEO of Compassion in World Farming and author of FARMAGEDDON

Everybody who is interested in food policy and animal welfare should read this book. Project Animal Farm will make you think long and hard about problems with intensive diary farms and egg production.

— Temple Grandin, author of 'Animals in Translation' and 'Animals Make us Human'

A poignant work of depth and clarity. An accessible and educational examination of our food system. Highly recommended.
— Gene Baur, President of Farm Sanctuary

An eyes-wide-open view of industrial animal farming and its effect on farm animals and consumers.  A compelling and thoughtful work, a clarion call for acknowledgment.
— Wayne Pacelle, President, the Humane Society of the United States

This is a book about the people who make their living putting food on our tables. In it, you'll see how some of them struggle to do it well, while others are willing to do it any way at all if it will help them get ahead. You'll be glad to have seen them all with Sonia Faruqi's eyes.
— Daniel Quinn, bestselling author of ISHMAEL

Warning: This book might change your life!
— Hal Herzog, author of SOME WE LOVE, SOME WE HATE, SOME WE EAT

Following a whim, debut author Faruqi decided to take a break from the hectic pace of Wall Street and volunteer for two weeks on an organic dairy farm. That decision proved to be both eye-opening and life-changing. Even small, family-run operations often use the methods of factory farming. Faruqi contrasts this with a visit to a successful pastoral farm to demonstrate a humane alternative at only slight higher consumer prices. The author's expertise in finance provides an extra dimension to this well-documented report.
Pegasus Books, 9781605987989, 336pp.
Publication Date: July 15, 2015
About the Author
Sonia Faruqi is the author of critically acclaimed Project Animal Farm. A masterful storyteller, she pushes the boundaries of imagination in her debut novel, The Oyster Thief. She lives in Toronto and her website is www.soniafaruqi.com.
or
Not Currently Available for Direct Purchase