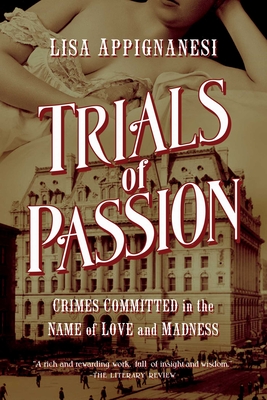 Trials of Passion
Hardcover

* Individual store prices may vary.
Description
A journey into the heart of dark passions and the crimes they impel. When passion is in the picture, what is criminal, what is sane, what is mad or simply bad? Through court and asylum records, letters and newspaper accounts, this book brings to life some sensational trials between 1870 and 1914, a period when the psychiatric professions were consolidating their hold on our understanding of what is human. Outside fiction, individual emotions and the inner life had rarely been publicly discussed: now, in an increasingly popular press and its courtroom reports, people avidly consumed accounts of transgressive sexuality, savage jealousy and forbidden desires. These stood revealed as aspects not only of those labelled mad, but potentially, of everyone. With great story-telling flair and a wealth of historical detail, Lisa Appignanesi teases out the vagaries of passion and the clashes between the law and the clinic as they stumble towards a (sometimes reviled) collaboration. Sexual etiquette and class roles, attitudes to love, madness and gender, notions of respectability and honor, insanity and lunacy, all are at play in that vital forum in which public opinion is shaped—the theater of the courtroom.
Praise For Trials of Passion…
Colorful, and cerebral. Leaving no stone unturned,
Appignanesi details the actions of psychiatrists, courts, and the press amid
allegations of 'hysteria,' stalking, affairs, obsession, 'love-madness' (nymphomania), and children born out of wedlock. The factual material—court
transcripts, asylum records, lovers' letters, and 'hint and smear' news
accounts—is vast and historically resonant.

Enthrallingly narrated, Appignanesi's book compels with its gruesome subject matter and delights with a wealth of bizarre detail.

Strange and fascinating.

Appignanesi shows a country in the grip of profound cultural changes, many of them involving views of the proper place and behaviour of women; questions of honour and reputation and the ways they might properly be defended; and, most importantly, debates about how the passions might manifest themselves in everyday life. I suspect Trials of Passion will find a broad audience, and deservedly so.


Trials
refers here both to some celebrated criminal trials and to the
trials faced by the western justice system in the late-nineteenth century
up to WWI in trying to come to grips with what should be considered 'mad' or 'bad.' Appignananesi brings a wealth of psychiatric insight
and historical detail to this question.

Appignanesi is a fine storyteller, bringing the characters and times to life. This is a clear and fascinating introduction to the grey zone between criminal guilt and madness.

An
endlessly fascinating account of the history of insanity pleas that will find
an audience with social history fans as well as enthusiasts of true crime.

A convincing, enlightening narrative that skillfully blends scholarship with a seductive interest in what makes us human.

A stupendous achievement, combining brilliant historical sleuthing with masterful storytelling. Appignanesi's book offers at once a canny cross-cultural analysis of the (mis-) uses of the insanity plea and an evocative account of how our forebears a hundred years ago made sense of the lethal havoc that could be wreaked by unassuaged jealousies and amorous obsessions. Trials of Passion transforms our understanding of the origins of 'the sexual century' — the one we've just left behind, but which continues to leave its marks on our present.

— Dagmar Herzog, author of Sexuality in Europe: A Twentieth-Century History

Trials of Passion mixes sex, scandal and psychiatry in a way as exciting as today's headlines and as rich as yesterday's archives.

— Edmund White, author of 'Inside A Pearl: My Years in Paris'

Novelist,
feminist, cultural critic and historian Lisa Appignanesi is an intellectual.  Her cosmopolitan background, scholarly
expertise, and narrative verve unite in this analysis of three sensational
crimes of passion in England, France, and the United States, and the ways
doctors and lawyers battled to explain and judge them in the courts. An
exciting, enthralling and enlightening book.
— Elaine Showalter, author of The Female Malady: Women, Madness and English Culture

Trials of Passion is a wholly absorbing, obsessively interesting book. Lisa Appignanesi's stories of women and men who murdered and maimed for love, obsession, and revenge are told in vivid detail. But through these tales she gives the reader more: a portrait of an age and its often-contradictory ideas about madness, social mores, and the female psyche, all of which were on trial with the defendants. Deft, learned, and compassionate, this is a book for anyone who cares about the curious doings of the human mind strained to its limits by affairs of the heart.

— Siri Hustvedt, author of The Blazing World

A
keen, dense examination of crimes of passion. Appignanesi patiently constructs
a mosaic of law, psychology, and class strictures, producing more of a sweeping
academic meditation than a true-crime narrative. Will satisfy readers attuned
to the juncture of history, psychology, and feminism.

Appignanesi combines a historian's expertise with a novelist's eye for lurid detail.

A rich and rewarding work, brimful of insight and wisdom.
Pegasus Crime, 9781605988146, 448pp.
Publication Date: July 15, 2015
About the Author
Lisa Appignanesi was born in Poland and grew up in France and Canada. A novelist and writer, she is Visiting Professor of Literature and the Medical Humanities at King's College London, Chair of the Freud Museum, and former President of PEN. She was awarded an OBE for services to Literature in 2013. She lives in London.
or
Not Currently Available for Direct Purchase