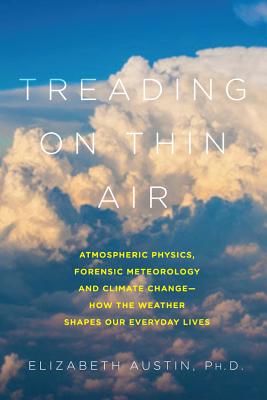 Treading on Thin Air
Hardcover

* Individual store prices may vary.
Other Editions of This Title:
Paperback (5/9/2017)
Description
Weather is an inescapable part of our daily lives, from the nuances of air travel to the breadth of human history. Our past, present, and future is intimately rooted is weather and climate.



Weather, water, and climate. How we feel, how productive we are, even our sheer existence, depends on these three things. The United States economic activity varies annually by 1.7% due to weather—that is more than $500 billion dollars each year! Weather applications on mobile devices are the second most popular 'apps' – more popular than social networking, maps, music, and news. In Treading on Thin Air, Dr. Elizabeth Austin, a world-renowned atmospheric physicist, reveals how the climate is intimately tied to our daily lives. The effects and impacts of weather on humans, society and the planet are changing with the times. Dr. Austin will demystify climate change, revealing what is really happening with our climate and why, whether it is El Nino, tornadoes, floods or hurricanes. Weather and society are at its most fascinating at extremes, and as Dr. Austin is one of a handful of forensic meteorologists around the globe. She has been called upon to investigate plane crashes, murders, wildfires, avalanches, even bombing cases. Drawing upon her rich experiences, Austin's Treading on Thin Air promises to be an enlightening and informative journey through the wild word of weather.
Praise For Treading on Thin Air…
In this mix of memoir and popular science, Austin takes readers on a global tour and up into the heights of the stratosphere to learn about weather, climate, and how it affects our planet and our lives. This far-ranging book should whet readers' appetites for learning more about meteorology and its surprisingly broad applications.

If you have more than a passing interest in the weather, then Treading on Thin Air by Dr. Elizabeth Austin will be a great read. Austin has the ability of taking highly complex concepts and putting them into terms that aren't just understandable, but instead, brings the reader into her world of passion for the weather.


A world-renowned atmospheric physicist, revealing how the climate is an inescapable part of our daily lives, shows how the effects and impacts of weather on humans, society and the planet are changing with the times and what it means for our future.

I found it fascinating, especially the discussing of flight KAL 801 in Guam, where she buried the contentions of the FAA about what was going on weather wise at Agana, when the flight was inbound.
— Jerry Sterns, Sterns & Walker

I loved this book. As a customs and intelligence officer, the deductive versus inductive reasoning is what I found particularly fascinating.
— Geoff Soper, Customs and Intelligence Officer, Christchurch, New Zealand

Terrific. Treading on Thin Air explains highly complicated weather patterns and tackles global warming. But what really caught my attention was how Dr. Austin coached women on how to navigate a career in science fields. A fascinating read that captivated my attention.

— Jeff Tieferman, Consultant

Brilliant! Dr. Austin takes us on a journey around the world and covers so many topics in a fascinating and engaging way. From the implications of today's weather and its changes, to aviation and how our atmosphere affects it, how meteorology plays into accidents and crime investigations, she covers it all. I am amazed, but not surprised, at her knowledge in so many scientific areas and her ability to covey them in ways that will be fascinating to anyone reading this book. Her stories are a 'must read.'
— Robert "Hoot" Gibson, Navy fighter pilot and space shuttle commander
Pegasus Books, 9781605988221, 320pp.
Publication Date: April 25, 2016
About the Author
Dr. Elizabeth Austin is the founder and president of WeatherExtreme Ltd. and is recognized as one of America's foremost experts on climate change and extreme weather conditions. An aviation and forensic meteorologist, cloud and ice physicist, Dr. Austin has worked with NASA, the United Nation, the U.S. Department of Justice, and has counseled on cases ranging from aviation and wildfires to avalanches and tornadoes. An active member of the National Weather Association and the American Meteorological Society, she resides at Lake Tahoe, Nevada with her family.
or
Not Currently Available for Direct Purchase