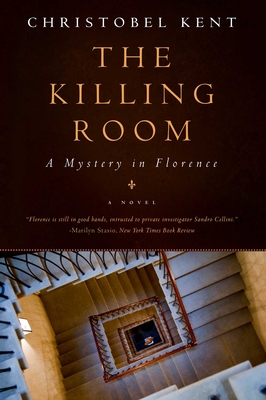 The Killing Room (Hardcover)
Pegasus Crime, 9781605988245, 400pp.
Publication Date: August 15, 2015
* Individual store prices may vary.
Description
When private investigator Sandro Cellini is invited to attend a glamorous launch party for a luxury residence overlooking the glittering expanse of Florence, he has no idea what he's walking into.Behind the ancient and luxurious facade of Palazzo San Giorgio, there lies a series of terrible secrets; an old torture chamber, hidden for centuries in the bowels of the building, and a much more recent malevolence. The former head of security for this elite development has just died under suspicious circumstances and Sandro finds himself—quite literally—stepping into dead man's shoes.He soon discovers that other unsavory incidents have tainted the prestigious opening. When one of the residents is found murdered in her room, events begin to spiral out of control. Sandro must work to untangle the complex web of relationships that exists between residents and staff to unmask a deadly killer, in this superb new Florentine mystery by Christobel Kent.
About the Author
Christobel Kent's previous books include A Time of Mourning, A Party in San Niccolo, Late Season and A Florentine Revenge. She lives near Cambridge with her husband and five children.
Praise For The Killing Room…
A country-house
mystery, with all the vices and foibles of the very rich on
display. Kent is marvelous with description, both of her characters and of
the vagaries of Florence. Her addition of Luisa Cellini's wry, insightful
point of view adds much to the story. The focus on the San Giorgio makes
this latest Cellini very tight and tense.

Engaging. Complex, well-drawn characters. Kent's
understated style is powerful and evocative.

A
smoothly orchestrated mystery.

Another delectable dish of murder Florentine. With plotting worthy of Agatha Christie and color equal to that of Donna Leon—and her own fine prose style and sense of place—Kent concocts another classic mystery. Add her deftness of characterization, and The Killing Room explodes with life, death, geopolitics—and memorable literary flair.


Christobel
Kent's Florentine mysteries are best read for their intimate views of the Oltrarno,
the residential district on the south side of the Arno. Lively.
— Marilyn Stasio

A
tight mystery that features solid detective work, realistic character emotions
and behaviors, and a pace that is nicely measured. A wonderful series from a
strong author.