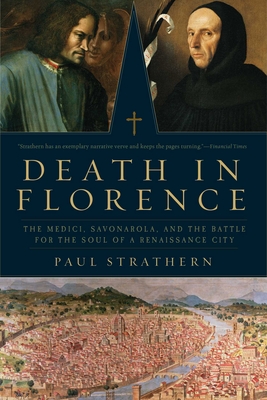 Death in Florence (Hardcover)
Pegasus Books, 9781605988269, 464pp.
Publication Date: August 15, 2015
Other Editions of This Title:
Digital Audiobook (8/14/2015)
Paperback (10/25/2016)
* Individual store prices may vary.
Description
By the end of the fifteenth century, Florence was well established as the home of the Renaissance. As generous patrons to the likes of Botticelli and Michelangelo, the ruling Medici embodied the progressive humanist spirit of the age, and in Lorenzo de' Medici they possessed a diplomat capable of guarding the militarily weak city in a climate of constantly shifting allegiances. However, in Savonarola, an unprepossessing provincial monk, Lorenzo found his nemesis. Filled with Old Testament fury, Savonarola's sermons reverberated among a disenfranchised population, who preferred medieval Biblical certainties to the philosophical interrogations and intoxicating surface glitter of the Renaissance. The battle between these two men would be a fight to the death, a series of sensational events—invasions, trials by fire, the 'Bonfire of the Vanities', terrible executions and mysterious deaths—featuring a cast of the most important and charismatic Renaissance figures. Was this a simple clash of wills between a benign ruler and religious fanatic? In an exhilaratingly rich and deeply researched story, Paul Strathern reveals the paradoxes, self-doubts, and political compromises that made the battle for the soul of the Renaissance city one of the most complex and important moments in Western history.
About the Author
Paul Strathern is a Somerset Maugham Award-winning novelist, and his nonfiction works include The Venetians, Death in Florence, and The Medici, all available from Pegasus Books. He lives in England.
Praise For Death in Florence…
What stands out as much as anything here is the spark and quality of Strathern's writing, its wonderful ability to combine the sweep of history withthe intensely personal. In a single sentence, Strathern captures the broad currents of civic history, the magnetic presence of a remarkable individual, and the specificity of a liturgical and biographical occasion. An engrossing narrative of power, corruption and civic life, a vivid portrait of a city in crisis and the spiritual leader who embodied its aspirations and flaws.

This
is more than a dual biography. It's a social and religious history,
showing the tension that still holds between secularism and religion. A
riveting narrative history.

Fans of television shows such as The Borgias and The Tudors, or even Game of Thrones, will find no end of entertainment in this in-depth chronicle of the real-life events of the Medici family in Renaissance Florence. Lovers of medieval history will be pulled into this informative and gripping account; academics will find it a credible source of historical knowledge. Strathern's approachable, objective style turns a litany of information into a spellbinding saga worthy of prime time. ­A thrilling and informative chronicle of one of the Renaissance's most notorious dynasties.


An
engrossing portrayal of the two legendary 15th-century figures who shaped
Renaissance Florence. Well-considered prose. This enjoyable and pleasantly
articulate look into the inner workings of two larger-than-life entities (the
de' Medici family and the Church) offers unexpected insight into the theology,
philosophy, and society that eventually cemented Florence as a Renaissance
center of political and cultural import.

Strathern combines diligent research with an exemplary narrative verve and keeps the pages turning.

A vivid tale told in great detail.

This
massive, mesmerizing, detail-rich, compulsive narrative of the collision
between silver and the soul, Mammon and religious mysteries, will keep you
turning the pages like the most propulsive of historical thrillers. Strathern
balances both detail and narrative drive, so that you never lose sight of
either one. The stories and intrigue and behind-the-scenes maneuverings will
chill your blood as much as they excites it.

Savonarola's brief reign is often treated as an interlude of religious fanaticism within the enlightened secularism of the Renaissance. In Death in Florence, Paul Strathern paints a more complicated picture, placing Savonarola within a broader context.


De
Medici alone is a fascinating and complicated figure, and Strathern draws a
finely shaded portrait of a man who was both connoisseur of the arts and mob
boss. But in his final years, de Medici encountered his one serious
threat to perpetuating his family's rule: 'the little friar' Girolamo
Savonarola. For Strathern, the battle was between Renaissance humanism
and medieval absolutism, as Strathern illustrates in the climactic scene.

Grips the reader from the first page. It is an arresting and horrifying tale and Strathern tells it with immense skill and verve
or
Not Currently Available for Direct Purchase