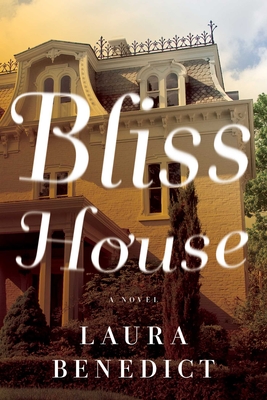 Bliss House
A Novel
Paperback

* Individual store prices may vary.
Other Editions of This Title:
Hardcover (6/15/2014)
MP3 CD (6/24/2014)
Compact Disc (6/24/2014)
Description
Death never did come quietly for Bliss House . . . and now a mother and daughter have become entwined in the secrets hidden within its walls.

Amidst the lush farmland and orchards in Old Gate, Virginia, stands the magnificent Bliss House. Built in 1878 as a country retreat, Bliss House is impressive, historic, and inexplicably mysterious. Decades of strange occurrences, disappearances and deaths have plagued the house, yet it remains vibrant. And very much alive.

Rainey Bliss Adams desperately needed a new start when she and her daughter Ariel relocated from St. Louis to Old Gate and settled into the house where the Bliss family had lived for over a century. Rainey's husband had been killed in a freak explosion that left her 14 year-old daughter Ariel scarred and disfigured.

At the grand housewarming party, Bliss House begins to reveal itself again. Ariel sees haunting visions: the ghost of her father, and the ghost of a woman being pushed to her death off of an upper floor balcony, beneath an exquisite dome of painted stars. And then there is a death the night of the party. Who is the murderer in the midst of this small town? And who killed the woman in Ariel's visions? But Bliss House is loath to reveal its secrets, as are the good folks of Old Gate.
Praise For Bliss House: A Novel…
A classic murder mystery, one in which she skillfully and inextricably links the 'haints' and the homicides—and fills her novel with rich Virginia detail. Unabashedly dark and inevitably addictive. A dream (or would that be a delicious nightmare?) come true for fans of suspense fiction.

Bliss House, with its blood-stained history of madness and murder, would scare off most potential buyers in Benedict's creepy, solidly crafted supernatural suspense novel. Lines between fact and fantastic, past and present, increasingly blur…the final revelation hits horrifyingly close to home for Rainey.

In Bliss House, Laura Benedict has written just the type of novel I love to read: A ghost story replete with good and evil, the past and present colliding, and compelling characters to root for. It is a story that grabs you by the throat and heart and won't let go.

— Erica Spindler, New York Times bestselling author of JUSTICE FOR SARA and WATCH ME DIE

I've longed for this book—an intelligent haunted house story with twists and turns. Laura Benedict is an author to watch. Bliss House edges Benedict firmly into Shirley Jackson territory with this rich, evocative novel about the power of blood to corrupt.

— Carolyn Haines, winner of the Harper Lee Award, author of THE DARKLING and THE SEEKER (writing as R. B. Chesterton)

Benedict's writing is lush and seamless, catapulting the reader into the gripping story from the opening line and holding them, taut and breathless, to the very last. You do not want to miss Bliss House. It's a compulsively readable tour de force from a wonderful writer.

— J. T. Ellison, New York Times bestselling author of WHEN SHADOWS FALL

Bliss House is a rare accomplishment: a novel that works as a mystery, a ghost story, and a touching family drama. Laura Benedict has written a thoughtful and compelling book.

— Jeff Abbott, New York Times bestselling author of INSIDE MAN

Bliss House draws you in and refuses to let you go. Eerie, seductive, and suspenseful. Read it.

— Meg Gardiner, Edgar award-winning author

Reader be warned! Laura Benedict has written a novel that may well keep you awake at night, and not only because Bliss House is flat-out scary. Benedict knows how to craft a story in such a way that, once begun, it is nearly impossible to put down.

— Ron Rash, author of SERENA

Haunting. This mystery will simultaneously tug at the heartstrings and scare the bejesus out of readers. In a word: unforgettable.

An exquisite, closely observed novel. It captivated me instantly and haunts me still.
— Luanne Rice, New York Times bestselling author of The Edge of Winter

Like digging up an unmarked grave in the gloaming. A tense and creepy hunt for the truth about what lies beneath.
— Lisa Unger, New York Times bestselling author of Black Out
Pegasus Crime, 9781605988351, 400pp.
Publication Date: June 15, 2015
About the Author
Laura Benedict is the author of several novels of dark suspense, including Isabella Moon and Devil's Oven. Her essays and short fiction have appeared in Ellery Queen Mystery Magazine as well as numerous anthologies, and she originated and edited the Surreal South short fiction anthology series. She lives with her family in the southernmost region of a Midwestern state.
or
Not Currently Available for Direct Purchase