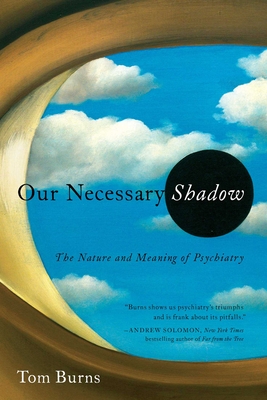 Our Necessary Shadow
Paperback

* Individual store prices may vary.
Other Editions of This Title:
Hardcover (6/15/2014)
Description
In what will be a tour de force in the field of psychiatry in all its complexity and depth, this important new volume explores the essential paradox of psychiatry—and offers a balanced understanding of its history and development in the medical world. Much is written about psychiatry, but very little that describes psychiatry itself. Why should there be such a need? For good or ill, psychiatry is a polemical battleground, criticized on the one hand as an instrument of social control, while on the other the latest developments in neuroscience are trumpeted as lasting solutions to mental illness.Which of these strikingly contrasting positions should we believe? This is the first attempt in a generation to explain the whole subject of psychiatry. In this deeply thoughtful, descriptive, and sympathetic book, Tom Burns reviews the historical development of psychiatry, throughout alert to where psychiatry helps, and where it is imperfect. What is clear is that mental illnesses are intimately tied to what makes us human in the first place. And the drive to relieve the suffering they cause is even more human.Psychiatry, for all its flaws, currently represents our best attempt to discharge this most human of impulses. It is not something we can just ignore. It is our necessary shadow.
Praise For Our Necessary Shadow…
Burns (chair of social psychiatry, Oxford Univ.) learned about mental illness growing up with a seriously depressed mother who was helped by psychiatry. Reflecting on his four decades in "medicine's most disputed discipline" in the United States, Britain, and elsewhere around the world, Burns illuminates its advances, controversies, and mistakes. A savvy clinician and historian, he covers diagnosis and treatment from ancient times to the present. For him psychotherapy is the key intervention, while medication is secondary. Psychiatric illnesses "are part of what we are, not things that just happen to us such as flu or a broken leg." There are fine chapters on neuroscience and pharmaceuticals (drug companies spend more on marketing than on research!), and Burns covers anti­psychiatry movements, the insanity defense, and the impact of war. With the closing of large mental hospitals and our failure to create community mental health centers, U.S. jails and city streets have become lodging places for thousands of patients. ­VERDICT: A compassionate healer and articulate scholar, Burns has written one of the best books ever on psychiatry: a comprehensive, engaging text for general readers and professionals.


[A] fascinating analysis of the scientific and medical exploration of the mind. Burns brings a carefully measured combination of personal and professional experience. Throughout this insightful and learned book, Burns poses questions, and offers some answers, that reveal the problematic nature of his profession and establish him as a thoughtful, erudite guide through a demanding landscape.

Displaying the dignified passion of someone trying to construct a better world, Burns shows us psychiatry's triumphs and is frank about its pitfalls.
— Andrew Solomon, author of Far from the Tree

A readable overview of the history and development of psychiatry.

A comprehensive history and analysis of the practice of psychiatry...A responsible, evenhanded exploration of a highly provocative medical industry.

Provocative, well-researched, and well-suited to interested lay readers looking for insight into medicine and the mind.

In his cool and rational book Our Necessary Shadow, Burns makes a powerful case.


Tom Burns is calm, sympathetic, and willing to listen to a wide variety of views. Just the person you would like to be in charge of your care if you were assailed by madness.
Pegasus Books, 9781605988368, 384pp.
Publication Date: June 15, 2015
About the Author
Tom Burns is Professor of Social Psychiatry at oxford University. in addition to his clinical and teaching work, he has produced nearly two hundred peer-reviewed scientific articles. He lives in England.
or
Not Currently Available for Direct Purchase