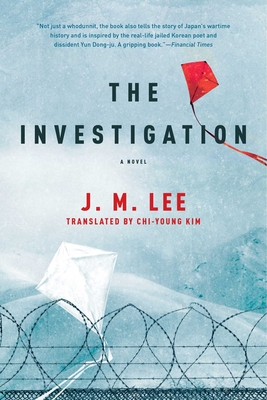 The Investigation
Hardcover

* Individual store prices may vary.
Other Editions of This Title:
Paperback (12/20/2016)
Description
Watanabe Yuichi, a young guard with a passion for reading, is ordered to investigate. The victim, Sugiyama, also a guard, was feared and despised throughout the prison and inquiries have barely begun when a powerful inmate confesses. But Watanbe is unconvinced; and as he interrogates both the suspect and Yun Dong-ju, a talented Korean poet, he starts to realize that the fearsome guard was not all he appeared to be...As Watanbe unravels Sugiyama's final months, he begins to discover what is really going on inside this dark and violent institution, which few inmates survive: a man who will stop at nothing to dig his way to freedom; a governor whose greed knows no bounds; a little girl whose kite finds an unlikely friend. And Yun Dong-ju—the poet whose works hold such beauty the can break the hardest of hearts. As the war moves towards its devastating close and bombs rain down upon the prison, Watanbe realizes that he must find a way to protect Yun Dong-ju, no matter what it takes. As he digs further and further in to his investigation, the young guard discovers a devastating truth.At once a captivating mystery and an epic lament for lost freedom and humanity, The Investigation, inspired by a true story, is a sweeping and gripping tale by an international literary star.
Praise For The Investigation…
Lee's U.S. debut is a breathtakingly beautiful novel that boasts a cerebral murder mystery and a rare look at the human impact of Japan's colonialism in Korea. David Guterson's Snow Falling on Cedars (1994) makes an excellent pairing, providing a contrasting, but also beautifully portrayed, exploration of the impact of Japan's role in WWII.


Inspired by the too-brief life of Korean
poet-hero Yun Dong-Ju, whose surviving verses are hauntingly interspersed
throughout, this work is a magnificent testimony to the profound efficacy of
literature and the liberating, life-saving act of reading. If Lee's stateside
debut is any indication of the quality of his other titles, English-language
audiences should demand accessibility to more, also made available under the
auspices of accomplished translator Kim, one hopes. For literary fiction
groupies, thriller seekers, history aficionados, war voyeurs, all, this
exquisite, electrifying discovery awaits.

A heart-wrenching novel with many unexpected twists.

What
begins as a murder mystery becomes a story of heartbreak, of poetry, of
humanity triumphant. It celebrates the power of words, in expressing hope, in
giving voice to frustration and longing, in lending strength. Though the work
of a prolific Korean author, the prose suffers no awkwardness through
translation. It glows. Highly recommended.

This
effective, elaborate historical novel is from Lee, a bestseller in his native
South Korea. Readers will find Lee's novel to be a satisfying mystery
supplemented by rich historical detail.

A
deeply touching tribute to the power of art. With stunning language—enhanced by
an insightful translation, painfully resonant characters and heart-pounding
suspense—Lee crafts a gripping, complex account of literature's ability to
transform and unite those it touches. Marvelous. This is a book to savor from
beginning to end.

A rollicking good mystery tale. It is also a volume of poetry, with heartbreaking verses of love and loss set against the backdrop of war. The Investigation is nearly impossible to review in a paragraph; even a whole page wouldn't do it justice. Read it, you'll understand.

Pegasus Crime, 9781605988467, 336pp.
Publication Date: August 15, 2015
About the Author
J. M. Lee has sold hundreds of thousands of books in his native Korea. One, Deep Rooted Tree, was made into a popular T.V. series. This is his first book to be launched in the United States.
or
Not Currently Available for Direct Purchase