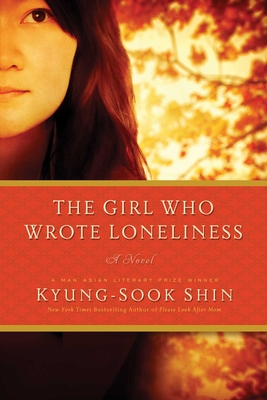 The Girl Who Wrote Loneliness (Hardcover)
A Novel
Pegasus Books, 9781605988634, 400pp.
Publication Date: September 15, 2015
Other Editions of This Title:
Digital Audiobook (9/14/2015)
Paperback (11/22/2016)
Compact Disc (9/15/2015)
Library Binding, Large Print (3/1/2016)
Compact Disc (9/15/2015)
MP3 CD (9/15/2015)
* Individual store prices may vary.
Description
The highly anticipated release of the most personal novel by Kyung-Sook Shin, who first burst on to the literary scene with the New York Times bestseller, Please Look After Mom.
Homesick and alone, a teen-aged girl has just arrived in Seoul to work in a factory. Her family, still in the countryside, is too impoverished to keep sending her to school, so she works long, sun-less days on a stereo-assembly line, struggling through night school every evening in order to achieve her dream of becoming a writer.
Korea's brightest literary star sets this complex and nuanced coming-of-age story against the backdrop of Korea's industrial sweatshops of the 1970's and takes on the extreme exploitation, oppression, and urbanization that helped catapult Korea's economy out of the ashes of war. But it was girls like Shin's heroine who formed the bottom of Seoul's rapidly changing social hierarchy, forgotten and ignored. 
Richly autobiographical, The Girl Who Wrote Loneliness lays bare the conflict and confusion Shin faces as she confronts her past and the sweeping social change of the past half-century. Cited in Korea as one of the most important literary novels of the decade, this novel cements Shin's legacy as one of the most insightful and exciting writers of her generation.
About the Author
Kyung-Sook Shin is one of South Korea's most widely read and acclaimed novelists. She is the author of The Girl Who Wrote Loneliness, I'll Be Right There, and Please Look After Mom, which was a New York Times bestseller and a Man Asian Literary Prize winner.

Ha-Yun Jung's writing has appeared in The Harvard Review, Best New American Voices, and other publications.  She is the recipient of a PEN Translation Fund Grant and a Radcliffe Institute for Advanced Study fellowship.  She is on the faculty at Ewha Womens University in Seoul, Korea.
Praise For The Girl Who Wrote Loneliness: A Novel…
Shin writes about a time and setting that may seem
remote to many Americans, but in many ways her specificity is universal; we all
have a monster that has no face, and which we try to avoid. Shin paints her own
monster for us.

Kyung-sook Shin's work often inhabits the space between story and reality. Though the autobiographical novel is a well-worn genre, Shin handles it with the sort of effortless ruthlessness a story like this requires, without letting either the narrator or the reader rest easy about the line between truth and fiction. It's no wonder that despite being grounded in signposts of the everyday, The Girl Who Wrote Loneliness has the tenor of a ghost story. Shin anchors her narrator in vivid details rather than narrative absolutes. A haunting, remarkable novel.


In The Girl Who Wrote Loneliness, Shin opens her nation's transition and her people's struggle to the world that looked away for all those years. Please Look After Mom, Ms. Shin's poignant examination of how Korea's evolution has impacted the different generations, gave birth to these other translations. But her later works are still more profound. While South Korea is but a whisper of its former self, Ms. Shin's writing grabs hold of those memories and brings them loudly to the surface.


Intimate and hauntingly spare. A raw tribute.

Shin's unemotional delivery and understated
yet devastating perspective on her country's expectations and norms are
familiar from her earlier novels, but this book's grim glimpse into the lives
of factory girls is notably haunting. There's a hypnotic quality to this
melancholy coming-of-age story described as 'not quite fact and not quite
fiction.' Allusive and structurally sophisticated, it melds Shin's
characteristic themes of politics, literature, and painful experience into a
mysteriously compelling whole.

This work stands the test of time. Isolation and suicide among young adults worldwide have only tragically multiplied, making The Girl Who Wrote Loneliness urgently auspicious. Described at beginning and end as "not quite fact and not quite fiction," this book is essential reading.


Affecting.
How does an author write about a troubled land when her sorrow is so great? Shin's
novel provides a powerful record of the time.

The most moving and accomplished, and often startling, novel in translation I've read in many seasons. Every sentence is saturated in detail.

Haunting. The novel's language, so formal in its simplicity, bestows a grace and solemnity.

A moving portrayal of the surprising nature, sudden
sacrifices, and secret reveries of motherhood.

The
tone is as dreary as its topic, but it is a fictional account of what
absolutely must be told and known. Intense but revealing historical fiction
that the author calls something between 'not quite fact, not quite fiction.'
or
Not Currently Available for Direct Purchase