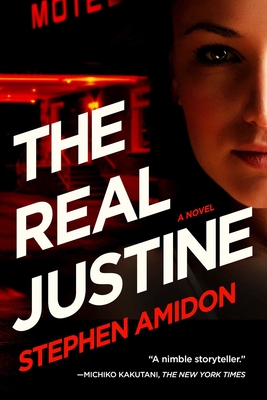 The Real Justine
Hardcover

* Individual store prices may vary.
Description
The beautiful younger woman who appeared so unexpectedly, so gloriously, in Michael Coolidge's life one night—a seemingly chance pick-up at a quiet neighborhood bar—vanished just as suddenly a few days later, into thin air it seemed, leaving him dazed and bewildered. Months later he chances upon Justine on a village street, locked in a violent quarrel with a scary looking brute—a day later, that man is found dead in a seedy motel and Justine has disappeared again, leaving behind only a hasty plea for help. Michael's efforts to locate her, or to find out something more about her elusive past, yield only further mystery, a confusing web of lies, manipulations and false leads. Who is the real Justine? Downtown art world sophisticate, or small town innocent? Victim or predator? Someone he can trust, or someone he should actually fear?Stephen Amidon's spellbinding psychological thriller, The Real Justine, confounds the reader at every turn, constantly causing us to revise our assumptions. It's a fascinating study in character and a relentless, ingeniously head-spinning story—all deliciously unresolved until the very last page.
Praise For The Real Justine…
Reality simmers and blurs before becoming sharply clarified on the last page of this compelling novel. Amidon (Human Capital, 2004) builds suspense relentlessly to a climax that's not easily forgotten in this masterful exploration of discerning the truth. 


Gripping. Stephen Amidon is the rare writer who can illuminate the secrets of money and love with equal authority.
— Tom Perrotta, author of 'The Leftovers'

Amidon proves himself a nimble storyteller. We finish this novel not only with an appreciation of his skill at orchestrating suspense but also with a keen understanding of the emotional consequences of his characters' decisions.
— Michiko Kakutani

The haunted search for a missing, mysterious lover
is a well-worn trope in thrillers, but to Amidon's credit, he sustains what
actors call 'the illusion of the first time'—the impression that you're saying
for the first time a line you've said a hundred times. Many readers will find
it refreshing that the novel's pace and suspense result not so much from
physical violence, but from these well-drawn characters' uncertain feelings and
motives.

A splendid novel with the satiric bite of The Bonfire of the Vanities and perhaps the most inexorable plot since House of Sand and Fog.


From its very beginning, Human Capital seizes us and plunges us into the grand delirium of reading about characters whose fates we eagerly, agonizingly follow to the last, lovely page.

— Scott Spencer, author of 'Endless Love'

A gripping seventh novel from the talented Mosby whose reputation has been growing steadily. Neat story-telling coupled with Mosby's sure touch for characters that demand our sympathy, help make this one of the those crime novels that linger in the mind long after the final page.
Pegasus Crime, 9781605988658, 336pp.
Publication Date: September 15, 2015
About the Author
Stephen Amidon is the author of ten books, including the novel Human Capital, which was recently made into an award-winning Italian film. He recently lived in London, where he worked as a film critic, and now lives in Boston with his wife and children.
or
Not Currently Available for Direct Purchase