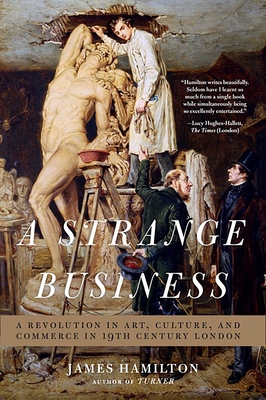 A Strange Business (Hardcover)
Pegasus Books, 9781605988702, 400pp.
Publication Date: September 15, 2015
* Individual store prices may vary.
Description
Britain in the nineteenth century saw a series of technological and social changes which continue to influence and direct us today. Its reactants were human genius, money and influence, its crucibles the streets and institutions, its catalyst time, its control the market. In this rich and fascinating book, James Hamilton investigates the vibrant exchange between culture and business in nineteenth-century Britain, which became a center for world commerce following the industrial revolution. He explores how art was made and paid for, the turns of fashion, and the new demands of a growing middle-class, prominent among whom were the artists themselves. While leading figures such as Turner, Constable, Landseer, Coleridge, Wordsworth, and Dickens are players here, so too are the patrons, financiers, collectors and industrialists; publishers, entrepreneurs, and journalists; artists' suppliers, engravers, dealers and curators; hostesses, shopkeepers and brothel keepers; quacks, charlatans, and auctioneers. Hamilton brings them all vividly to life in this kaleidoscopic portrait of the business of culture in nineteenth-century Britain, and provides thrilling and original insights into the working lives of some of the era's most celebrated artists.
About the Author
James Hamilton is an art historian and biographer. Formerly a Fellow at St Antony's College, Oxford, he is now University Curator and Honorary Reader in the History of Art at the University of Birmingham in England. He organized and wrote the catalogue of the exhibition Turner and the Scientists at the Tate, and his biography of J. M. W. Turner was shortlisted for the James Tait Black Memorial Award.
Praise For A Strange Business…
A joyful
review of the British 'arts industrial revolution' of the nineteenth century.
Fascinating. A vivid picture of the complex social and institutional structures
of London's rising entrepreneurial class, and its ambitious leveraging of art
for both economic and social gain.

A
brilliantly colorful tapestry. An enthralling, densely detailed examination. A
fascinating, consistently entertaining exploration into the exploding business
of 19th-century art.

Art historian Hamilton (Turner: A Life) describes a complex world of art, business, reputation, and value and how these four concepts are woven into the everyday lives of artists and artisans, collectors, dealers, entrepreneurs, inventors, publishers, and others who struggled with changing mores of society and fashion in 19th-century London. This refreshing account of the London art scene of yesteryear should be a part of collections of every type and will be of interest to historians and enthusiasts of the period.


Hamilton writes beautifully. Seldom have I learnt so much from a single book while simultaneously being so excellently entertained.

Carey, Sir John Leicester and Turner are just three of the characters found in A Strange Business, James Hamilton's account of the art/money nexus in the 1800s. The author evokes a wonderful world of eccentric owners, obsequious middlemen, colorful artists, snail-paced printmakers and wicked forgers.


A
finely limned portrait of an age. A wonderful book, overflowing with life in
all its strange variety, and business at its most dramatic. Hamilton is a witty
and assured guide to this curious archipelago of experts, impostors, dreamers,
and crooks.

Wonderful. If you were setting out as an artist in 19th-century London, this is the book you would want as your vade mecum. Full of interesting ideas and odd aperçus. Entirely joyous.

A gripping story not of artistic movements but of practicalities. Hamilton's reconfiguration of the well known story of early 19th century British art tends to result in sparky connections and well-I-never moments.

Thoroughly researched.

It's a beautiful book saying much about English society in 19th century London. It covers all the bases: patrons of art old and new, painting, sculpting, dealing in art, the skills of a colourman, how engravers worked, what publishers did to revv up business, the burdens and delights of being a curator, as well as the pleasures of the spectator. That I call clever.
— Michael Lagan

Entertaining and original. Like a plum pudding, this book is both nourishing and full of succulent bits and pieces.

Riveting. A richly detailed study of how, in Britain in the 19th century, artists and a small army of opportunists, art lovers, collectors and businessmen of all sorts used their ingenuity to turn the visual arts into money. Hamilton's fascinating and richly researched book surveys the art world from a number of different angles. It is lucid, insightful and simply gripping.

Hamilton is a lucid and frequently droll guide to this symbiotic world. His book is not about paintings but about the trades such as curating, pigment-making and publishing that grew up around them. There was plenty of colour off the canvas, too.
or
Not Currently Available for Direct Purchase