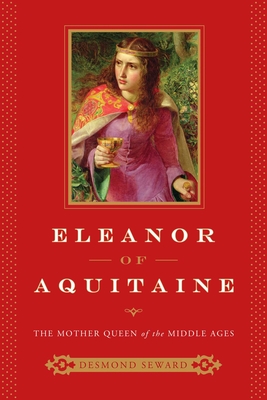 Eleanor of Aquitaine (Paperback)
The Mother Queen of the Middle Ages
Pegasus Books, 9781605988979, 288pp.
Publication Date: November 16, 2015
Other Editions of This Title:
Hardcover (10/15/2014)
Paperback (9/1/2013)
* Individual store prices may vary.
Description
The story of an ambitious princess and heiress that captures this legendary medieval queen in all of her beauty and political intrigue.
"A monstrous injurer of heaven and earth," as Shakespeare referred to this powerful medieval matriarch, Eleanor of Aquitaine's reign as England's stormiest and most ambitious queen has never been matched.
As the greatest heiress in Europe, she was in turn Queen of France and Queen of England; among her sons were Richard the Lionheart and King John. A magnificent independent ruler in her own right, she lost her power when she married Louis VII of France. She received neither influence nor fame by her second marriage to King Henry II, who jailed her for fifteen years for conspiring and supporting their son's claim to the throne. Her husband was succeeded by their son, King Richard the Lionheart, who immediately released his mother from prison. Eleanor then acted as Regent while Richard launched the Third Crusade.
Her loveliness and glamour, her throwing-off of the constraints that shackled women of the twelfth century, and her very real gifts as a politician and ruler make Eleanor's story one of the most colorful of the High Middle Ages.
About the Author
Desmond Seward was born in Paris and educated at Cambridge. He is the author of Richard III, The Last White Rose, The Demon's Brood, and The Warrior King and the Invasion of France. He lives in England.
Praise For Eleanor of Aquitaine: The Mother Queen of the Middle Ages…
Impressive. A dramatic and page-turning history. This is the medieval world and few know it better than Desmond Seward.
— Philippa Gregory
Gripping and enthralling. No writer of fiction, however imaginative, could dream up more spellbinding plots than what actually happened, so skilfully recounted here.
— Robert Hutchinson, author of The Last Days of Henry VIII
History as it should be written: without hindsight or embellishment, but with erudition and a sense of immediacy that makes it a gripping and original read.
— Jessie Childs, author of Henry VIII's Last Victim
An entertaining and valuable exploration of the early Tudor period. 
or
Not Currently Available for Direct Purchase