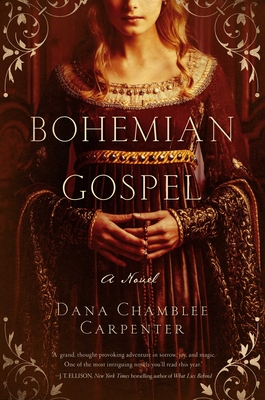 Bohemian Gospel
Hardcover

* Individual store prices may vary.
Other Editions of This Title:
Digital Audiobook (6/13/2017)
Paperback (10/25/2016)
Description
Thirteenth-century Bohemia is a dangerous place for a girl, especially one as odd as Mouse, born with unnatural (perhaps supernatural) senses and an uncanny intellect. Is young Mouse a child of the church or a demon of questionable lineage? Even Mouse doesn't know for sure. When young King Ottakar shows up at the Abbey wounded by a traitor's arrow, Mouse breaks every church rule to save him. A nascent but powerful attraction sways Mouse to flaunt all propriety and travel with the handsome King to Prague as his personal healer. Caught in the undertow of court politics, Ottakar and Mouse work to uncover the threat against him and to unravel the mystery of her past as they try to find a way they can be together. But when Mouse's unusual gifts give rise to a violence and strength that surprise everyone—especially herself—she is forced to ask herself: Will she be prepared for the future that awaits her? A heart-thumping, highly original tale in the vein of Elizabeth Kostova's The Historian, Bohemian Gospel heralds the arrival of a fresh new voice for historical fiction.
Praise For Bohemian Gospel…
A deliciously creepy debut. Carpenter's vivid
imagination creates a well-rounded, sympathetic heroine and an intricate world
full of terrifying details. The volatility of the evil forces threatening
Mouse's world makes for an unpredictable journey.

Part history, part horror, part love story, part Christian mythology. Fresh and surprising. There will be some comparisons to Kostova's The Historian, and like that novel, this one does a good job of interweaving history with mythology and the supernatural, offering a new take on somewhat familiar themes. Brings the Dark Ages to strange and bewitching life.


Carpenter expertly combines elements of gothic fantasy with historical details of 13th-century Bohemia. The combination creates an atmosphere of mysticism and tension. With a strong and nuanced central character and a rich sense of mystery, Bohemian Gospel is breathtaking.


A grand,
thought-provoking adventure in sorrow, joy and magic.

One of the most
intriguing novels you'll read this year.

An unforgettable debut
with an enchanting, compelling lead.
— J. T. Ellison, New York Times bestselling author of What Lies Behind

Like a rushing river, Bohemian Gospel flows bright, dappled with a patina of legend, and has a current that runs deep and wonderfully dark. The reader will be swept along in this bold debut.

— Mark Richard, author of The Ice at the Bottom of the World

The most badass heroine I've encountered in a long time. One part historical thriller, one part adventure fantasy, and all parts girl power.
— Nina Sankovitch, author of 'Tolstoy and the Purple Chair'

Carpenter deftly plays with readers' expectations throughout the novel. The book's opening gives every indication that this will be a Cinderella story: the tale of a young, handsome king who rescues a nameless orphan and who is in turn rescued by her. But in Bohemian Gospel, this scenario is only the beginning of a long, complicated relationship. Carpenter's debut runs readers through the gamut of emotions, hoping against hope for a happy ending in a time and place where endings tend to be anything but happy.


In those parts of the tale in which Mouse must counter threats, the novel is a compulsive read, full of historical and supernatural (yet historically-founded) detail.

The strength of Carpenter's promising debut is its unusual Central European medieval setting and protagonist. Those who enjoy historical fiction with a paranormal twist such as Elizabeth Kostova's The Historian may find this book of interest.


Bohemian Gospel is a fast-moving, seductive read. A fascinating mix of dark fantasy and rich historical detail, swirling around Mouse, a fiercely independent, brave young woman who struggles with a gift that is both a blessing and a curse.

— Linda Lafferty, author of The Bloodletter's Daughter

Bohemian Gospel isn't afraid to leave readers with unanswered questions, though, in the best possible way. Hot dang, that is how you write a freaking epilogue. I refuse to disclose any spoilers, but trust me—you won't see the ending coming. I can only sit tight and wait for a sequel.

— Ellen Findley

One of the best
novels I've read in years. Wonderful writing, great characters,

a fantastic
story—everything a reader of historical fiction could want.
— Philip Freeman, author of Saint Brigid's Bones

A thoroughly enjoyable read — gripping and exciting with a wonderful and intriguing central character in the enigmatic Mouse and a sting-in-the-tail ending that is a genuine surprise. We will be hearing much more from Dana Chamblee Carpenter in the future.
— Diana Bretherick, author of City of Devils

This entrancing and
suspenseful story pulls you in as if you were reading a

Grimm's fairy tale but
with a strong, complex yet vulnerable woman at its core.

A page-turner of eerie
shivers and supernatural questions.
— Nancy Bilyeau, author of The Crown

A
riveting, spell-binding tale that brings 13th century Europe vividly to life.
— S.D. Sykes, author of Plague Land
Pegasus Books, 9781605989013, 400pp.
Publication Date: November 16, 2015
About the Author
Dana Chamblee Carpenter is the award-winning author of short fiction that has appeared in The Arkansas Review, Jersey Devil Press, and Maypop. Her debut novel, Bohemian Gospel, won Killer Nashville's 2014 Claymore Award. She teaches creative writing and American Literature at a private university in Nashville, TN, where she lives with her husband and two children.
or
Not Currently Available for Direct Purchase