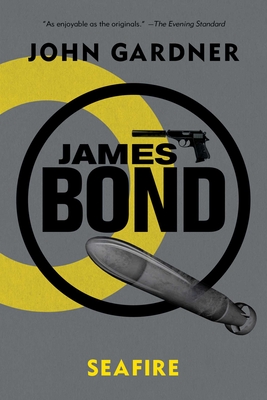 James Bond (Paperback)
SeaFire: A 007 Novel
Pegasus Books, 9781605989044, 352pp.
Publication Date: November 16, 2015
Other Editions of This Title:
Paperback (11/16/2015)
Paperback (11/16/2015)
Paperback (10/12/2011)
Paperback (5/1/2013)
Paperback (5/1/2013)
Paperback (5/1/2012)
* Individual store prices may vary.
Description
With the help of his new girlfriend, Flicka von Grüsse, James Bond goes after billionaire Sir Maxwell Tarn (who thinks he's the next Hitler) in the 007 spy thriller SeaFire.
A new Double-0 section has risen from the ashes of the old British Secret Service. Now, the Secret Service has been split up and the Double-0 section reports to a small government committee called MicroGlobe One. Gone are the days when James Bond was answerable only to M. Gone also is the old license to kill, gone is the automatic pistol; for the new section's targets are not individuals but large corporations.
But weapons are reinstated when Bond is put on the trail of the self-made billionaire Sir Maxwell Tarn, whose business empire spans the globe, and whose activities appear to include illegal dealing in weapons on a grand global scale.
With the shrewd assistance of Flicka von Grusse, 007 follows a maze of trails from London to Spain, Israel and Germany. But they are on board Tarn's floating laboratory off the coast of Puerto Rico when their own prey becomes their captor. There, Bond and Flicka realize their misstep has placed them squarely in the audience to a deadly experiment that will trigger ecological disaster of global proportions.
The fate of the oceans, not to mention their own lives, lies in stopping Tarn before his cache of deadly weapons destroys much more than a few pristine islands in the Caribbean.
About the Author
John Gardner wrote, like Ian Fleming, fourteen James Bond novels (1981 to 1996). In all Gardner had fifty-five novels to his credit—many of them bestsellers (his novel Maestro was a New York Times Notable Book of the Year). John Gardner died in 2007. Visit his estate's website at www.john-gardner.com.
Praise For James Bond: SeaFire: A 007 Novel…
Yes, folks, James Bond is alive and well. A rollicking ride all the way.
or
Not Currently Available for Direct Purchase