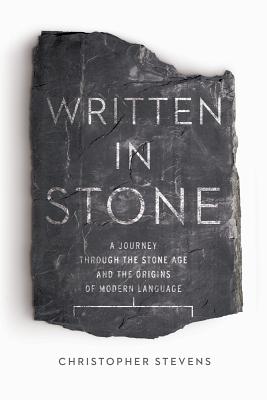 Written in Stone
Hardcover

* Individual store prices may vary.
Other Editions of This Title:
Digital Audiobook (11/14/2015)
Description
Half the world's population speaks a language that has evolved from a single, prehistoric mother tongue. A mother tongue first spoken in Stone Age times, on the steppes of central Eurasia 6,500 years ago. It was so effective that it flourished for two thousand years. It was a language that spread from the shores of the Black Sea across almost all of Europe and much of Asia. It is the genetic basis of everything we speak and write today—the DNA of language.Written in Stone combines detective work, mythology, ancient history, archaeology, the roots of society, technology and warfare, and the sheer fascination of words to explore that original mother tongue, sketching the connections woven throughout the immense vocabulary of English—with some surprising results.In snappy, lively and often very funny chapters, it uncovers the most influential and important words used by our Neolithic ancestors, and shows how they are still in constant use today—the building blocks of all our most common words and phrases.
Praise For Written in Stone…
A lively romp. Always enlightening and engaging.
This is a delight for anyone who loves language in any form.

Proves etymology remains a lively pursuit in this engrossing, sometimes-startling dissection of Indo-European, an ancient language that is the basis for half of the world's modern tongues. Combining the dexterity of a linguist, a philologist's passion for the influence of words on cultural history, and a taste for the bizarre, as befits a TV critic for London's Daily Mail, the author takes us on a detailed tour of a language that is profoundly alive in our everyday speech and literature. Demonstrates considerable prowess in making the journey both edifying and entertaining.


Written in Stone can be an enjoyable read for someone with a background in linguisitcs. Fun and light.


The
history of English is fascinating and this is a delightful distraction from a
more serious linguistic approach to the topic.

Offers
fascinating insight. For example, they use the words 'ma' and 'pa' just as we
do today.

A
fascinating new book reveals how our ancient ancestors spoke. And you'll be
astonished by how familiar it all sounds.
Pegasus Books, 9781605989075, 272pp.
Publication Date: November 16, 2015
About the Author
Christopher Stevens is a writer and journalist. His runaway bestselling mnemonics book Thirty Days Has September hit the number-one reference book spot on Amazon. Christopher worked at the Observer for fifteen years before moving to the Daily Mail. He lives in London.