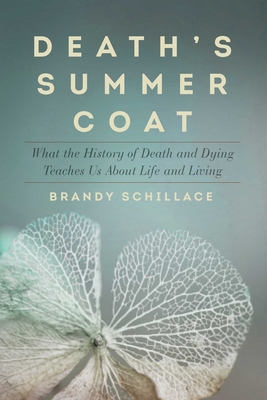 Death's Summer Coat
Hardcover

* Individual store prices may vary.
Other Editions of This Title:
Paperback (2/14/2017)
Description
We are living in a unique point in human history. People are living longer than ever, yet the longer we live, the more taboo and alien our mortality becomes. Yet we, and our loved ones, still remain mortal. People today still struggle with this fact, as we have done throughout our entire history. What led us to this point—what drove us to sanitize death and make it foreign and unfamiliar? In Death's Summer Coat Brandy Schillace explores our past to examine what it might mean for our future. From Victorian Britain to contemporary Cambodia, forgotten customs and modern-day rituals, we learn about the incredibly diverse—and sometimes just incredible—ways in which humans have dealt with mortality in different times and places. Today, as we begin to talk about mortality, there are difficult questions to face. What does it mean to have a "good death?" What purpose should a funeral serve? As Schillace shows, talking about death, and the rituals associated with it, can help provide answers. It also brings us closer together—conversation and community are just as important for living as for dying. Some of the stories are strikingly unfamiliar; others are far more familiar than you might suppose. But all reveal much about the present—and about ourselves.
Praise For Death's Summer Coat…
An informed but not overly academic pop culture look at death and dying in cultures around the world.

Schillace's explorations are extensive and interdisciplinary, drawing on research in the sciences but also valuing the many expressions of death in the arts. With her personable voice, she is able to breathe compassion into what might otherwise be a depressing topic. Endlessly fascinating. This vibrant window to other lives also creates a deeper understanding of one's own

Schillace examines rituals of bereavement across cultures and across time. She points toward the confusion that has emerged in a technological age when brain death, heart death and other definitions becloud our understanding of expiry itself. We don't know what death means or even what it is.
— Andrew Solomon

At once scholarly but also infused with personal narrative, Death's Summer Coat has something to offer everyone.

— Paul Koudounaris, author of HEAVENLY BODIES and THE EMPIRE OF DEATH

Schillace writers glowingly of a growing movement to counter the
death-denying attitude of Western society. Wide-ranging and surprisingly
easy reading.

The book opens by surveying a wide swath of mourning customs from around the world, practices that Schillace holds up, usually to their advantage, against the customary funeral-home funeral of the modern West. As death became medical, it became something to be fought or fixed, and in these parallel shifts—from the religious to the medical, and from the communal to the private—Schillace perceives the forces behind our misaligned contemporary attitudes about mortality.

A lively, panoramic view of our approach to death and dying that asks essential questions, and offers important insights, into the inevitable.
— Bess Lovejoy, author of REST IN PIECES

In this thoughtful, wide-ranging examination, Schillace looks at how cultures worldwide have dealt with death, both in the past and present. Rituals that reflect a communal understanding of the pain felt by survivors can help ease the sting of loss, she points out, while modern western society looks at grief as an abnormal state, or assign it a timetable. The book offers no single answer or prescription, but it proposes we at least start the conversation.

Vivid, scholarly, enthralling, and surprisingly touching, Death's Summer Coat is skillfully stitched together.

— Rupert Callender, editor of THE NATURAL DEATH HANDBOOK

Schillace raises a lot of questions surrounding the issue of mortality, leaving readers to form their own answers.
Pegasus Books, 9781605989389, 336pp.
Publication Date: January 4, 2016
About the Author
Dr. Brandy Schillace is a historian of medicine and the critically acclaimed author of Death's Summer Coat, Clockwork Futures, and most recently, Mr. Humble and Dr. Butcher, described by the New York Times as a "macabre delight." Her books have been reviewed in Science Magazine, the New York Times, New Yorker, Washington Post, and Wall Street Journal. Dr. Schillace is host of the Peculiar Book Club, a livestream community of authors and readers, and has appeared on Travel Channel's Mysteries at the Museum, NPR's Here and Now, and FOX's American Built. She has bylines at Scientific American, Globe and Mail, HuffPo, SLATE, and CrimeReads. Dr. Schillace is a 2018 winner of the Arthur P. Sloan Science Foundation award, and in addition to her work as an author, is editor-in-chief of BMJ's Medical Humanities Journal. (she/her)
or
Not Currently Available for Direct Purchase