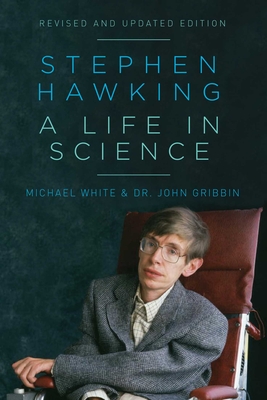 Stephen Hawking
Paperback

* Individual store prices may vary.
Description
Stephen Hawking is no ordinary scientist. Perhaps more than any other scientist, he has broadened our basic understanding of the universe. His theoretical work on black holes and the origins and nature of the cosmos have been groundbreaking—if not downright revolutionary. He has also spent much of his adult life confined to a wheelchair, a victim of ALS. But his physical limitations have done nothing to confine him intellectually or hinder his scientific development. Hawking would already be remarkable for his cutting-edge work in theoretical physics alone. However, he has also managed to popularize science unlike any one else. Today, he is a household name and achieved almost cult-like fame with the release of A Brief History of Time. Although this book is steeped in the complexities of cosmology, millions of people were eager to learn just some of what he had to offer. Science writers White and Gribbin have painted a compelling portrait of a scientific mind that seemingly knows no bounds. Weaving together clear explanations of Hawking's science with a detailed, balanced, and sensitive personal history, we come to know and appreciate both sides of this incredible man. Includes new updates in Hawking's biography and the recent discovery of the Higgs-Boson (or "God") particle.
Praise For Stephen Hawking…
A successful merger of biography and physics.

Immensely moving.  A totally
gripping read.

The
forces shaping the life of renowned physicist Hawking seem as strangely charged
as those he describes in his physics. White and Gribbin ably fill in the spaces
between his great leaps of theory.

Intriguing. There are large questions here than the life of
even this singular man.

White and Gribbin have produced a definitive biography of arguably the
best-known cosmologist in the world.  A
fascinating story.
Pegasus Books, 9781605989402, 300pp.
Publication Date: January 4, 2016
About the Author
John Gribbin, Ph.D., trained as an astrophysicist at the University of Cambridge. He is the author of several books, including the highly acclaimed In Search of Schrödinger's Cat, and the co-author of Stephen Hawking: A Life in Science. He lives in East Sussex with his wife and two sons.
or
Not Currently Available for Direct Purchase