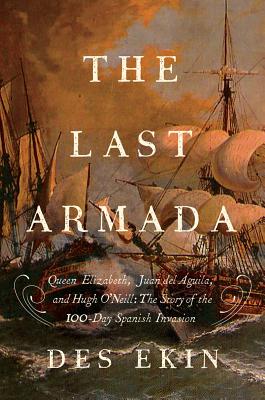 The Last Armada (Hardcover)
Queen Elizabeth, Juan del Águila, and Hugh O'Neill: The Story of the 100-Day Spanish Invasion
Pegasus Books, 9781605989440, 420pp.
Publication Date: January 4, 2016
Other Editions of This Title:
Paperback (4/11/2017)
* Individual store prices may vary.
Description
The story of the last great naval battle between England and Spain, evoking a number of colorful and dangerous personalities who fought in the climactic conclusion to these two countries' great rivalry on the sea.
Ireland: Christmas Eve, 1601.
As thunder crashes and lightning rakes the sky, three very different commanders line up for a battle that will decide the fate of a nation. General Juan del Águila has been sprung from a prison cell to command the last great Spanish armada. His mission: to seize a bridgehead in Queen Elizabeth's England and hold it.
Facing him is Charles Blount, a brilliant English strategist whose career is also under a cloud. His affair with a married woman edged him into a treasonous conspiracy—and brought him to within a hair's breadth of the gallows.
Meanwhile, Irish insurgent Hugh O'Neill knows that this is his final chance to drive the English out of Ireland. For each man, this is the last throw of the dice. Tomorrow they will be either heroes or failures.
These colorful commanders come alive in this true story of courage and endurance, of bitterness and betrayal, and of drama and intrigue at the highest levels in the courts of England and Spain.
About the Author
Des Ekin is a historian and journalist. After spending several years covering the Ulster Troubles, he rose to become Deputy Editor of the Belfast Sunday News. He worked as a journalist, columnist, and finally Political Correspondent for The Sunday World until 2012. His book The Stolen Village was shortlisted for the Argosy Irish Nonfiction Book of the Year and for Book of the Decade in the Bord Gais Energy Irish Book Awards. He lives in Dublin.
Praise For The Last Armada: Queen Elizabeth, Juan del Águila, and Hugh O'Neill: The Story of the 100-Day Spanish Invasion…
The
author's gift for deep, comprehensive historical study and his ability to keep
characters fresh in readers' minds bring this battle between Spain's best
general and Queen Elizabeth's favorite, Charles Blount, to the awareness it has
been denied. A fantastic book that finally assigns Kinsale its rightful place
in history.

The Last Armada is history written to read like journalism. Ekin's observations and summations are sharp, precise and meant to strike a chord in the modern reader.


Entertaining, chatty, and superbly researched, replete with fascinating anecdotes and tragicomic relief, this is popular history at its finest. It is sure to appeal to aficionados of Irish and military history. Fans of Arturo Perez-Reverte's Captain Alatriste adventures will delight in seeing real-life counterparts in action at the Siege of Kinsale.


An even-handed account of a critical event in Irish history. A historical page-turner with acts of heroism, betrayal, espionage, self-aggrandizement and self-sacrifice.

Enthralling.

Terrific. One of the most turbulent periods in Irish history is brought dramatically to life. Fascinating.

Irish journalist Ekin effectively brings to life
this fateful but largely forgotten second effort to claim England for
Catholicism and the Spanish Hapsburgs. It's a detailed narrative filled with
heroism, treachery, dynastic politics, and adultery—the makings of a soap
opera, except that all of it actually happened. Ekin wrings nearly everything
he can from various archives. Where the archives are silent, Ekin offers
prudent judgments about what might have occurred while reporting fairly on
earlier participants' and historians' differing conclusions. A nice contribution to the historical literature,
and one very well told.

The intrigues, the siege, the battle, and the aftermath are brilliantly realized by the author.

Lovely and enthralling. Ekin is a wonderful guide through this engrossing tale.

Ekin has written a colorful and exciting narrative of popular history in the same category as works by Winston Graham and Charles Nicholl. Ekin has done a fine job, and historians will find his account of the campaign both useful and enlightening.
or
Not Currently Available for Direct Purchase