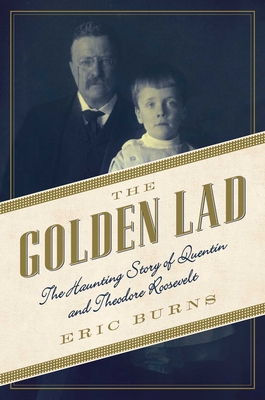 The Golden Lad
The Haunting Story of Quentin and Theodore Roosevelt
Hardcover

* Individual store prices may vary.
Other Editions of This Title:
Digital Audiobook (2/14/2016)
Compact Disc (2/15/2016)
MP3 CD (2/15/2016)
Compact Disc (2/15/2016)
Description
Theodore Roosevelt is one of the most fascinating and written-about presidents in American history—yet the most poignant tale about this larger-than-life man has never been told.

More than a century has passed since Theodore Roosevelt was in the White House, but he still continues to fascinate. Never has a more exuberant man been our nation's leader. He became a war hero, reformed the NYPD, busted the largest railroad and oil trusts, passed the Pure Food and Drug Act, created national parks and forests, won the Nobel Peace Prize, and built the Panama Canal—to name just a few.

Yet it was the cause he championed the hardest—America's entry in to WWI—that would ultimately divide and destroy him. His youngest son, Quentin, his favorite, would die in an air fight. How does looking at Theodore's relationship with his son, and understanding him as a father, tell us something new about this larger-than-life-man? Does it reveal a more human side? A more hypocritical side? Or simply, if tragically, a nature so surprisingly sensitive, despite the bluster, that he would die of a broken heart?

Roosevelt's own history of boyhood illnesses made him so aware of was like to be a child in pain, that he could not bear the thought of his own children suffering. The Roosevelts were a family of pillow-fights, pranks, and "scary bear." And it was the baby, Quentin—the frailest—who worried his father the most. Yet in the end, it was he who would display, in his brief life, the most intellect and courage of all.
Praise For The Golden Lad: The Haunting Story of Quentin and Theodore Roosevelt…
"Piercing the larger-than-life Teddy Roosevelt myth, Burns (1920), a former correspondent for NBC News and Today, explores the personal side of the energetic, rambunctious war hero and politician and his doting relationship with his youngest child, Quentin. Burns's unique, stirring account of America's most colorful president allows Teddy Roosevelt, the man and father, to step off the page."
— Publishers Weekly

"Burns finds special meaning and resonance in the father-son relationship. A fine homage [and a] solid, very well-written contribution to the vast literature surrounding Teddy Roosevelt."
— Kirkus Reviews

"Fresh and illuminating, a fast-paced read that focuses on President Roosevelt's private life and his role as a husband and father, and on a young man inspired by the Rough Rider to fight and die for his country. The kind of biography that more authors should embrace: concise and lively."
— Washington Post

"Burns tells the story of parallel lives. The Golden Lad is not a conventional White House biography. Burns offers a sharp picture of a still-iconic figure. A close and often painful family portrait."
— The Wall Street Journal

"Burns calls his account of the special relationship between the president and his favorite child a haunting one, but it is so many other things as well: heartwarming and heartbreaking, joyful exuberance ending with the kind of death in combat so celebrated and sought by TR for himself but unendurable in his Golden Lad."
— Washington Times

"A crisply written profile. A father-son focus reveals much about the multifaceted Theodore's personality. General readers seeking a naturally sympathetic, full-length portrait, will appreciate this work."
— Library Journal
Pegasus Books, 9781605989518, 300pp.
Publication Date: February 1, 2016
About the Author
Eric Burns, a former NBC News correspondent and Today Show pundit, appears regularly as a commentator for Entertainment Tonight and hosts A&E's Arts & Entertainment Revue. He was the former host of Fox News Watch and has won an Emmy for media criticism. He is the author of Infamous Scribblers and The Spirits of America and lives in Westport, Connecticut.
or
Not Currently Available for Direct Purchase