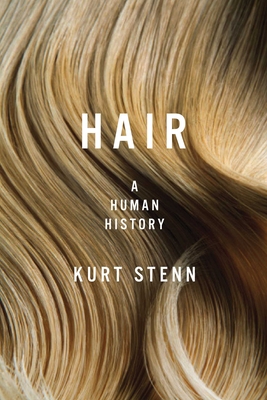 Hair
A Human History
Hardcover

* Individual store prices may vary.
Other Editions of This Title:
Paperback (4/11/2017)
Paperback, Chinese (12/1/2017)
Description
A microhistory in the vein of Salt and Cod exploring the biological, evolutionary, and cultural history of one of the world's most fascinating fibers.

Most people don't give a second thought to the stuff on their head, but hair has played a crucial role in in fashion, the arts, sports, commerce, forensics, and industry. In Hair, Kurt Stenn — one of the world's foremost hair follicle experts — takes readers on global journey through history, from fur merchant associations and sheep farms to medical clinics and patient support groups, to show the remarkable impact hair has had on human life.

From a completely bald beauty queen with alopecia to the famed hair-hang circus act, Stenn weaves the history of hair through a variety of captivating examples, with sources varying from renaissance merchants' diaries to interviews with wig makers, modern barbers, and more. In addition to expelling the biological basis and the evolutionary history of hair, the fiber is put into context: hair in history (as tied to textile mills and merchant associations), hair as a construct for cultural and self-identity, hair in the arts (as the material for artist's brushes and musical instruments), hair as commodity (used for everything from the inner lining of tennis balls to an absorbent to clean up oil spills), and hair as evidence in criminology.

Perfect for fans of Mark Kurlansky, Hair is a compelling read based solidly in historical and scientific research that will delight any reader who wants to know more about the world around them.
Praise For Hair: A Human History…
"Kurt Stenn, a scientist who has studied hair for the past three decades, proves in this lively new book that even the lowliest whisker merits attention. He's a clear and enthusiastic explainer of follicles and shafts, the genes and growth patterns behind our fur, and all the strange things that can go wrong."
— Boston Globe

"An edifying look at the biology, physiology, and history of hair. A spirited, informative history of a fascinating fiber."
— Kirkus Reviews

"Ask a woman about her hair, and she just might tell you the story of her life. Ask Kurt Stenn, author of this lively history, and he'll explain the origins and science of hair in terrifically readable stories. The more I learn about hair, the more I'm convinced that studying it is a doorway into learning about everything that matters—where we come from, where we might be going, and why we're so unbelievably obsessed with our hair."
— Elizabeth Benedict, editor, 'Me, My Hair and I: Twenty-seven Women Untangle an Obsession'

"Stenn jams an encyclopedia's worth of material into a mere 256 pages. Stenn manages to convey a sense of wonder for a seemingly mundane material so tough, so strong and so versatile that it can be used for virtually anything."
— Science News

"Stenn explores the intricacies of hair from biological, anthropological, and cultural perspectives, developing a well-rounded overview of a seemingly obtuse subject. An excellent layperson's introduction to the vast and compelling story of hair."
— Publishers Weekly

"Kurt Stenn unravels the physical and social marvels of hair, demonstrating the myriad ways in which hair of all sorts is essential to our health and happiness. The story of hair reveals more about our past, present and future as human beings than we commonly realize, and Stenn's fast-paced and clear-sighted tour of science, history, and present-day society will give the reader a fresh appreciation for something so common and yet so wonderful."
— Christopher Oldstone-Moore, author of 'Of Beards and Men: The Revealing History of Facial Hair'

"A well-researched, clearly-told, and entertaining account of the biological, evolutionary, historical, sociological, and aesthetic aspects of hair."
— Rush D. Holt, CEO, American Association for the Advancement of Science

"I absolutely reveled in Kurt Stenn's magnificent book. It's the best-researched, best-written and most entertaining compendium I've read on the subject. In clear, crisp prose, Dr. Stenn tells the story of hair through a wonderfully calibrated prism of history, art, culture, society, industry and science. I recommend it for anyone who has—or remembers having—hair."
— Armen Markarian, former President and CEO, Bosley Hair Restoration and Hair Club USA, Inc.

"A fascinating work packed with scholarly research [and] full of weird facts."
— The Wall Street Journal

"A good read for those who enjoy a little history with their science, or some science with their history. A good introduction"
— Library Journal

"In Hair, Kurt Stenn establishes himself as the poet laureate of hair. He weaves brightly colored illuminating and enticing yarns that encompass the universe of hair—from barbering and wig-making to the use of the fiber in paint brushes and musical instruments to the detailed and fascinating biology of hair formation and hair disease. The warp and weft of his interests sparkles and delights."
— Lowell A. Goldsmith, MD, Dean Emeritus, University of Rochester School of Medicine and Dentistry

"As a biologist, I enjoy books like Hair that shine a light into the murky corners of the human experience. Professor Stenn, a world authority on hair, is also a great storyteller. Hair is a treasure trove of information, some of which will set your hair on end. A good book that is clear, concise, and well-thought-out."
— John Gaudet, author of 'Papyrus: The Plant that Changed the World'

"Hair comes from an expert on hair who provides a fun global romp through history discussing various aspects of hair. Highly recommended for any interested in the evolution and culture of hair."
— Midwest Book Review

"If you think you know everything about hair, you are in for a surprise. Stenn uses this seemingly mundane subject to weave a splendid tapestry, shimmering with fascinating stories from all aspects of life. After reading this book, you'll admire the wonder of your hair even on a bad hair day."
— Vladimir Dinets, author of 'Dragon Songs: Love and Adventure among Crocodiles, Alligators, and Other Dinosaur Relations'

"Thoroughly researched and thoroughly enjoyable, encompassing not only human hair of the head but of the chin and body too (not to mention sheep's wool, beaver fur, wig-making and wearing, perming, dyeing and curling). Everything we have ever done to, or with, our hair is here."
— Jacky Colliss Harvey, author of 'Red: A History of the Redhead'
Pegasus Books, 9781605989556, 256pp.
Publication Date: February 15, 2016
About the Author
Kurt Stenn has over 30 years of expertise studying hair. He had a distinguished twenty-year academic career as a Professor of Pathology and Dermatology at the Yale University School of Medicine and was for ten years Director of Skin Biology at Johnson & Johnson. Most recently, he helped found and served as Chief Scientific Officer for a biotech startup focusing on hair follicle regeneration. He has lectured extensively on the biology of the hair follicle, written over 200 peer review scientific publications and served on the Adjunct Faculties of the University of Pennsylvania Medical School, Drexel University, and Georgia Institute of Technology. He lives in Princeton, NJ.
or
Not Currently Available for Direct Purchase