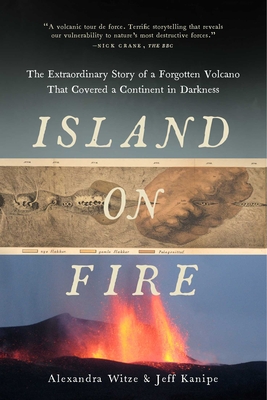 Island on Fire
Paperback

* Individual store prices may vary.
Other Editions of This Title:
Hardcover (1/15/2015)
Compact Disc (6/4/2019)
Compact Disc (6/4/2019)
MP3 CD (6/4/2019)
Description
Laki is Iceland's largest volcano. Its eruption in 1783 is one of history's great, untold natural disasters. Spewing out sun-blocking ash and then a poisonous fog for eight long months, the effects of the eruption lingered across the world for years. It caused the deaths of people as far away as the Nile and created catastrophic conditions throughout Europe.Island on Fire is the story not only of a single eruption but the people whose lives it changed, the dawn of modern volcanology, as well as the history—and potential—of other super-volcanoes like Laki around the world. And perhaps most pertinently, in the wake of the eruption of another Icelandic volcano, Eyjafjallajökull, which closed European air space in 2010, acclaimed science writers Witze and Kanipe look at what might transpire should Laki erupt again in our lifetime.
Praise For Island on Fire…
A revealing new volume. Chapters on geology and the short- and long-term effects of volcanic eruptions add depth to Witze and Kanipe's discussion, rounding out a work that serves as a valuable reminder of just how much we remain at Mother Nature's mercy.

Deftly interweaving information compiled by naturalists and astronomers of the day (and even Benjamin Franklin, who was in Paris during the eruption) with interviews with modern-day scientists and historians, the authors provide a captivating overview of an eruption.

Witze and Kanipe have written a compelling and engrossing story of Laki and its worldwide impact. As the best book authors do, they have also ferreted out facts and examples that make their specific story one with implications for modern readers. It is a book that will surely make you want to go to Iceland, or at least pay careful heed to the next time one if its many volcanoes erupt.

A terrific, disturbing book. In their fast-paced, enjoyable text the authors show how vulnerable we remain to the most unpredictable of natural disasters.
— Gillian Darley, author of VESUVIUS

A story for the ages. But beneath the barrage of devastation lies an even more profound story: why do we forget these dangers?
— Dr. Lindy Elkins-Tanton, Carnegie Institution for Science

A brilliant book. While Iceland's volcanology became front-page news in 2010 when Eyjafjallajökull grounded flights across Europe for almost a week, Kanipe and Witze situate that recent eruption in the country's tragic volcanic history and volatile geology.
— Casey N. Cep

For those with an interest in history and/or geology.
Pegasus Books, 9781605989587, 224pp.
Publication Date: February 1, 2016
About the Author
Alexandra Witze is an award-winning science journalist and correspondent for the journal Nature. Her reporting has taken her from the North Pole (to report on climate change) to the jungles of Guatemala (to cover Maya archaeology) to China's quake-ravaged Sichuan province. Island on Fire is her first book and she lives in Boulder, CO.
or
Not Currently Available for Direct Purchase