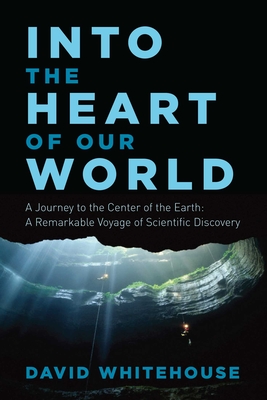 Into the Heart of Our World
A Journey to the Center of the Earth: A Remarkable Voyage of Scientific Discovery
Hardcover

* Individual store prices may vary.
Other Editions of This Title:
Paperback (4/11/2017)
Description
An enthralling and extraordinary adventure vividly charting the mysteries of the deep Earth, the history of our planet, and the latest discoveries about its inner core.

The journey to the center of the earth is a voyage like no other we can imagine. Over 3000 km below the earth's surface, an extraordinary inner world the size of Mars awaits us. Dive through the molten iron of the outer core and eventually you will reach a solid sphere —an iron-clad world held within a metal sea and unattached to anything above. At the earth's core is the history of our planet written in temperature and pressure, crystals and minerals ...

Our planet appears tranquil from outer space. And yet the arcs of volcanoes, the earthquake zones, and the auroral glow rippling above our heads are testimony to the remarkable happenings within the earth's core. For thousands of years these phenomena were explained in legend and myth. Only in recent times has the brave new science of seismology emerged. One hundred and fifty years after the extraordinary, imaginative feat of Jules Verne's Journey to the Center of the Earth, David Whitehouse embarks on a voyage of scientific discovery into the heart of our world.

Seismologists today reveal a planet astonishingly buried within a planet. We watch as supercomputers convert signals from the ground into three-dimensional scans of subterranean continents. We will visit laboratories where scientists attempt to reproduce the intense conditions at the center of the Earth, travel down the throat of a volcano, look into the deepest hole ever drilled, and imagine a voyage through enormous crystals of iron...all at the center of our incredible Earth.
Praise For Into the Heart of Our World: A Journey to the Center of the Earth: A Remarkable Voyage of Scientific Discovery…
"A tour-de-force, utterly compelling. Whitehouse is terrific."
— The Financial Times

"Whitehouse takes readers on a richly rewarding journey through space and time in this scientific travelogue."
— Kirkus Reviews

"Whitehouse intertwines facts with compelling retellings of research expeditions and throwbacks to Verne's classic tale. Into the Heart of Our World is a great introduction to the mysteries of Earth's depths that will leave readers clamoring for a more in-depth trip into the planet."
— Science News

"Outstanding."
— The Daily Telegraph

"Guided by the most up-to-date scientific findings, British science journalist Whitehouse commands an imagined voyage into Earth's interior. Filling his pages with curious facts, brief biographies, and scientific theories about Earth's inner structure, Whitehouse proffers explanations of Earth's formation, the origin of the Moon, and more. This is a fascinating investigation of geologic history."
— Publishers Weekly

"A treasure-trove."
— New Scientist
Pegasus Books, 9781605989594, 288pp.
Publication Date: February 1, 2016
About the Author
Dr David Whitehouse is a scientist and journalist. He is a fellow of the Royal Astronomical Society and a regular broadcaster on science-related matters for the BBC and Sky News. Asteroid 4036 Whitehouse is named after him. Follow him on Twitter: @dr_david_w
or
Not Currently Available for Direct Purchase