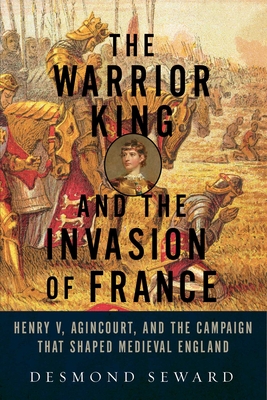 The Warrior King and the Invasion of France
Paperback

* Individual store prices may vary.
Other Editions of This Title:
Hardcover (11/15/2014)
Description
In the course of the Hundred Years War, Henry V was the English figure most responsible for the mutual antipathy that existed between France and England. His art of attacking an opponent by making total war on civilians, as well as soldiers, created tremendous distrust and enmity between the two countries, which survives even to this day. He was a man of many contradictions, a perverse mix of rigorous orthodoxy—exemplified by his fanatical and intolerant religion—and of neurotic insecurity, stemming in part from the dubious nature of his claim to the English throne.Henry V owed his popularity at home to victories against the French that gratified an emerging English nationalism. A tremendously ardent military strategist who experimented with ballistics and built the first English navy, at the time of his early death at the age of thirty-six he controlled one-third of modern-day France. Utilizing new discoveries from local French historical societies, Desmond Seward draws a portrait of Henry V that shows him as a brilliant military strategist, ambitious conqueror, and, at least briefly, triumphant warrior king.
Praise For The Warrior King and the Invasion of France…
Seward reminds us of a style that has been all
but lost in this thundering account.
— Philippa Gregory, #1 New York Times bestselling author

An entertaining and valuable exploration of the early Tudor period.

Gripping and enthralling. No writer of fiction,
however imaginative, could dream up more spellbinding plots than what actually
happened, so skillfully recounted here.
— Robert Hutchinson, author of 'The Last Days of Henry VIII'

History as it should be written: without hindsight or
embellishment, but with erudition and a sense of immediacy that makes it a
gripping and original read
— Jessie Childs, author of 'Henry VIII's Last Victim'

Seward shines a revealing light across the landscape of Tudor politics.
Pegasus Books, 9781605989624, 304pp.
Publication Date: March 7, 2016
About the Author
Desmond Seward was born in Paris and educated at Cambridge. He is the author of many books, including The Hundred Years War; The Wars of the Roses; Eleanor of Aquitaine; Caravagio; and The Plantagenets. He lives in England.
or
Not Currently Available for Direct Purchase