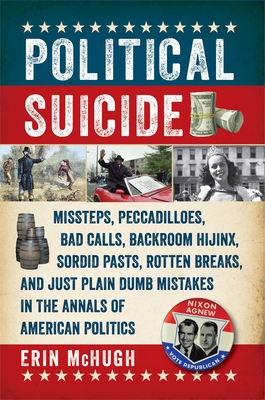 Political Suicide
Hardcover

* Individual store prices may vary.
Other Editions of This Title:
Digital Audiobook (4/24/2016)
Paperback (7/10/2018)
Description
Just in time for the presidential election of 2016 comes Political Suicide, a history of the best and most interesting missteps, peccadilloes, bad calls, back room hijinks, sordid pasts, rotten breaks, and just plain dumb mistakes in the annals of American politics. They have tweeted their private parts to women they're trying to impress. They have gotten caught on tape doing and saying things they really shouldn't have. They have denied knowing about the underhanded doings of underlings — only to have a paper trail lead straight back to them. Nowadays, it seems like half of what we hear about politicians isn't about laws or governing, but is instead coverage focused on shenanigans, questionable morals, and scandals too numerous to count. And while we shake our heads in disbelief, we still can't resist poring over the details of these notorious incidents. In Political Suicide, the foibles of our politicians are brought from the tabloid pages to this entertaining — and cautionary — tale of American history.
Praise For Political Suicide…
Those who think the current electoral season resembles a circus will enjoy this entertaining collection of incredible misdeeds by contemporary and long-gone politicos.

Just when we thought the world of politics couldn't go more off the rails, along comes Political Suicide, a brilliant time capsule of solid proof that America has had a long history of elected officials who have been expert at sinking their own careers—in every possible way.

A rollicking, jaw-dropping antidote for these 'oh no s/he didn't!' times.

— Jonathan Capehart, Washington Post opinion writer and MSNBC contributor

An important, sad, and very funny book. You will laugh, you will cry, and you will understand American history in a new way.
— Susan Cheever, bestselling author of 'Drinking in America: Our Secret History'

If you need a little light relief from the current political campaign, consider this book by Erin McHugh, whose background in history and trivia serves her well here.

Erin McHugh takes us on a fun, fascinating tour of the political graveyard, with a look at the most horrifying and hilarious gaffes, bad ideas, and gotcha moments of the last 200 years.
— Kerwin Swint, author of 'Mudslingers: The Twenty-Five Dirtiest Political Campaigns of All Time'

Compulsively readable, at times hilarious, at times cringe-worthy. From prostitute dalliances to pistol duels, American politics has, as McHugh reports it, quite a colorful and bewildering history.

A thoroughly captivating take on America's rich parade of rogues, scoundrels, and buffoons. Never before has a chronicle of corruption high and low caused me to laugh out loud. History and hijinks might be 'political suicide,' but Erin McHugh knows that this combo also makes for a rip-roaring read.
— Janine R. Wedel, author of 'Unaccountable: How Elite Power Brokers Corrupt our Finances, Freedom, and Security'

Dynamite. I highly recommend it for the history lover in your life.
— John Fugelsang
Pegasus Books, 9781605989785, 256pp.
Publication Date: April 25, 2016
About the Author
Erin McHugh is a former publishing executive and the award-winning author of more than twenty books of popular nonfiction, trivia, and history. She has written for Bloomberg News, TimeOut New York, and GreenSource, and is a contributing writer at Better Homes & Gardens. She lives in New York City.
or
Not Currently Available for Direct Purchase