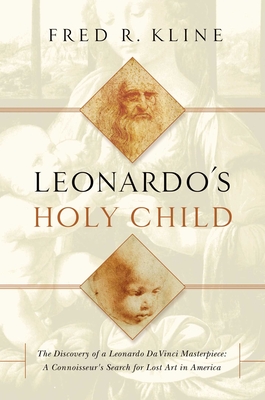 Leonardo's Holy Child
Hardcover

* Individual store prices may vary.
Description
Fred Klineis a well-known art historian, dealer, connoisseur, and explorer who has made a career of scouring antique stores, estate sales, and auctions looking for unusual—and often misidentified—works of art. Many of the gems he has found are now in major museum collections like the Frick, the Getty, and the Metropolitan Museum of Art. But this book is about the discovery of one piece in particular. . . About ten years ago, when Kline was routinely combing through a Christie's catalog, a beautiful little drawing caught his eye. Attributed to Carracci, it came with a very low estimate, but Kline's every instinct told him that the attribution was wrong. He placed a bid and the low asking price and bought the drawing outright. And that was the beginning of how Kline discovered Leonardo da Vinci's model drawing for the Infant Jesus and the Infant St. John. It is the first work by da Vinci to have surfaced in over a century. LEONARDO'S HOLY CHILD chronicles not only the story of this amazing discovery, from Kline's research all over the world to how exactly attributions work with regards to the old masters (most of their works are unsigned). Kline also sheds light on the idea of "connoisseurship," an often-overlooked facet of art history that's almost Holmesian in its intricacy and specificity.
Praise For Leonardo's Holy Child…
Kline has a sharp eye, excellent memory, and top-notch research skills, creating a book that any art lover will love.

An intriguing book. Kline enthusiastically (though sometimes extravagantly) conveys his love of connoisseurship and of 'art exploring.' Kline's personal narrative provides a look into the world of lost art and those who search for it.

Kline describes this work as 'a true labor of love,' and it shows in his careful research and lively prose. Even the most casual museumgoer will find something to appreciate in this fascinating account.
Pegasus Books, 9781605989792, 384pp.
Publication Date: May 10, 2016
About the Author
Fred R. Kline is a generalist art historian, art dealer, artist, and writer. His numerous and diverse discoveries have been covered in the New York Times and Arts and Antiques, and have been acquired by the Getty Museum, the Morgan Library, the Metropolitan Museum of Art, and many others. He has served on the editorial staff of National Geographic, and his sculpture has been praised by the Smithsonian. He lives in Santa Fe, New Mexico. Visit him at www.klinegallery.com.
or
Not Currently Available for Direct Purchase