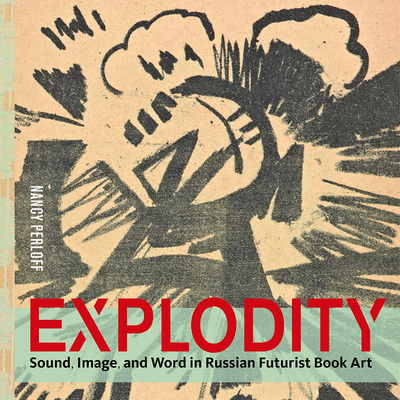 Explodity
Sound, Image, and Word in Russian Futurist Book Art
Hardcover

* Individual store prices may vary.
Description
The artists' books made in Russia between 1910 and 1915 are like no others. Unique in their fusion of the verbal, visual, and sonic, these books are meant to be read, looked at, and listened to. Painters and poets—including Natalia Goncharova, Velimir Khlebnikov, Mikhail Larionov, Kazimir Malevich, and Vladimir Mayakovsky— collaborated to fabricate hand-lithographed books, for which they invented a new language called
zaum
(a neologism meaning "beyond the mind"), distinctive in its emphasis on "sound as such" and its rejection of definite logical meaning.  
At the heart of this volume are close analyses of two of the most significant and experimental futurist books:
Mirskontsa
(Worldbackwards) and
Vzorval'
(Explodity). In addition, Nancy Perloff examines the profound differences between the Russian avant-garde and Western art movements, including futurism, and she uncovers a wide-ranging legacy in the midcentury global movement of sound and concrete poetry (the Brazilian Noigandres group, Ian Hamilton Finlay, and Henri Chopin), contemporary Western conceptual art, and the artist's book.  
Upon publication, sound recordings of
zaum
poems featured in the book will be made available at
www.getty.edu
.  
Praise For Explodity: Sound, Image, and Word in Russian Futurist Book Art…
"At its core, Perloff's study does more than justice to the complexity of the Russian futurists' book experiments carried out some one hundred years ago.  By opening up the discussion to the 'semantics of sound,' Perloff allows the Russian futurist book to reverberate—or even explode—in our present day and beyond."
— H-Net
"This study combines literature and art in an examination of a very specific segment of futurist creativity: unique books handmade as works of art. Perloff puts the topic in context, and in the five chapters not only discusses examples in detail but also provides ample material on Russian avant-garde art, including areas such as the relationship between folk art and modernism."
— Choice
"Indeed, the main contribution of this painstakingly researched, visually striking book lies in its treatment of the Futurist books as interdisciplinary and multiplicitous wholes, where the book art, the visual art, and the verbal art all inform each other, resonate with each other, and gesture toward each other in rebellion against the mechanically reproducible, the rational, and the clear."
— Eugene Ostashevsky
"Richly illustrated and supplemented by a digital component that allows readers to see the original books in full, read translations, and hear the text in Russian through new recordings, the book provides a compelling account of the earliest experiments in sound poetry and book art."
 
— Burlington Magazine
"Perloff uses the category of the book arts to meld the varied artistic, literary, and epistemological impulses of the 1910s. She convincingly shows that the creativity and energy of the Futurists can be captured only by seeing and experiencing the totality of their work as it was first presented to its audience."
— Slavic and East European Journal
"Explodity: Sound, Image, and Word in Russian Futurist Book Art thus offers a four-dimensional pleasure: it is a comprehensive analysis of sophisticated avant-garde books and a feast for the eyes due to its generous illustrations."
— International Yearbook of Futurism Studies
"Perloff's emphasis on the sound quality of these works is perhaps her biggest contribution to the scholarship on the Futurist book. She argues persuasively that Futurist books must be heard as well as read and that they are thus early examples of sound poetry. . . . [Perloff's] study breaks new ground in examining the multiplicity of connections between the physical, linguistic, and visual in Russian Futurist books and underscores the autonomy of the word as self-sufficient for the generation of meaning."
 
— Eleanor Stoltzfus
Getty Research Institute, 9781606065082, 208pp.
Publication Date: January 21, 2017
About the Author
Nancy Perloff is curator of modern and contemporary collections at the Getty Research Institute. She is coeditor, with Brian M. Reed, of Situating El Lissitzky: Vitebsk, Berlin, Moscow (Getty Publications, 2003).
 
or
Not Currently Available for Direct Purchase