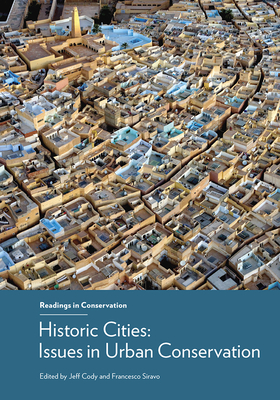 Historic Cities (Paperback)
Issues in Urban Conservation (Readings in Conservation)
Getty Conservation Institute, 9781606065938, 632pp.
Publication Date: July 30, 2019
* Individual store prices may vary.
Description
This new volume in the GCI's Readings in Conservation series brings together a selection of seminal writings on the conservation of historic cities. This book, the eighth in the Getty Conservation Institute's Readings in Conservation series, fills a significant gap in the published literature on urban conservation. This topic is distinct from both heritage conservation and urban planning; despite the recent growth of urbanism worldwide, no single volume has presented a comprehensive selection of these important writings until now.
 
This anthology, profusely illustrated throughout, is organized into eight parts, covering such subjects as geographic diversity, reactions to the transformation of traditional cities, reading the historic city, the search for contextual continuities, the search for values, and the challenges of sustainability. With more than sixty-five texts, ranging from early polemics by Victor Hugo and John Ruskin to a generous selection of recent scholarship, this book thoroughly addresses regions around the globe. Each reading is introduced by short prefatory remarks explaining the rationale for its selection and the principal matters covered.
 
The book will serve as an easy reference for administrators, professionals, teachers, and students faced with the day-to-day challenges confronting the historic city under siege by rampant development.
 
Praise For Historic Cities: Issues in Urban Conservation (Readings in Conservation)…
"An extraordinarily useful collection of essays on urban history and morphology that provides insights into the complexity of the ongoing discourse on the interpretation, evaluation, protection, and augmentation of historic settlements throughout the world. Essential reading for anyone interested in the present and future of our urban environments."
--William Chapman, Dean, School of Architecture, the University of Hawaiʻi at Mānoa
 
"Historic cities must confront tremendous changes day-to-day. There is nothing comparable in the published literature to this new, inspiring and instructive book on urban conservation of historic cities, an anthology of most important historical and modern texts on all relevant subjects and topics of historic towns and settlememts. This book is useful and enriching for a wide-range of professionals, including architects, landscape architects, urban planners, archaeologists, anthropologists, conservationists, historians, teachers, building administrators and students."
—Dr.-Ing. Claus-Peter Echter, President at ISC CIVVIH ICOMOS (International Scientific Committee on Historic Towns and Villages)
"This collection of international writings on urban history and conservation is an invaluable resource for students, teachers, professionals, activists—indeed, anyone interested in the care and future prospects of our historic cities and landscapes. The compilation in a single volume of such a wide-ranging (both temporally and geographically) selection of voices and issues, both familiar and unfamiliar, makes the book an indispensable companion to the urbanist or preservationist. Readers will appreciate the sensible thematic format, informative editorial comments, and illustrations as much as the historic texts themselves. "
—Steven W. Semes, Professor of Architecture, University of Notre Dame
"I am thrilled to be included in the collection, Historic Cities: Issues in Urban Conservation, recently published by the Getty Conservation Institute. The book is a fantastic introduction to the evolution of the management of historic cities and includes both established contributors as well as lesser-known, but no less valuable contributors… Text selection is not always easy but the editors have made excellent choices taking into consideration a variety of factors…I am sure it will become an attractive resource to seasoned experts, and as well as those new who are new to the field."
—Jukka Jokilehto, Special Advisor to the Director General of ICCROM
"Successfully bringing together a wide selection of papers and extracts of papers across cultures, geographies and time. . . . This format makes for an impressive assembly of readings, a compactum as it were, as an essential reference resource on this broad but less appreciated conservation topic."
 
— News in Conservation