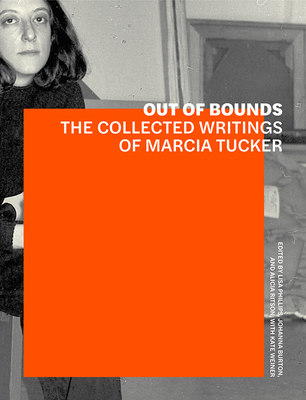 Out of Bounds (Paperback)
The Collected Writings of Marcia Tucker
Getty Research Institute, 9781606065969, 288pp.
Publication Date: September 10, 2019
* Individual store prices may vary.
Description
Jointly published by the Getty Research Institute and the New Museum.

The first anthology to assemble the writings of the groundbreaking art historian, critic, and curator Marcia Tucker. These influential, hard-to-obtain texts—many of which have never before been published—by Marcia Tucker, founding director of New York's New Museum, showcase her lifelong commitment to pushing the boundaries of curatorial practice and writing while rethinking inherited structures of power within and outside the museum. The volume brings together the only comprehensive bibliography of Tucker's writing and highlights her critical attention to art's relationship to broader culture and politics.
 
The book is divided into three sections: monographic texts on a selection of the visionary artists whom Tucker championed, among them Bruce Nauman, Joan Mitchell, Richard Tuttle, and Andres Serrano; exhibition essays from some of the formative group shows she organized, such as Anti-Illusion: Procedures/Materials (1969) and Bad Girls (1994), which expanded the canons of curating and art history; and other critical works, including lectures, that interrogated museum practice, inequities of the art world, and institutional responsibility. These texts attest to Tucker's tireless pursuit of questions related to difference, marginalization, access, and ethics, illuminating her significant impact on contemporary art discourse in her own time and demonstrating her lasting contributions to the field.
About the Author
Lisa Phillips is the Toby Devan Lewis Director of the New Museum. Johanna Burton is director of the Wexner Center for the Arts at Ohio State University. She was formerly the Keith Haring Director and Curator of Education and Public Engagement at the New Museum and editor for the museum's Critical Anthologies in Art and Culture series. Alicia Ritson is a curator and was a Marcia Tucker Senior Research Fellow at the New Museum. Kate Wiener is assistant curator at the Noguchi Museum. She was previously a curatorial assistant at the New Museum.

 

 
Praise For Out of Bounds: The Collected Writings of Marcia Tucker…
Marcia Tucker was one of America's most intelligent, generous, and courageous curators. She was a true heart who believed in and defended artists and their work totally. Her vision and determination, often against heavy resistance, changed how we think and feel about art.
—Terry Allen
Marcia Tucker devoted her life to fighting for a new kind of art world: diverse and artistcentric,with museums that tell the real story of our culture, not just the history of wealth and power. She was a close friend and a passionate supporter.
—Guerrilla Girls
Marcia Tucker's radical leadership profoundly impacted the contemporary museum field. Her legacy informs the work so many of us do today and inspires our vision of the future. This volume—filled with groundbreaking criticism, enduring wisdom, and razor-sharp wit—is an essential reference for any museum professional.
—Thelma Golden, Director and Chief Curator, The Studio Museum in Harlem
"Terrific."
 
— Tyler Green
"It's no secret that Marcia Tucker, the late founder of New York's New Museum, was brilliant, so it's no surprise that Out of Bounds is extraordinary."
— Artnews
"At a time when there is renewed interest in the role of the museum, the critic, and the artistic activist, Tucker's writing offers a much needed push to radical change."
— Hyperallergic