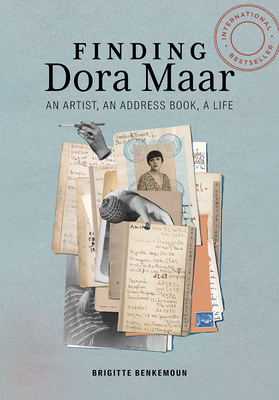 Finding Dora Maar
An Artist, an Address Book, a Life
Paperback

* Individual store prices may vary.
Description
"[A] spirited and deeply researched project…. [Benkemoun's] affection for her subject is infectious. This book gives a satisfying treatment to a woman who has been confined for decades to a Cubist's limited interpretation." — Joumana Khatib, The New York Times

Merging biography, memoir, and cultural history, this compelling book, a bestseller in France, traces the life of Dora Maar through a serendipitous encounter with the artist's address book.

In search of a replacement for his lost Hermès agenda, Brigitte Benkemoun's husband buys a vintage diary on eBay. When it arrives, she opens it and finds inside private notes dating back to 1951—twenty pages of phone numbers and addresses for Balthus, Brassaï, André Breton, Jean Cocteau, Paul Éluard, Leonor Fini, Jacqueline Lamba, and other artistic luminaries of the European avant-garde.
After realizing that the address book belonged to Dora Maar—Picasso's famous "Weeping Woman" and a brilliant artist in her own right—Benkemoun embarks on a two-year voyage of discovery to learn more about this provocative, passionate, and enigmatic woman, and the role that each of these figures played in her life.
Longlisted for the prestigious literary award Prix Renaudot, Finding Dora Maar is a fascinating and breathtaking portrait of the artist.
This work received support from the French Ministry of Foreign Affairs and the Cultural Services of the French Embassy in the United States through their publishing assistance program.
Praise For Finding Dora Maar: An Artist, an Address Book, a Life…
"Part detective story, part social history, part excellent gossip, Finding Dora Maar uses the miracle of a found address book to reconstruct the life of an important woman artist who knew everyone."
—Francine Prose, author of Peggy Guggenheim: The Shock of the Modern, and the New York Times bestselling Reading Like A Writer
"With a novelist's eye for detail, Benkemoun takes readers on a journey full of surprises as she researches and reimagines the landscape of Dora Maar's life in Surrealism and its aftermath. Guided by the scant details in Maar's address book, which came into the author's hands by chance, she reweaves the mesh of avant-garde artistic life in mid-twentieth-century France, taking us along with her as this serendipitous tale unfolds. It's well worth the trip, an informative, enjoyable read."
—Carolyn Burke, author of Lee Miller: A Life; Foursome: Alfred Stieglitz, Georgia O'Keeffe, Paul Strand, Rebecca Salsbury; and other books
"To follow this mesmerizing interrogation of a vintage address book is to watch Brigitte Benkemoun stir to life an ardent, unexpected, and achingly human Dora Maar."
—Patricia Albers, author of Joan Mitchell, Lady Painter: A Life and Shadows, Fire, Snow: The Life of Tina Modotti
"This enthralling study of Paris and its artistic avant-garde should be required reading for Surrealist and modern art lovers."
—Publishers Weekly **Starred Review**
"
Finding Dora Maar
is a fascinating account of serendipity, the joy of research, and a complicated woman artist who moved in the best circles."
—Dr Alice Violett  
"Art history meets detective work: what could be more thrilling?"
— ARTnews
"[A] spirited and deeply researched project…. [Benkemoun's] affection for her subject is infectious. This book gives a satisfying treatment to a woman who has been con?ned for decades to a Cubist's limited interpretation."
— Joumana Khatib
"Deliciously acerbic, dishy, fascinating, intelligent."  
— Lucy Kogler
"In Benkemoun's version of art history we imagine the rooms where painters lived out their adventures, the colors of their fingernails, and the lunch special served at the café on the day Picasso dined with one mistress and met, for the first time, his next. Using a humble phone book as a starting point,
Finding Dora Maar
is a joyful reminder of the people behind some now-iconic names."  
— Karen Chernick
 "The marvel here is that a chance encounter with a seemingly insignificant object could yield such a world of personal discovery and excitement—an excitement that Benkemoun, in the best Surrealist, and biographical, tradition, often manages to convey."  
— Mark Polizzotti
"It's marvelous. . . . A unique portrait through snapshots, scenes from parties and iconic cafes, and striking snippets of her poetry and poetry written about her by lovers."
— What's Nonfiction
"A compelling blend of memoir, biography and history."  
— Apollo
"An especially and unreservedly recommended addition to personal, professional, community, and academic library Art History collections and supplemental studies reading lists. It should be noted for students, academia, and non-specialist general readers with an interest in the subject that
Finding Dora Maar: An Artist, an Address Book, a Life
is also readily available in a digital book format."  
— Mary Cowper
"Eschewing chronological or alphabetical order, documenting her own wrong turnings and sudden breakthroughs, Benkemoun crafts a sinuous narrative in which chapters are bridged by chance encounters and association of ideas. . . . Benkemoun uncovers interesting archive material and she sketches a vibrant gallery of portraits."  
— Peter Brooks
"Fascinating insights. . . . Conveys the excitement of discovery and the drama of Maar's life."  
— Alexander Adams
"Most certainly, Benkamoun's patient sleuthing of the leads furnished by an otherwise diminutive document convinces the reader that Maar's universe was complex and stimulating and that art remained for her—and for some time—a means of direct engagement with her world."  
— Eilene Hoft-March
"The adventure lasts long after reading and never feels dull or soon-to-be-forgotten."  
— Patrick James Dunagan
"Maar's profile has been on the rise over the past few years, viewed though a new lens via efforts like this biography."
— CNN Style
Getty Publications, 9781606066591, 216pp.
Publication Date: May 19, 2020
About the Author
Brigitte Benkemoun is a journalist and writer. She is the author of La petite fille sur la photo (2012) and Albert le Magnifique (2016).

Jody Gladding is a poet and translator. She has translated some thirty books from French, including, most recently, Roland Barthes's Album: Unpublished Correspondence and Texts (2018), Michel Pastoureau's Yellow: The History of a Color (2019), and Jean Giono's Occupation Journal (2020).