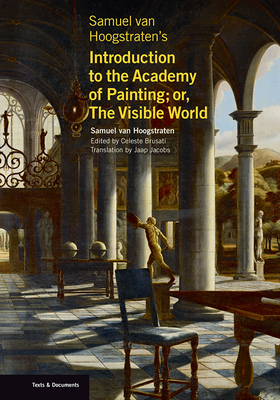 Samuel van Hoogstraten's Introduction to the Academy of Painting; or, The Visible World (Texts & Documents)
Paperback

* Individual store prices may vary.
Description
A unique seventeenth-century account of painting as it was practiced, taught, and discussed during a period of extraordinary artistic and intellectual ferment in the Netherlands.
The only comprehensive work on painting written by a Dutch artist in the later seventeenth century, Samuel van Hoogstraten's Inleyding tot de hooge schoole der schilderkonst, anders de zichtbaere werelt (Introduction to the Academy of Painting; or, The Visible World, 1678) has long served as a source of valuable insights on a range of topics, from firsthand reports of training in Rembrandt's studio to contemporary engagements with perspective, optics, experimental philosophy, the economics of art, and more.
 
Van Hoogstraten's magnum opus—here available in an English print edition for the first time—brings textual sources into dialogue with the author's own experience garnered during a multifaceted career. Presenting novel twists on traditional topics, he makes a distinctive case for the status of painting as a universal discipline basic to all the liberal arts. Van Hoogstraten's arguments for the authority of what painters know about nature and art speak to contemporary notions of expertise and to the unsettled relations between theory and practice, making this book a valuable document of the intertwined histories of art and knowledge in the seventeenth century.
Praise For Samuel van Hoogstraten's Introduction to the Academy of Painting; or, The Visible World (Texts & Documents)…
"This meticulous new translation of Samuel van Hoogstraten enables modern readers to encounter, finally and fully, the richly diverse content of that cosmopolitan, learned, and sophisticated practicing artist, as he attempts to provide both theory and practice for visual art as the worthy sister of the nine muses. Celeste Brusati's enlightening introductory commentary is another important contribution to art history's literature from the Dutch Golden Age. As with her monograph on Van Hoogstraten, Artifice and Illusion (1995), Brusati provides a springboard into Van Hoogstraten's dialogue about art, poised between Academy and Visible World."
—Larry Silver, University of Pennsylvania, Farquhar Professor of Art History, emeritus, and co-editor of Canons and Values (2019)
"Superbly edited and translated, Introduction to the Academy of Painting reveals anew the variety and scope of Samuel van Hoogstraten's great treatise on Dutch art, showing how it harnesses multiple genres of text to the task of affirming the epistemic authority of painting as an instrument of perception, judgment, and thought. Brusati and Jacobs allow us to see that Van Hoogstraten, even while deeply responsive to the circumstances his time and place, was yet sui generis: eschewing mere erudition, he placed a premium on artisanal expertise, gave voice to the inextricable connection between verisimilar description and optical deception, and argued that pictorial excellence results above all from the mutual attunement of the painter's discriminating mind, attentive eye, and practiced hand."
—Walter S. Melion, Asa Griggs Candler Professor of Art History, Emory University; Foreign Member, KNAW, Royal Netherlands Academy of Arts and Sciences
"An outstanding English edition of Van Hoogstraten's ambitious book. Staying close to the original in style and voice, Jacobs and Brusati succeed splendidly in providing a fresh and accurate translation. . . . This edition is not only an indispensable source for all scholars of seventeenth-century Dutch painting but also of great interest for scholars in other fields of early modern European art and culture. From now on, this volume will be the point of departure for any scholar needing to read Van Hoogstraten."
— Angela Jager
"Historical references, difficult language, digressions, and anecdotes are expertly translated by Jacobs and explained and interpreted by Brusati in the introduction, glossary, notes, and outline."  
— A. Golahny
Getty Research Institute, 9781606066676, 424pp.
Publication Date: January 19, 2021
About the Author
Celeste Brusati is a professor emerita of art and the history of art at the University of Michigan. She has published articles and books on still-life painting, perspective, trompe l'oeil illusionism, and the relation between visual and textual discourses on art in the Netherlands.
 
Jaap Jacobs is an honorary reader at the University of St Andrews. He has published widely on the history of the Dutch Republic and its colonies during the early modern period.