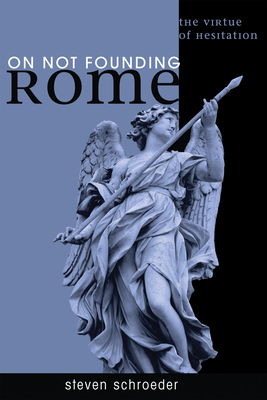 On Not Founding Rome (Paperback)
The Virtue of Hesitation
Cascade Books, 9781606086100, 161pp.
Publication Date: January 1, 2010
* Individual store prices may vary.
or
Not Currently Available for Direct Purchase
Description
Description: This book is an attempt to critically embrace a tradition--a culture--in which the author was formed and against which he has often found himself in resistance, using academic disciplines in which he is well versed but about which he is deeply suspicious. This book began to come together as a book in a series of lectures on the history of Western thought at Shenzhen University in the People's Republic of China, an opportunity to cultivate disciplined criticism that might afford a second look at traditions behind the West which are being embraced all too quickly. In a time of acceleration, this book offers a meditation on the virtue of hesitation. The book is an invitation to philosophy and the history of ideas, but it is also a sustained critical reflection on the religious dimensions--explicit and implicit--of those ideas, with enough utopian vision left to imagine a city in which violence is not necessary. Endorsements: ""Combining erudition of a true scholar and insight of a gifted poet, professor Steven Schroeder offers his readers an adventurous 'pilgrimage' of mind into the realms of cultural history, philosophy, and religion. This perfectly structured, consistent, and well-argued book is a good companion to anyone who wishes to transgress the boundaries of supposedly 'Western' ideas and open new vistas to the territories that reflect the legacy of so many vanished civilizations."" --Almantas Samalavicius Vilnius Gediminas Technical University and Vilnius University ""This new book by Steven Schroeder contains careful examinations of and insightful reflections on the intellectual history of the West. It not only provides us with guidance when journeying through the labyrinth of Western ideas, but it enables us to see how ideas, almost always intertwined with human desires and fears, are projected into the real world and contribute to transform the place we live in. It is highly illuminating for understanding the human creation of ideas, and therefore, is instructive to anyone who wants to coexist harmoniously with others in the twenty-first century."" --Dongming Zhao Shenzhen University, People's Republic of China. ""Without ever raising his voice, the author challenges some of our most cherished assumptions--the centrality of 'the West, ' the primacy of Greek thought in the development of Western philosophy, and the identification of heroic virtue with aggression and conquest--among others. Here is philosophy restored to its mission of 'passionate engagements in a controversy that matters.' The fact that Schroeder is a poet as well as a scholar makes this book a pleasure to read and of interest to the general reader as well as to scholars and specialists. --A. G. Mojtabai author of Blessed Assurance ""How to summarize this heady ride from Babel to Thebes to Shenzhen, from the meaning of language to the meaning of meaning . . . Where is God? What is really real? Who is the stranger? This book rockets from the paradox of free will to the paradox of slavery, from redefining Descartes to rediscovering forgotten giants such as Anne Conway. Read this book and rediscover what the work of philosophy and the play of wisdom is all about."" --Rev. David Breeden author of This Is Just To Say: Meditations on a Theme by William Carlos Williams About the Contributor(s): Steven Schroeder is an instructor in Asian Classics and the Basic Program of Liberal Education for Adults at the University of Chicago Graham School and Visiting Professor in the School of Foreign Languages at Shenzhen University in the People's Republic of China. His most recent book is Six Stops South (2009).
Advertisement